What is VI-NET?
VI-NET, or "Visual Identity Network", is a website that serves as an integrated management system for visual identity policies, guidelines and resources related to Korea's tourism brand, "Korea, Sparkling". VI-NET aims to effectively manage brand assets and helps to promote correct practices for a unified brand identity.
Using VI-NET
VI-NET offers easy access to "Korea, Sparkling" visual identity guidelines and resources. Simply select the subject you would like to receive information from the easy-to-use menus and then find the appropriate image format (ai, jpg, eps, and pdf ) you would like to download.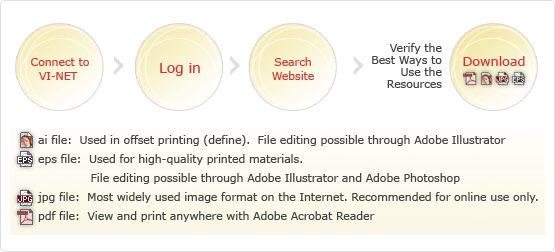 Brand Concept
BRAND CONCEPT introduces the brand concept, its value and the visual concept of Korea's tourism brand "Korea, Sparkling."
Design Guideling
In DESIGN GUIDELINE, the methods to make use of Korea's tourism brand "Korea, Sparkling" are classified into two: the basic system and the applied system. The basic system deals with methods to use basic elements such as signature of the tourism brand,color system, graphic motif and font type, while the applied system with a variety of forms, souvenirs, promotional material formats that make use of the elements of the basic system.
Communication Guidline
COMMUNICATION GUIDELINE suggests a number of rules and methods needed in communicating with Korea's tourism brand "Korea, Sparkling." They include what kind of tone must be adopted in writing an article related to Korea's tourism brand, how to use the KTO's tourism brand identity and other organizaions' identity at the same time, how to select and use photos, how to produce promotional materials, what kind of concept must be used in setting up a promotional booth and how to make promotional videos.