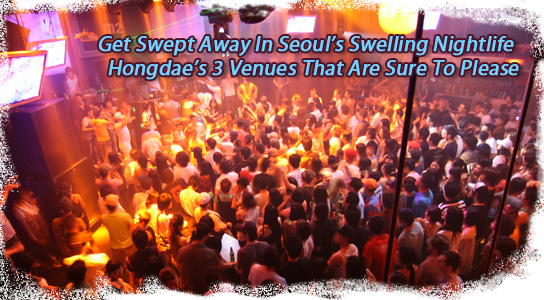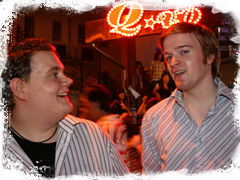 The area surrounding Hongik University is widely known for its bustling nightlife. Otherwise referred to as "Hongdae," the district is packed with myriad clubs and is often regarded as the birthplace for the "Independent Culture" scene, where artists freely display their talent with little concern over financial rewards. Although it has experienced considerable commercial growth throughout the years, it remains a haven for loyal, following fans to salute many promising underground bands.
Two German expats, Yan and Christian, share with us a few of their stories and suggestions on how to best take in the social scene, particularly on "Club Day," when one ticket gives unlimited access to 13 famous Hongdae clubs on the last weekend of every month. Let's take a closer look at some of the names mentioned, in which the two expressed that M2, G-vo, and NB were among their favorites.
Club Supreme – M2
Equipped with both state-of-the-art sound and lighting facilities, three large-scale bars and a dance floor, M2 is second to none when it comes to throwing a party. One distinguishable feature is the club's second floor, which boasts a private area providing 'VIP' seating for those who want to enjoy the ultimate club experience a step away from the first floor's intense heat. M2 dazzles youngsters with swirling, electronic music from an impressive list of both domestic and international DJ talent.
Another feature ensuring its success as the area's prime hub for fun is it's monthly calendar of events. Be sure to check out websites for more updated information. Sure Singapore has "Zouk", and Tokyo has its "Womb". Yet, neither club combines all the essential elements of fun into one solid venue like M2 has been doing continually and successfully in recent years. Come see for yourself, and experience what Yan and Christian describe as Hongdae's "Best of the Best"!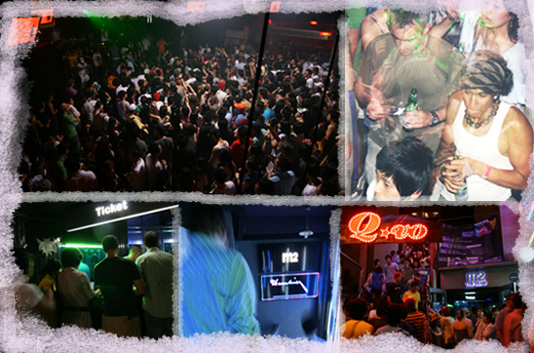 The clubs in Hongdae really heat up somewhere between the hours of one to two in the morning – just after the stroke of midnight. People shuffle out to the floor and get carried away in the swelling music, often dancing dangerously close to one another – close enough to hear others breathing. An important thing to note here is that those who frequent M2 come solely for the music and are less concerned with the glances of other around them. This genuine love for electronic music has cemented the club's popularity throughout its tenure and has a lengthy list of loyal returnees.
Yet, That doesn't exclude M2 entirely from being a hotspot. In fact, quite the opposite is true. It remains one of the hippest and trendiest venues for Seoulites to come and enjoy music and dance. Being that is slightly different from other conventional forums of entertainment, especially for those looking to find a significant other, M2 is widely praised by die hard fans of electro music.
[M2 in featured photos]
Photos provided by: Club M2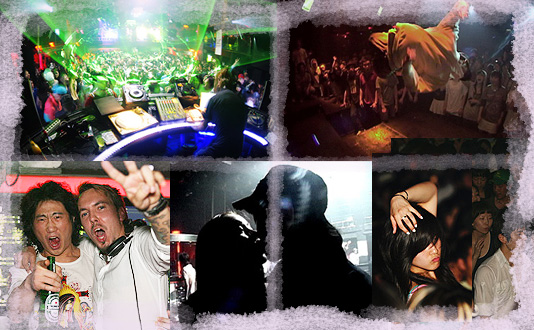 [Detailed Information]
… Address : Ohoo Bldg. 367-11 Seogyuo-dong Mapo-gu Seoul
… Phone :+82-2-3143-7573
… Fax : +82-2-3143-7574
… Capacity : 1000 and over
… Business hour and admission fee: Sunday through Thursday 8:30 p.m. - 4:30
a.m. (Admissionfee: 10,000 won – extra fee charged for special events)
Friday, Saturday 7:30 p.m. - 6:00 a.m. (Admission fee: 15,000 Won –
extra fee charged for special events)
… Website: www.clubm2.co.kr(English)
… Caution :Anyone below the age of 19 won't be admitted. Therefore ID is
required as verification.
… Getting There :From Hongik University (Hongdaeibgu) Station of Seoul Metro Line
No. 2, Exit No.5, walk for 7 minutes. Refer to the map.

A Close Second - Hip Hop's Club Q-vo
Another club gaining popularity within the club circuit is "Q-vo," a stylish hip-hop club, nestled just above M2 on the building's second floor. Collectively, the two clubs are run out of the Multi-entertainment Flex Building, otherwise known as OHOO. The interior is nicely decorated with Formula 1 motifs and is quite large, hosting two large-scale bars, a main stage for performances, a dance floor, and a balcony reserved for VIP members. The venue's monthly hip-hop parties welcome both top Korean and international hip-hop artists to come perform exclusively for clubbers. Q-vo also actively holds a number of brand parties and showcases to promote both product and talent awareness. Needless to say, Q-vo is fast gaining recognition as a rising 'new star' in the Hongdae district.
[Hip-hop club Q-vo in featured photos]
Photos provided by : Q-vo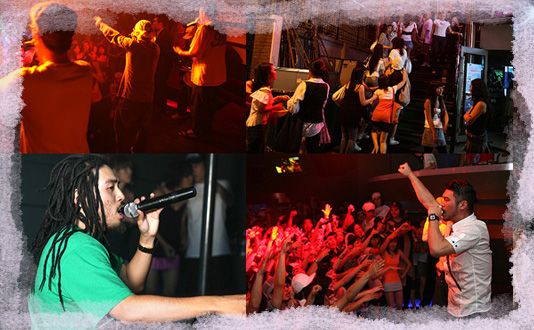 [Detailed information]
… Address : Ohoo Bldg. 367-11 Seogyuo-dong Mapo-gu Seoul
… Phone :3143-7573 (Korean)
… Business time : Monday, Tuesday, Thursday, and Sunday - 8:00 p.m. ~ 5:30 a.m.
Wednesday, Friday, and Saturday - 8:00 p.m.~ 6:30 a.m.
… Admission fee : Monday, Tuesday, Thursday, and Sunday 10,000 won
Wednesday, Friday, and Saturday 15,000 won
(10,000 won for entrance before 10 p.m.)
In case of a special event, rates for the event are charged separately.
… Website : www.ohoo.net(Korean, English)
… Caution :Anyone below the age of 19 won't be admitted. Therefore ID is
required as verification.
… Getting There :From Hongik University Station of Seoul Metro Line No.2,
Exit No.5, walk for 7minutes. Refer to the below map.

Thumping In Third – NB's Authentic Hip-Hop Flavor
Whereas M2 and Q-vo have more of a modern flavor, NB stands as the more traditional of the two and still retains an impressive following of club enthusiasts in and around the Hongdae district. The club initially opened its doors as a techno music club not so very long ago, but since changed its approach, establishing itself as an authentic hip-hop club. Nowadays, NB is synonymous with the 'Hongdae club' scene and often regarded as a first choice among diehards. The venue is also particularly popular among foreigners.
Upon entering, one is immediately struck by how dark everything appears. Then after one's eyes adjust to the contrast, the dance floor and bar slowly materialize. True to its roots, the music pumping from the huge speakers isn't your garden variety, top of the charts commercial hip-hop. Instead, the obscure sounds are the rhythms brought to you by knowledgeable DJs, who breathe a little authenticity in to the ears of hip-hop aficionados. Yang Hyun-seok's amusing atmosphere, coupled with the psychedelic lighting really adds excitement to the overall experience. Regarded as the 'Godfather of Hip-Hop', Hyun-seok's loyal following is good indication that he still has his finger firmly on the pulse of the immensely popular hip-hop scene.
[Detailed information]
… Address : 402 Seogyo-dong Mapo-gu Seoul
… Phone : +82-2-333-2769
… Business time : 8:00 p.m. ~ 4:00 a.m.(Monday through Thursday, Sunday)
8:00 p.m. ~ 6:00 a.m.(Friday and Saturday)
… Admission fee :10,000 won
… Getting There : From Hongik University Station of Seoul Metro Line No. 2,
go out of Exit No.5 and walk to the main entrance of Hongik
niversity and then walk another 50 meters in the direction of
Geukdong Broadcasting Company (Febc).
[Find out more on Hongdae district]
→ Hongdae, Day or Night
→ Moderately Priced Accommodations in Sinchon and Hongdae District
→ Flea Markets in Seoul
[Interview on the Hongdae Club Day & Comparisons of 3 Clubs]
Visitkorea had an interview with the two German clubbers, Yan and Christian, who experienced Hongdae clubs from midnight to 5 a.m. on the Club Day, which is held on the last Friday of every month.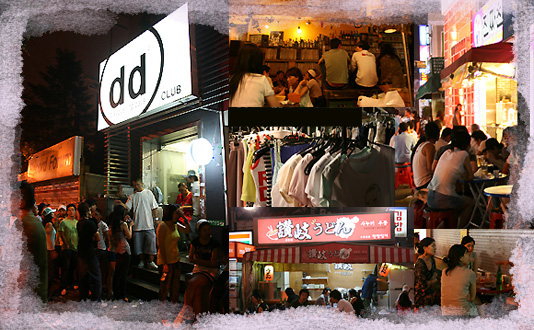 Q : It is Club Day today. You experienced M2 and a host of other clubs. How do you like them?

Yan : I visited 3~4 clubs, and I like M2 the best. Other clubs are hip-hop places, and I prefer electronic music to hip-hop. But I really liked HOOPER, a club which plays Korean pop music, which I have visited in the past. If I have a chance to recommend some of Hongdae clubs, M2 and HOOPER will be on the list.

Christian : Yes, I also made it to 3 different clubs, and I liked M2 and the hip-hop club Q-vo the best.

Q : What do you like best about M2?

Yan : I loved both its great facilities and its music. Also, there were many great DJs, which got me really excited.

Q : What do you think about the overall accessibility along Hongdae's club street?

Yan : Accessibility is not bad, because the Hongdae district is accessible by subway and the district itself is quite centrally located. However, when I tried to come back home one early morning after clubbing, I found it hard getting a taxi. Many taxies simply refused to take me home because it was in a near distance. So, I just got into a taxi and then gave my destination, but even then they refused to take me.

Q : Since it is the Club Day today, please tell us what is the most amazing and disappointing thing about the Hongdae Club Day, respectively.

Yan : I was totally surprised to see a number of restaurants, convenience stores, and even clothes shops open till 4~5 in the morning. It is really cool. In most European countries, as well as Germany, no shops open in the morning. They usually close before 8 p.m. except for restaurants that usually close 10~11 p.m. It means that you have to buy everything you need inside the club, however expensive it is. But here in the Hongdae district, you can go out of the club to purchase what you need. If you're thirsty, you can buy a bottle of water in a convenience store. If you're hungry, you can go to a restaurant and eat. In the meantime, one weak point about the Hongdae district is that the streets are little bit dirtier than when I last visited. They were much cleaner back in the old days.
Tips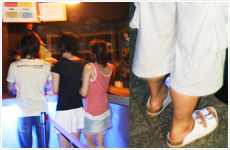 * Most clubs have lockers that safely store visitors' personal belongings. For your convenience, it's best to place your baggage and valuables in custody of the club. It costs 2,000 won.
* Though most clubs don't advertise a strict dress code policy, it is highly possible that you will be refused entrance if you are dressed in a suit or in slippers.
* It is necessary for clubbers to bring along their identification card. Minors are strictly forbidden.
What is the Hongdae Club Day?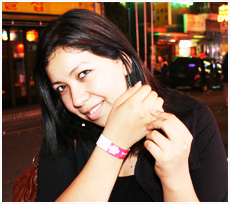 The Hongdae Club Day is a club festival in which a 15,000 won ticket grants partygoers admission into 13 clubs that offer a great variety of dance performances and music such as hip-hop, rock, techno, jazz, and acoustic. It takes place at 11 p.m. on the last Friday of every month, and continues till 5.am. the following day. Ticket price: 15,000 won (includes one beverage priced 5,000 won and lower)
Ticket sales places: All the clubs that participate in the Club Day festival (Most clubs located within the Hongdae district are included.)

→ For more on Hongdae Club Day, click here!