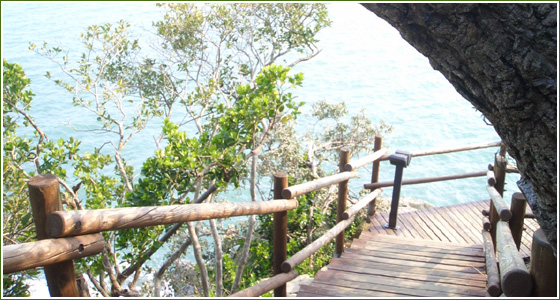 Damyang


"A House without Children
A Garden without Bamboos
A Tree without Birds
Are like a day without Sunshine" by Lao Tse


For Koreans, Damyang is synonymous of bamboo. This small town near Gwangju has a variety of bamboo forests and is the country's main bamboo handicraft production center.
Jungnogwon

Imagine standing amidst a bamboo forest with the soothing sound of the wind blowing through the leaves as your only companion. Welcome then to Jungnogwon.
Start your journey by following the road at least for the time being. You'll have plenty of opportunities to wander off the beaten track later on.
A pavilion appears. Some can take a rest in the shade for a while; couples will enjoy a moment of intimacy.
And carve their love on the
bamboo's welcoming trunk.
There are many paths to choose from
in Jungnogwon. The signs on the
intersection have fun meanings such
as "the road of extremely good luck",
or "the road of evergreen love".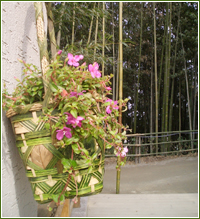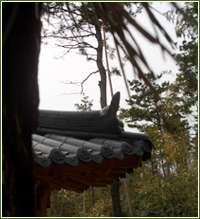 Whichever path you choose, the park's appeal will fully reveal itself
under the eye of the discerning visitor.
Did you know?

Bamboo stems can range in height from a few centimeters to 40 meters while the diameter of its stems can range from 1mm to 30cm.

Bamboo Museum of Korea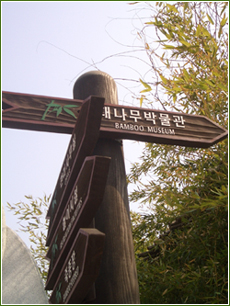 Here, bamboo is a predominant resource. Discover the multiple uses of bamboo, its by-products as well as the various objects made of bamboo, which are rather unusual. The first floor is rather informative while the second floor is more like a traditional exhibition.

Various stores selling bamboo handicrafts are located outside the museum. It's the perfect opportunity to bring back a souvenir truly representative of Damyang. There is also a restaurant where you will be able to enjoy bamboo food specialties.
Some of the museum exhibits: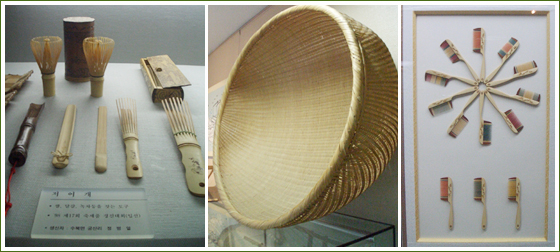 Soswaewon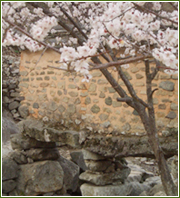 Designed by the scholar Yang San-po (1503-57), this garden is typical of those built during the middle of the Joseon period
(1392-1910). Rustic, it is nonetheless elegant and harmonious.
Yang San-po constructed this garden after the death of his master, Jo Gwang-jo in order to live secluded in nature.


Clear water from the valley flows gently among the blossoming cherry trees
To be cleverly collected to feed a pond located further down.
How many hours on this pavilion has
been spent talking, spent
contemplating nature?
Click on the following links to see a panoramic view of the park:
Click here to view the Jungnogwon Park 1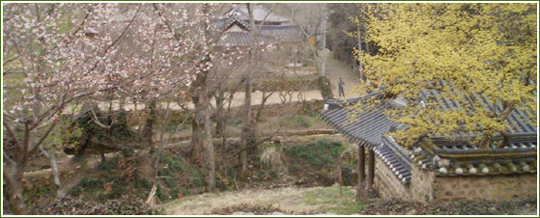 Click here to view the Jungnogwon Park 2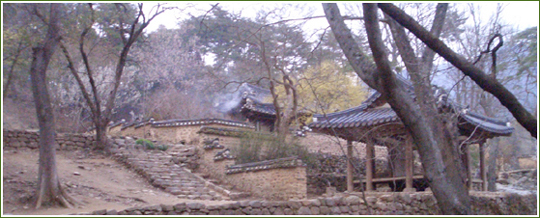 Hwaeomsa Temple

Centuries have passed; a fire ravaged the temple yet this wasn't enough to take away from the timeless beauty of this temple nested on a mountainside.
Temple Guardian
Seok Deung
Stone Lantern
Treasure No.12
View of Hwaeomsa
Four Lions Stupa
Treasure No.300
Hwaeomsa Temple at a Glances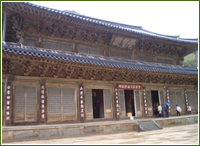 The Hwaeomsa Temple was founded by priest Young in the 22nd year of King Seong reign (reign: 523-554 during Baekje dynasty). It was destroyed by a fire during the Japanese invasion of 1592 and reconstructed by priest Byeogam in 1630. Gaghwang Jeon, constructed in 1703, is considered the most beautiful wooden building in the country.
The temple is home to 3 national treasures and 5 treasures overseas.


Special Menu: daetongbap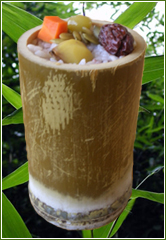 Rice is cooked in a hollow bamboo stem and thus absorbs the subtle flavour of the bamboo.

It is served with various banchan (side dishes) including marinated bamboo shots. Highly recommended during your visit to Damyang.
Daetongbap: 10,000 won
How to Get There (from Seoul):
The Seoul-Damyang trip takes you to Gwangju.

By bus: You need to go to the Express Bus Terminal. Take the subway and get off at Express Bus Terminal station on line 3 (orange) and head towards exit 7 (Honam line) . At exit 7, go right and enter the first building on your left.
Price of the Seoul-Gwangju ticket: 20,900 won
Length of trip: 3hrs 40 mins.
For more information: +82-2-535-4151-2


By train: Gwangju is reachable from Yongsan station (subway line 1, exit 1). Length of trip : 2hrs 30 mins. by KTX, 4 hrs by saemaeul (deluxe) and 4hrs. 30 mins. by mugunghwa (standard). For more information: +82-2-3780-5408

Getting to the tourist sites:
From Gwangju bus terminal, take the bus to Damyang. (Fare: 1,800 won, a 30 min. trip) Once in Damyang, take a taxi to the museum or to Juknokwon (2,300 won in both cases). Soswaewon is quite far from Damyang, so the only way to reach it from Damyang is by taxi, which will cost around 17,000 won. However, it is reachable from Gwangju by bus No.115.

Details:
Admissions fee: Jungnogwon 1,000 won / Bamboo museum of Korea: 1,000 won / Soswaewon: 1,000 won

Boseong
If Damyang is synonymous of bamboo to Koreans, then Boseong is synonymous of green tea. Every year, the Boseong region produces 70 tons of tea on an area of 600 hectares.

The mountainside is covered as far as the eye can see in tea shrubs; a spectacular sight not to be missed if you are traveling in the region.

Boseong Green Tea Plantation
The beauty of the plantation speaks for itself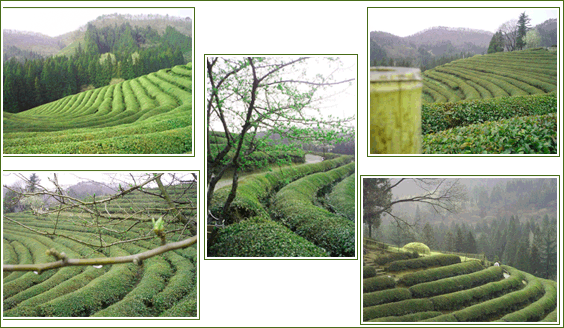 You'll find a few restaurants outside the plantation specialized in green tea dishes as well as various stores selling green tea and green tea-related articles.
What is green tea?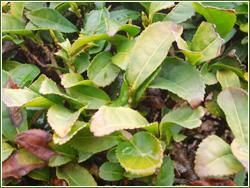 Produced by the camellia sinensis (Chinese camellia), green tea unlike black tea wasn't made by any artificial materials and thus has retained all of its natural benefits.

Green tea has an invigorating effect although its main benefit is its antioxidant capacities which effectively tackles free radicals, the main culprits of aging, cardio-vascular diseases, and cancer.
Yulpo Haesu Nokchatang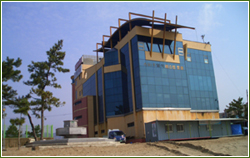 Close to the plantation is Yulpo Haesu Nokchatang, a kind of jjimjilbang, Koeran sauna, where you'll be able to enjoy the benefits of green tea in a rather unusual fashion.

If you ever wondered how it would feel to be a tea bag this is the place for you as this spa houses a hot green tea bath as well as cold and hot seawater baths. Most of the baths offer nice sea views for a one of a kind experience.


[ Related Articles ]
Special Menu: Nokcha Sujebi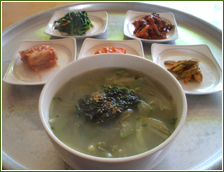 Thin slices of tteok (rice cake) are cooked in a pot of green tea giving it a characteristic green color.

Cucumbers, potatoes, clams, and dried seaweed are added with a sprinkle of sesame seeds, giving it a final touch. Kimchi, as well as other banchan, is of course provided.
Cost: 5,000 won.
How to Get There:
Take the bus bound for Boseong at the Gwangju bus terminal. Look for the Bus bound for Gwangju-Boseong: length of trip: 1hr 45mins, runs every 30 min, bus fare: 5,400 won

Getting to the Tourist Sites:
Boseong Tea Plantation : Take the city bus bound for the plantation at Boseong bus terminal, cost: 850 won. Ask the driver to stop at the plantation (say «Nokcha Pat» for plantation). Walk up the road for a few minutes to reach the plantation. Free Admission.

Yulpo Haesu Nokchatang : The bus bound for the plantation continues on to Yulpo. Cost: 1,300 won from Boseong / 850 won from the plantation. Ask the driver to drop you off at the stop near Yulpo Haesu Nokchatang. (If your Korean is limited, saying "nokchatang" should do the trick). Take the road perpendicular to the main road and walk for approximately 40 meters. You'll see Yulpo Haesu Nokchatang on your right. Admission is 5,000 won.

Yeosu

According to the legend, a phoenix used to frequent Odong-do Island, which in the past was covered by a lush forest of paulownia (odong) trees.

This bird being a symbol of the King during the reign of King Gongmin (reign: 1351-1374, Goryeo dynasty) alerted priest Sindon, who thought these apparitions were foretelling an uprising against the King. He thus ordered the trees to be cut down to prevent the bird from coming again to the island.

Nowadays, camellias and bamboos have replaced paulownia trees and visitors can wander peacefully on this pretty little island without worrying about meeting a phoenix.
Faces of Odong-do island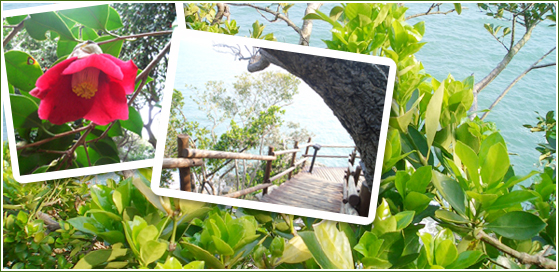 What's on Odong-do?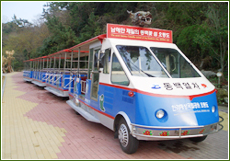 Odong-do, first of all, means beautiful sceneries. However, there is much more to do than simply walking around the island: you can take a small train to do a camellia-theme tour of the surroundings (500 won per person), watch the musical fountain show on the main plaza (shown every half hour), do a thrilling motorboat ride around the island (cost: 30,000 won – up to 5 people) or simply enjoy a nice meal and sea vistas on a terraced restaurant.

Details:
Bus Bound for Boseong-Yeosu: cost: 7,600 won, takes 2 hours
Taxi from Yeosu bus terminal to Odong-do: fare: 3,700 won
Admission fee to Odong-do: 1,600 won
Bus Fare from Yeosu-Seoul: 28,600 won, takes 4hrs 40mins

* The above article was written by Mathieu Deprez.