The article courtecy of SEOUL magazine
From the golden autumn leaves, to the snow covered grounds in winter, Dosan Park's beauty and quiet stillness stands unfazed by neither the noise of the shiny sports cars whizzing by nor the busy luxury boutiques surrounding it in the affluent Sinsa-dong area.
-

Background and History

Dosan Memorial Park is named after Dosan Ahn Chang-ho, a famous Korean activist who fought for Korean independence against the Japanese colonial rule during the early 20th century. Ahn created the pen name Dosan, meaning mountain island, after being inspired by the mountainous landscape of the Hawaiian Islands.
On a typical weekend, nothing much happens in Dosan Park. It's this peaceful nothingness that draws the people in. With the sound of soft chirping of birds, speed walking elderly ajumma rub elbows with refaced Korean girls in hoodies walking their little barking dogs. Love lingers in the air as the soft laughter of children echoes on, lovers enjoy their romantic picnics and young brides are photographed with dreamy looks on their faces imagining a new life full of possibilities.
A new life full of possibilities is what Dosan Ahn Chang-ho dreamed for the Korean people. Also a philosopher, he believed that education was the key to independence. Dosan sacrificed being separated from his wife and five children in America while he stayed in Korea to fight for freedom. During an interrogation in prison, he was quoted saying: "I have lived so far only to achieve the independence of Korea. And I will do so until my last day." In 1938, he died trying, never to see his family again.
Dosan's love for his country and duty to his people surpassed his personal self-interests. Like many "wild geese" families today, where fathers stay in Korea working while mothers with their children are sent abroad for better education, many Koreans can relate and understand the meaning of Dosan's self-sacrifice.
In 1973, Dosan was finally reunited with his wife Lee Hye-ryon at Dosan Memorial Park where their remains rest peacefully while the legacy continues to live on.
-

Things to do around Dosan Park

Surrounded by designer boutiques, art galleries and trendy cafés and restaurant, there is plenty to do around the Dosan Park.
Restaurants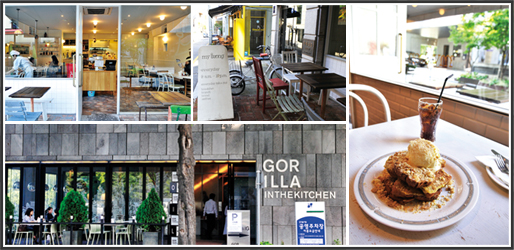 Outdoor eating is a great way to appreciate the surrounding greenery of Dosan Park. At the corner entrance of the park stands Gorilla in the Kitchen, owned by the famous "Winter Sonata" actor Bae Yong Joon. It is frequented by Japanese tourists and serves healthy fare.
Towards the northeast corner outskirts of the park is Kitchen Salvatore Cuomo, known for their authentic Neapolitan pizza. They have an open-air terrace that's great for summer al fresco dining.
The trendy crowd flocking to Vecchia e Nuovo's doors just outside of Dosan Park make it a perfect place to people watch. Health-conscious city slickers will appreciate their well-tossed organic salads but beware as this Chosun Hotel-owned restaurant has a mouth-watering display of delicious cakes and pastries ready to sabotage a diet.
Galleries
The Horim Art Center's houses a collection of Korean traditional ceramics and pottery. The building's façade, designed in a honeycomb pattern with curves, is an impressive architectural marvel. Entrance is 8,000 won.
To the right of Horim lies the Seoul Auction gallery, Korea's oldest and leading auction house offering everything from antiques to contemporary artworks. The live auctions are open to members only, but the gallery offers free viewing. Membership costs 100,000 won and you'll receive regular mailings of their beautifully printed catalogs that can double as an art book collection.
Across the street stands the new 313 Art Project exhibiting works of prominent contemporary artists. They are currently holding the "Across the Pacific" show until July 30, combining imaging, painting and sculpture by five young artists from Los Angeles.
Promenade Hermes, located on the basement of the beautiful Maison Hermes boutique, is a museum that contains a retrospective collection from Hermes' rich history. It's designed as a promenade, where each tree hides a little treasure to be discovered.
Cinema
If you're looking for a restful way to entertain yourself after a long day of walking around Dosan Park, the CGV Cheongdam Cine City, located next to Seoul Auction, is a great place to unwind and relax. It's an ultra modern cineplex featuring different style theaters like the wind-blowing and seat-shaking 4DX Theater, the "Beats by Dr. Dre Theater" that features premium headsets in each seat, and the Sweetbox Theater with private sofa-style seats perfect for romantic couples.
Dosan Ahn Chang-Ho Memorial Center
- The Dosan Memorial Hall contains historic documents, letters and photographs from Ahn Chang-ho's life.
- T. (02) 541-1800
- www.ahnchangho.or.kr
- Opening hours: Tue—Sat, 10am—4pm, closed Mondays (Dosan Memorial Park is open daily.)
- Getting There: From Sinsa Station, Line 3, Exit 1, take bus 145, 440, or 4212 and get off three stops later at Horim Art Center (across the street). Cross Dosan-daero and you will see the main street to the left of Horim Art Center which leads directly to Dosan Park.
Restaurants

Gorilla in the Kitchen

- T. (02) 3442-1688
- www.gorillakitchen.co.kr
- Opening hours: 11am—10pm
- Getting There: Located across the street on the left corner from the entrance of Dosan Park, across the street from the Ralph Lauren shop.

Kitchen Salvatore Cuomo

- T. (02) 3447-0071
- www.kitchensalvatore.kr
- Opening hours: 11:30am—11pm
- Getting There: From Gorilla in the Kitchen, turn right until you reach the end of the street and turn left till the end of that street. You will find it on the corner.

Vecchia e Nuovo

- T. (02) 514-0699
- www.chosunhotelbakery.com
- Opening hours: Sun—Thu, 8am—9pm; Fri—Sat, 8am—10:30pm
- Getting There: With your back to Dosan Park entrance, cross the street and turn right. It's two buildings down from Ralph Lauren shop on the left.
Art Galleries

Horim Art Center

Seoul Auction

313 Art Project

Promenade Hermes
Others

CGV Cheongdam Cine City

- T. (02) 1544-1122
- www.cgv.co.kr
- Getting There: Located right next to Horim Art Center.
The article courtecy of SEOUL magazine