The World Expo, much like the Olympics and the World Cup, is a top global event bringing together countries from the farthest regions of the Earth. Uniting leaders and policymakers from different cultures, the Expo is touted as the "Olympics of world cultures, economy, science, and technology."

In November 2007, Yeosu, a beautiful maritime city on the southern coast of Korea, was selected by the General Assembly Bureau of International Exhibitions (BIE) as host of the World Expo 2012. The Expo 2012 Yeosu Korea is the second BIE-approved exhibition to be held in Korea, following the 1993 Daejeon Expo.

Opening with a flourish on May 12, 2012 under the theme "The Living Ocean and Coast," the Expo 2012 Yeosu Korea offers a wide range of events and exhibits celebrating a powerful force that unites all mankind—the ocean.
World's Largest Maritime Festival set against the Scenic Beauty of Yeosu
One of the biggest draws of Expo 2012 Yeosu Korea is the sheer number of attractions available onsite. Main attractions include: the Theme Pavilion, the world's first offshore pavilion; the Big-O Show, a series of multimedia shows with special effects using water, fire, lights, and lasers; the Sky Tower, a 67-meter-tall seawater desalination facility complete with rooftop observatory and the world's loudest pipe organ; and more than 90 different shows performed each day.

Given the scale and excitement of the Yeosu Expo, it was only fitting that we traveled to the Expo as soon as it opened its doors to check things out and compile some useful travel tips for international visitors. Keep reading for a summary of some of the best pavilions, best performances, and even special travel discounts.
Planning Your Yeosu Expo Tour
The gates of the Yeosu Expo open every day at 8:30 a.m. on week days, and at 8 a.m. on weekends and holidays, but with the security checks at each gate it might take you a little while to get in. On the plus side, street performances are held near the gates to entertain you as you wait in line for admission.

There are hundreds of exhibitions and performances at the Yeosu Expo. While most of them are open free of charge for Yeosu Expo admission ticket holders on a first-come, first-served basis, there are eight special pavilions that also offer priority entry for visitors who make reservations in advance.

☞ Related News: Yeosu Expo Resumes Pavilion Reservations
** Recommended 2-night, 3-day Yeosu Travel Itinerary **
Since there's such a vast array of things to see and do at the Expo, we highly recommend setting aside at least two or three days to visit.

Yeosu Expo Travel Tip: Long lines, which tend to form at the most popular pavilions, can be avoided by visiting the Expo early in the morning or later in the evening.
Day 1:

Yeosu Expo Station

(Gate 3) – Expo Digital Gallery – Korea Pavilion – Theme Pavilion – Ocean and Coast Best Practice Area (OCBPA) – Sky Tower – Big-O Media Show

Day 2:

Main Gate – Aquarium – Marine Industry & Technology Pavilion – Exit through Gate 1 (Re-entry permit stamp) - Marine Forest Pavilion –

Odongdo Island

– Re-enter through Gate 1 – Climate & Environment Pavilion – Local Governments Pavilion – Exit through the Main Gate – Take Bus No. 2 – Yi Sun-shin Square (Yeosu night scene tour)

Day 3:

Gate 3 – DSME Marine Robot Pavilion – Energy Park, Fisheries Experience Zone (Deep Sea) – Corporate Pavilions (Samsung, LG, Lotte, etc.) – Marine Civilization & City Pavilion – International Pavilion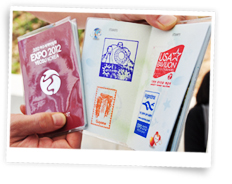 Stamp Your Passport!
Yeosu Expo Passports (souvenir books for collecting stamps at each pavilion) are available for purchase throughout the Expo site. Passports cost 5,000 won each, and come in three different colors: blue, red, and yellow. Stamps can be collected at the entrance or exit of each pavilion and will help you keep track of all your adventures at the Yeosu Expo.