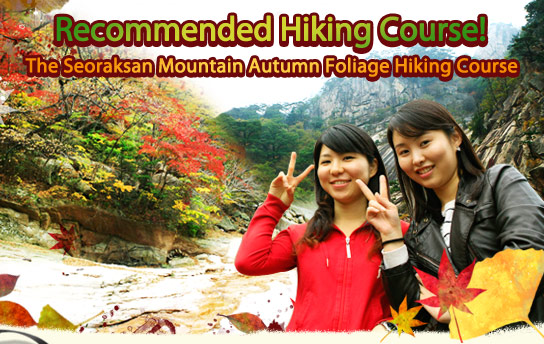 Seoraksan Mountain lies across multiple regions in Gangwon-do Province including Sokcho, Yangyang and Inje. It is the starting point of the beautiful autumn foliage in Korea.

Situated in the Sokcho, Yangyang and Inje regions of Gangwon-do, the gorgeous Seoraksan Mountains present the very first autumn foliage in Korea. Many tourists visit these mountains throughout the four seasons to witness the awesome beauty of Seoraksan's mountain cliffs, rocks, valleys, and waterfall. However, when autumn comes around, the

scenery of Seoraksan's tallest mountain peak, 'Daecheongbong (1,708m)', and Seoraksan's other main hiking routes seem to be gloriously painted in bright colors. The autumn foliage in Seoraksan is a feast for the eyes. Now, let's take a hiking trip in the Seoraksan Mountains and experience Korea's gorgeous autumn at its most splendid.
Main Hiking Courses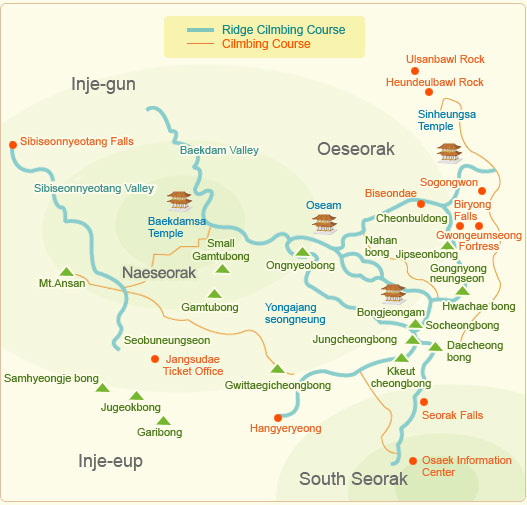 When planning to hike in the Seoraksan Mountains, there are a variety of hiking trails on offer. They range from 1~2 hour hikes, to 8 hour hikes and even '2 day. 1 night' hikes. To best enjoy the autumn foliage the following hiking trails are recommended: the Sinheungsa Temple area, the Cheonbuldong Valley area past Biseondae, and the Jujeongol area trail that begins at the Osaek Mineral Waters. If you take the cable car, you can enjoy the beauty of the crimson foliage unfolding under your feet as you travel up to the Gwongeumseong Castle, and once there you can take an easy hike.



[Recommended Autumn Foliage Courses]
A: Ulsanbawi Rock Hiking Course
Sogongwon Ticket Office – Sinheungsa Temple – Heundeulbawi Rock – Ulsanbawi Rock (3.8km / 2hrs 30min)
B: Geumganggul Cave Course
Sogongwon Ticket Office – Waseondae – Biseondae – Geumganggul Cave (3.6km / 1hr 30min)
C: Daecheongbong Peak Course
Sogongwon Ticket Office – Biseondae – Cheonbuldong Valley – Daecheongbong Peak – Seorak Falls – Osaekjujeongol (16km / 11hrs 20min)
D: Osaekjujeongol Course
Osaek (Namseorak) Information Center – Seorak Falls – Daecheongbong Peak (5.3km / 4hrs)
E: Gwongeumseong Fortress Cable Car Course
Sogongwon Ticket Office – Cable Car – Gwongeumseong Fortress (1.5km / 30min)

[Other Seoraksan Hiking Courses]
☞ Daeseung Falls Course: Jangsudae – Daeseung Falls (0.9km / 50min)
☞ Baekdamsa Temple Course: Baekdam Information Center – Baekdamsa Temple – Bongjeongam – Daecheongbong Peak (14.3km / 6hrs 20min)


Course Region Information

Sinheungsa Temple ●●
Merely twenty minutes after you enter the park through the Sogongwon Ticket Office, you will come to this beautiful temple. The main hiking routes go past here before they divide, so most hikers visit the temple. There are a number of significant cultural properties here, including a stone pagoda and an awe inspiring 14.6m tall statue of the Buddha (the Tongil Daebulsang).


Biseondae Rocks ●●
The name 'Biseondae' comes from the legend of a fairy who flew up into the heavens while admiring the area's beautiful scenery. The grand surroundings of rocks and cliffs seem like they touch the heavens, and Biseondae has been an inspiration for many poets and scholars. Some of their writings have been engraved on the rocks and they have been preserved to this day.


Cheonbuldong Valley ●●
This is the most well-known valley of the Seoraksan Mountains, and it extends from Biseondae to Daecheongbong Peak. It was named Cheonbuldong due to the large number of rocks and cliffs on both sides of the valley that look like a line of a thousand Buddha statues. The Cheonbuldong Valley boasts a gorgeous scenic view through all the four seasons, making it a must-visit attraction in the Seoraksan Mountains.


Yongso Falls ●●
Located in the Osaekjujeongol Area, the Yongso Falls, which have a depth of 7 meters, are said to have been the dwelling grounds of the legendary Imugi (a magical serpent that lived for 1000 years), until it transformed into a dragon and flew up into the heavens. This is a very popular photo spot for tourists as it boasts a spectacular view of the crimson foliage along with the sparkling waters pouring from the waterfall.
☞ Check out other sights to see (English)

Seoraksan Mountain's Main Facilities

Seoraksan National Park Visitor Center ●●
The Seoraksan National Park Visitor Center opened in 2006, providing exhibition material, promotional videos, and an experience hall that introduces Seoraksan Mountain's magnificent scenery, animals, plants, and main attractions, and which can be toured for free. At the Information Center you can also find maps of the hiking trails and make use of the Korean interpreter service.


Seorak Sogongwon Cable Car ●●
The Seorak Cable Car travels up to a height of 670 meters, taking tourists to the Gwongeumseong Castle area in approximately 5 minutes. Many hikers take the cable car so they can easily enjoy the spectacular views of Seoraksan Mountain's rocks, cliffs, and crimson foliage.
Lodging Accommodation
There are numerous lodging facilities such as condos, hotels, and minbaks (private residences that take in temporary lodgers) located around the Seoraksan Mountain areas of Sokcho, Yangyang, and Inje. However, due to the high volume of visitors during the autumn foliage season, the facilities that are located near the Seoraksan Sogongwon Ticket Office and the Osaekjujeongol usually fill up in advance. If you are unable to find accommodation in the park, then take a bus or taxi to the bus terminal or downtown area where there will be plenty of options.
☞ Search for lodging facilties in Gangwon-do

Nearby Attractions
There are many popular tourist attractions located nearby the Seoraksan mountains, for example Gyeongpodae, Yongpyong Resort and the Waterpia theme park. Must-see attractions include Sokcho's historical and cultural exhibitions at the Sokcho Museum, and there's even a teddy bear farm where cute teddy bears can be enjoyed by all ages.

Sokcho Museum & Displaced Civilians Folk Village ●●
Sokcho Museum exhibits include historical relics, photographs of Sokcho's nature, videos, and various models. During the Korean War (1950) civilians escaped from North Korea and sought refuge in Sokcho. The Displaced Civilians Folk Village contains a reproduction of life during that time.


Teddy Bear Farm ●●
There are many exhibits at the Teddy Bear Farm including one of teddy bears relaxing in a squid fishing boat after they have been for a hike in the Seoraksan Mountains. The beautifully decorated teddy bears in the outdoor exhibition halls of galleries 1 and 2 are visited by many families and tour groups.
Detailed Information on the Seoraksan Mountains
Updated in July 12, 2011