The Korea House is a place where international visitors to Korea can taste traditional Korean food, get hands-on cultural experiences, and attend engaging Korean folk performances. The Korea House is easily accessible through a wooden gate from the Namsangol Hanok Village in Pildong, Seoul. Established to promote traditional Korean culture to tourists, this cultural complex offers traditional cuisine, performances, and handicrafts.
The facility is housed in an old hanok that was previously owned by a scholar of the early Joseon Dynasty (1392~1910). It was later remodeled in court architectural style to fully reflect a traditional atmosphere. Learn about the various experiences offered at The Korea House.
| | |
| --- | --- |
| | Hands-on Traditional Cultural Programs |
The Korea House offers nine traditional hands-on cultural programs, including kimchi / bulgogi making, hanji craft, and traditional dance. All programs last about two hours.
Though the classes are conducted only in Korean, foreigners can take part in most programs except the traditional tea ceremony class, as it is easy to follow the demonstration of the instructors. To participate, simply choose a program and time, and then call to make a reservation. You can choose up to 2 to 3 programs at a time.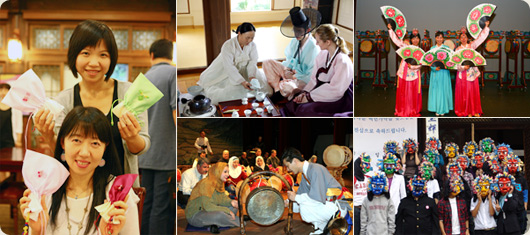 ☞ Hours: Monday through Friday, Morning (09:30 ~ 11:00) / Afternoon (14:30 ~ 16:30)
☞ Venue: Korea House Chweiseongwan
☞ Tel: +82-2-2266-9101~3 (English, Japanese) / +82-2-2267-4128 (Chinese)
☞ Website: Click here (Korean)
☞ Programs:

Programs
Hours
2011 Price
Note
Kimchi / Bulgogi making

12:00 ~ 14:00

55,000 won

Reservation for 2 or more persons

Kimchi making
09:30 ~ 11:00
14:30 ~ 16:30
(Hours can be adjusted.)
2-hour class
45,000 won

Reservation for groups of 20 or more

Traditional
knot making
40,000 won
Mask making
40,000 won
Hanji craft
40,000 won
Traditional
tea ceremony
30,000 won
Taekgyeon
(Martial art)
30,000 won
Samullori
30,000 won
Buchaechum
dance
30,000 won
☞ Photos:

1. Hanji Craft
Mirrors can be made using traditional Korean paper known as hanji. By carefully pasting hanji following the instructors' demonstrations, I was able to make two mirrors on my own.
2. Traditional Korean Dance (buchaechum)
Wearing a traditional dance costume, participants can learn the basic movements of buchaechum (fan dance) as well as some major movements like the flower blossom and wave.
3. Kimchi Making
In the Jungjeong yard of Korea House, we learned how to make kimchi and were able to taste when we were finished. We brought back home the kimchi we made.

| | |
| --- | --- |
| | Traditional Art Performances |
In addition to traditional hands-on programs, the traditional art performances of Korea House are also popular among international visitors. Currently, there are eight regular programs offered, ranging from traditional music to dance and traditional vocal art. Note the Myeongin Myeongchang performance by top Korean artists.
It features Korea's intangible cultural assets performing dance, pansori, and traditional musical instrument. Thus, it is a great opportunity to meet with the country's leading artists in their own special fields.

The performances are offered with subtitles in English, Japanese, and Chinese.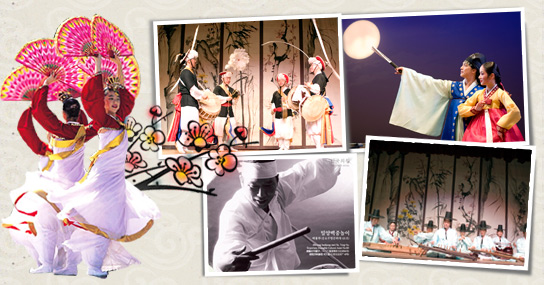 ☞ Period: Open all year round
☞ Hours: 19:00, 20:50 / Sundays at 20:00 only
☞ Price: 50,000 won
☞ Programs: Click here
☞ Schedule: Click here
☞ Note: Before the performance, visitors can have dinner at the traditional Korean restaurant of Korea House (inquire by phone).
☞ Website: Click here
☞ Tel: +82-2-2266-9101~3 (English, Japanese) / +82-2-2267-4128 (Chinese)
Housed in the annex building of The Korea House, the Korean restaurant offers traditional, full-course hanjeongsik Korean cuisine. The annex building itself is interesting with its unique traditional ambience. As such, it has been a favorite filming location for many Korean dramas and movies.
The food is based on traditional noblemen's cuisine of Seoul and Gyeonggi-do areas; it also includes court cuisine served to the kings. The restaurant offers jeonsik course meals consisting of daeha-gui (grilled king prawn), kkotge-jjim (steamed blue crab), gujeolpan (dish of nine dishes), and sinseollo (Food of the Mountain Gods), as well as the more affordable lunch special menu.
Visitors can also enjoy traditional art performances while dining by making reservations over the phone.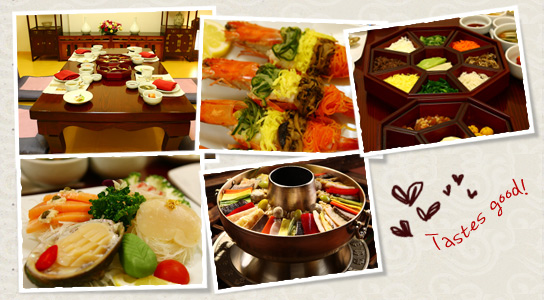 ☞ Hours: Lunch (12:00~14:00) / Dinner Part I (17:30~19:00) / Dinner Part II (19:20~20:50)
(Only one dinner is available on Sundays between 6:30pm and 8pm.)
☞ Reservation: +82-2-2266-9101~3 (English, Japanese) / +82-2-2267-4128 (Chinese)
☞ Price: 18,000 won ~ 250,000 won (as of March 2011; price is inclusive of tax and service charge.)
| | |
| --- | --- |
| | Traditional Handicraft Gift Shop |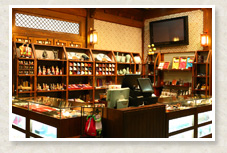 Located across from the Information Desk at the entrance to Korea House, the Traditional Handicraft Gift Shop has on sale ceramics, lacquer ware, and crafts made of hanji, metal, or leather. Visitors can view and purchase craftworks produced by Korea's intangible cultural assets and leading craft artists.
☞ Hours: 09:00~22:00
☞ Tel: +82-2-2266-9101~3 (English, Japanese) / +82-2-2267-4128 (Chinese)