Waterpia's Facilities



Waterpia is largely separated into the Spa Zone and Aqua Zone. Visitors can enjoy bathing themselves in the outdoor hot springs of Spa Valley located in the Spa Zone, while the Aqua Zone offers amusement for children such as wave pools (Shark Blue, Shark Wave), sliders, and youth pools.


* Spa Valley



Spa Valley uses only 100% all-natural hot spring water from Seoraksan Mountain. The outdoor spas are perfect for the entire family to enjoy and make for an ideal holiday retreat. Several spas are also very unique such as Yongdu Spa, which uses naturally heated spring water; Season Spa, a fragrant bath infused with jasmine and lemon; and Wood Spa, built from 400-year-old wood that is known to have cleansing and therapeutic effects.


☆ Recommended Spas!

Rain Spa
"I really liked the falling water streams. The water wasn't too hot and the yellow buttons you sit on were pretty as well. Can't I stay here a little while longer?"

Well-Being Spa
"The apple fragrance is a lot stronger than expected. I heard it will smell of a different fragrance tomorrow. I'm getting a little curious after hearing that the fragrance changes every day. I'd like to bring a friend and just talk and relax at this spa."

* The Wave Pool

There are two wave pools in Waterpia: Shark Wave and Shark Blue. Many visitors get the feeling they're at the beach when they enter Shark Wave. Everything is prepared for visitors here, including the bungalows and trees that surround the beaches, along with parasols and sun beds. Shake off daily stress and throw yourselves in the swaying waves and experience the thrills of the waters.



☆ Shark Wave Tip!

▶ Hours of Operation: 30mins~50mins every hour
(when the waves are shut off, there will be inspections or free swimming time.)
▶ Sun Bed Rates: Monday~Friday Free / Saturday, Sunday 3,000 won for 2 hours



The Aqua Zones indoor wave pool, Shark Blue, can accommodate more than 300 people with depths of 1.1 meters, life vests are a necessity. If you do not want to sit out in the heat of the scorching sun, come indoors to Shark Blue.



☆ Shark Blue Tip!

▶ Hours of Operation: 25mins every hour
(when the waves are shut off, there will be inspections or free swimming time.)
▶ Life Vest Rentals: 6,000 won
(security deposit of 3,000 won will be refunded when the life vests are returned.)
▶ Tube Rentals: 4,000 won
(security deposit of 2,000 won will be refunded when the tubes are returned.)

* Other Facilities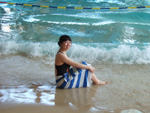 Though many foreign tourists visit Waterpia, Chinese and Southeast Asian tourists prefer the sliders and Rainbow Stream. There are two types of sliders at Waterpia: the Rafting Slider and Turbo Slider. A mat is used for the Rafting Slider to drop 20 meters for a thrilling ride, while riders drop 15 meters on the Turbo Slider without using anything but their own bodies.
☆ Slider Tip!

▶ Hours of Operation: 11:00AM~12:00AM , 1:00PM~6:00PM, 6:30PM~8:00PM
Only the Rafting Slider is available from Monday~Friday / Only the Turbo Slider is available on Saturdays and Sundays.
▶ Riding Restrictions: Pregnant mothers, elderly citizens and those weighing more than 80kgs are not permitted on rides.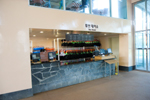 Riders on the Rainbow Stream can relax and stretch out while floating quietly around with their children in the Infant Pool. Why not try a neck massage or neck shower at the Dream Bath? Many visitors come to Dream Bath in order to relieve fatigue with their families or their boyfriends/girlfriends.
☆ An Interview with Chinese Travelers at Waterpia!

A (Reporter): What brought you here to Waterpia?
B (Tourist): I came to Gangwon-do on a business trip and decided to visit Waterpia because I like hot springs.
A: Now that you're here, how do you like it?
B: I came with three of my co-workers, and they all like going to the hot springs. The place is very charming - it's very nice.
A: Which area did you enjoy the most?
B: It's hard to find hot springs where I live, in Cheong-do. I heard that the Seoraksan Hot Springs is really nice. Now that I'm here, I thought that Spa Valley was the most interesting and fun. After touring around the spas with my co-workers, I feel really good, and my skin has become very soft and smooth.
A: Do you have plans on coming again?
B: Of course! We were going to come just for today, but we decided to come back again tomorrow. I really like Waterpia's spas.