Many travelers have described Jeju-do as an archetypal paradise. Its culture — lifestyle, language, folklore and religion — continues to be influenced and informed by nature. It's difficult to imagine a separation between the two on Korea's southernmost island. In fact, Jeju's Provincial Government frequently promotes Jeju-do's natural environment as one of the island's Samnyeo and Sambo, or "three beauties and three treasures."

Surrounded by such a gorgeous seascape, Sherrin Hibbard and her mother expected a wonderful afternoon of sailing at Gimnyeong Harbor — a light breeze, blue sky and a sun shining so brilliantly that the water seemed to glimmer. Their boat free of its moorings, the two women raised their faces to soak up the sun.

Minutes later, much to their surprise, the two women encountered floating rubbish. Plastic bottles, Styrofoam instant ramen bowls and candy wrappers had been negligently tossed aside. Some found their way into the sea — bobbing up and down amidst the gentle waves. "Who wants to sail around garbage?" says Hibbard, an English language teacher and Jeju resident since September 2004.

This dismaying encounter last August encouraged her to ponder Jeju's oft-described moniker as nature's paradise in the North Pacific. An island with a green environment shouldn't have rubbish floating in the sea. "We have a responsibility to keep it clean," she says. Certain that even a single individual could make a difference, the Australian teacher has since undertaken a new crusade. "My Australian friends are very environmentally conscious. If they can be active there, I can be active here."



She posed the question: How can a community amid rocks, wind and women, or Samda, become more committed to its environmental protection? Such efforts are now even more timely. UNESCO recently designated Jeju a World Heritage site for Mt. Halla, Manjung Cave and Ilchubong's Sunrise
Peak. Moreover, the haenyeo (women divers) are among those who clearly recognize the imminent danger to their sea, says Hibbard. As cultural symbols of Jeju, they must often spar with refuse left by careless hands.




Initiatives to Protect Nature's Bounty and Beauty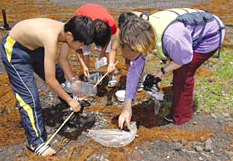 Those careless hands and ignorance about environmental concerns are also being challenged by members of the Kimnyoung International Sailing Club. "A lot of people think the sea is a barrier, but it's not. The sea connects countries," says Hibbard. In fact, the Sailing Club will organize a local activity to coincide with "Clean Up the World Weekend" on September 16.
Organized in association with United Nations Environmental Program (UNEP), some 35 million volunteers worldwide representing 120 countries are expected to participate in simultaneous events around the globe. One of the main objectives is to promote the community's role in protecting the environment. Now, with the Sailing Club securely on board, planning is underway.
Coach Park Jin Hyung, president and team manager of the Sailing Club, is heartened by the upcoming event. "Although we have a cleaning day at Gimnyeong once a month, it's not enough," he says.
Hibbard adds that individuals often don't realize how their actions cause damage. "You can't just throw rubbish away," she says. For this reason, organizers hope that many interested community groups will become involved in the global event. "We want to get the message out."
Nature's creatures appear to be getting the message. too. A bird flies down onto the basalt rocks looking for lunch, and guides its beak to peck away at food. Not taking long to realize its mistake, the scavenger flies away. The washed-up and rotting fishing net is left alone. At the same time, Hibbard picks trash out of the sea from a blue dinghy. "Plastic bottles and plastic bags are the worst," she says.
Getting the Message Across, One Plastic Bag at a Time
As operators of dinghies and motor boats in and around the harbor make their way, debris such as plastic bags get caught underneath their vessels. "They cause problems, and the bad smells coming from the harbor aren't good," says Park.
To throw away an orange peel to replenish the earth is one thing. "Orange peels disintegrate. Plastics never go away," says Hibbard.
One local supporter of the event is Sung Changmo, owner of Cafe 1263 in Gimnyeong. People ought to be responsible for their own bedrooms and gardens, he believes. "When I see litter, I get upset and pick it up myself, says Sung, who moved to Jeju from Seoul nine years ago.
Support from government officials has also put environmental protection on Korea's agenda. Says Lee Chi-Beom, Korea's Minister of Environment, "The most important value of the 21st century is sustainability that integrates the environment, economy and society."
Hopefully, many individuals will participate on September 16. The Kimnyoung International Sailing Club will use its connection with the sea to raise ongoing awareness. At the moment, many people don't realize how they can make a difference. Hibbard hopes to change that. "Education is the way to go. That's where I come in."

For more information about World Clean-up Day in Jeju-do, write to: sherrinthesea@gmail.com