Mud might not sound like a major tourism attraction, but the mud flats of Boryeong City is the scene of one of Korea's most popular tourist events - the Boryeong Mud Festival. Blessed with mud so mineral-rich it's said to surpass Israel's legendary Dead Sea Mud in its health and cosmetic properties, Boryeong becomes the biggest beach party in Korea as thousands of locals and foreigners descend upon the beaches for a nine-day bacchanal of mud and fun. With word of the medicinal properties of Boryeong's mud stretching far and wide in this ever health-conscious world, festival organizers are hoping for even bigger things in 2007, the festival's 10th year.
Boryeong Mud: It's Good for You!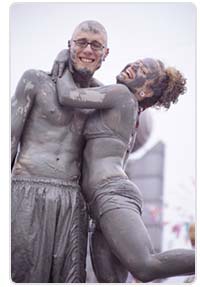 Boryeong is a small town on the beautiful west coast of Korea, about an hour and half outside of Seoul's bustling capital. It's primarily known for its long sandy beaches, particularly the 3.5 km-long Daecheon Beach, one of Korea's most popular summer resort areas. Daecheon Beach is renowned for its white sand, made of shell powder, which has the distinct advantage of not sticking to you, thus making it much easier to wash off. On any given summer weekend, Boryeong's beaches are guaranteed to be full of merrymakers taking advantage of the sand, surf and the town's multitude of tourist and entertainment facilities.

As lovely as the city's beaches, mountains and ocean views are, Boryeong is mainty famous for its mud. Beginning in July of 1996, the city of Boryeong began extracting superior-quality mud from the pristine tidal mud flats near Daecheon Beach. Boryeong mud was discovered to be remarkably good for the human body. The mud produces a large amount of so-called far-infrared rays (FIR), a form of light - invisible to the naked eye - which ionizes and activates water molecules in our cells and blood. The effects of FIR are improved oxygen levels in our bodies, the removal of toxins and fats from our bloodstream and elimination of waste, and improvement of nervous functions. The mud contains more germanium, minerals and bentonite than mud imported from overseas, including the so-called "black mud" of Israel's Dead Sea region, also renowned worldwide for its cosmetic effects and used as an ingredient in skincare produces.

The city of Boryeong produces some 16 cosmetic products using Boryeong mud including the ever-popular mud packs. The wondrous health and cosmetic effects of the mud have been proven by studies by the Korean Research Institute of Standards and Science, Korean Research Institute of Chemical Technology, Taepyungyang Technology Institution and Wonkwang University. The town's mud products, meanwhile, have passed the rigorous standards of international health agencies such as the United States' FDA and Japan's Ministry of Health, Labor and Welfare. In 2001, it also received ISO 9001 certification.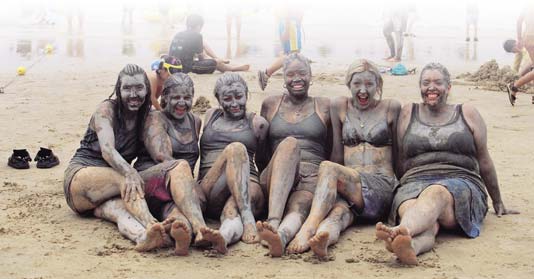 Filthy Fun for Locals and Foreigners
Foreigners apparently like the mud. The Boryeong Mud Festival is probably Korea's most popular regional festival for foreign tourists. Of the 1.72 million visitors who took part in the festivities in 2006, some 44,000 were foreigners.

The Boryeong Mud Festival goes out of its way to make the celebrations as foreigner-friendly as possible. Foreign visitors are provided with complimentary mud-based cosmetic products and clothing storage for no charge. Participation in programs is also free. Also, when foreigners participate in programs, the events are conducted in both Korean and the relevant foreign languages. A free shuttle bus will also be provided to take foreign tourists to Boryeong's major tourist sites. Travel companies that send groups of five or more foreigners will be able to accommodate them for the low, low price of 5,000 won a person.
Things to Do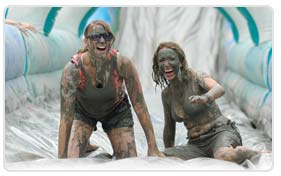 The highlights of the festival are, of course, the mud and the beach. Among the more participatory events are the mud bath and mud massages, perfect for rejuvenating both the body and soul. Boryeong's mud is known for preventing skin aging and and purifying the skin. While basic do-it-yourself mud massages are free, those with a bit of money in their pockets can opt for more high-tech mud massages followed by a sea water bath.

The festival is known for its many fun and unusual events. Participants can take part in an intensive - and very muddy - Marine Corps-style training program that will test just how in-shape you are. Mud-wrestling is another participant favorite, although the more physically fit may wish to try their hand at the 10 km mud-flat marathon. Fans of winter sports, meanwhile, may like to test their skills at mud-flat skiing.

Most of the facilities, including mud-slides and mud tubs, are "air-bounce," so participants can bounce around to their heart's content without fear of injury.

If you'd like to bring some of the mud home with you, there will plenty of opportunities for you to purchase some of Boryeong's fine mud products such as soap and cosmetics at reasonable prices. Visitors can even participate in workshops that will teach you how to make your very own mud soap.
Other highlights of the festival will include a Miss Mud Beauty Content, the Midsummer Night's Concert, a street parade and musical performances.

Find out more!
Programs and schedules of the 2007 Boryeong Mud Festival
Boryeong Mud Festival in 2007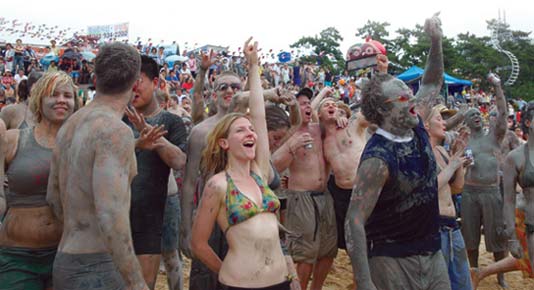 Getting There
The lovely town of Boryeong is easy to reach for those residing in Seoul. Just take a train from Seoul or Yeoungdeungpo Station to Boryeong Station, where it's a short 15-20 minute bus ride to the beach. Buses to the beach depart from Seoul's Nambu Bus Terminal nine times a day. For more information, call 011-438-4865 (English).
Written by Robert Koehler
Photos Courtesy of Boryeong Mud Festival
The article courtesy of Seoul magazine