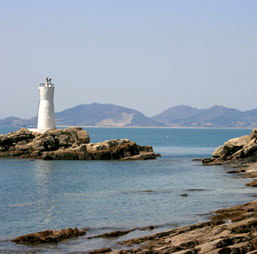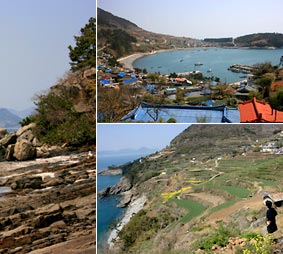 Namhae - Treasure Island of Korea
A five-hour drive from Seoul leads visitors to a quaint place known as Namhae, Korea's "treasure island." A bridge that was constructed in 1973 now is connected to the mainland, which makes it no longer an island in the truest sense. This small yet beautiful island has picturesque sceneries harmoniously juxtaposing the mountains and the sea. The jagged 302-kilometer coastline reveals strange rock formations that create a fantastic view reminiscent of ancient Asian paintings.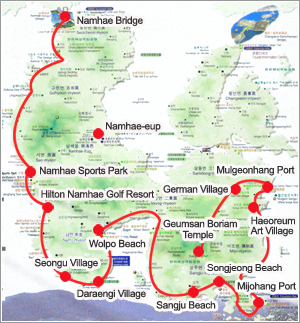 The island is actually the topmost part of a huge mountain range rising from the sea floor. Because of its topological characteristics, the whole island is formed from mountains that descend steeply to the shoreline. It is surrounded by emerald-colored seas dotted with 68 islands, some inhabited and some not.

Largely untouched by development efforts, Namhae Island still has a purely traditional agricultural and fishing community. Along the steep coast, the people managed to create terraced fields to produce garlic in the spring and rice in the summer and autumn. If you would like to see what Korean life was like a half century ago, this is the place to go.

Just driving along the 302-kilometer-long coastline is enough to impress visitors. However, a trip to some tourist sites will make the trip even more worthwhile. Most are located near the coast and can be enjoyed during the course of the ride. In this edition, French student Frederic accompanied us to the major tourist sites of Namhae: Hilton Golf Namhae Resort, Daraengi Village, Geumsan Boriam Rock, Sangju Beach, Mijohang Port, Haeoreum Art Village and a German Village where we experienced fishing and pottery-making.
Frederic's Namhae Travel Plan

One night and two days is a bit too short for sightseeing in Namhae, especially for those traveling from Seoul. The ride to Namhae itself takes 10 hours round-trip, so two nights and three days is highly recommended so that visitors can enjoy the island at a leisurely pace. Here is how Frederic scheduled his 2-night, 3-day trip to Namhae.

Frederic's 2-night 3-day Namhae Trip
Namhae Bridge – Hilton, Namhae Golf Resort — Daraengi Village – Accommodations – Sangju Beach – Songjeong Beach—Mijohang Port – Haeoreum Art Village (ceramics) – 1 night in German Village -- Mulgeonhang Port (fishing) – Geumsan Boriam Temple
Frederic's Ranking of Namhae Tourist Sties

Namhae Bridge ★★★★:
Built in 1973, Namhae Bridge connects the island with the mainland. Spanning a total length of 660 meters, the 80-meter high suspension bridge looks out over the beautiful surrounding landscape, and at the beginning of the sightseeing trip, the bridge won lots of points with Frederic. The only complaint was that there is no lookout-area where drivers can pull over to take in the view. So visitors must enjoy the landscape for a few fleeting moments as they cross over the bridge.
Namhae Coastline Road
Coastline Road ★★★★★:



As we drove along the coast, Frederic was so immersed in the landscape that he didn't even want to chat. His silence was only broken by the occasional exclamations of "Beautiful!" Without hesitation, he named this drive as the best attraction in Namhae. The winding coastal road is paved for the full 302 kilometers. During the ride, visitors can feast their eyes on the green landscape created by innumerable islands and the emerald-colored sea and terraced rice fields climbing the steep hills. For the best view, take this coastline road from the Namhae Bridge because cars in Korea use the right lane.
Hilton Namhae Golf Resort ★★: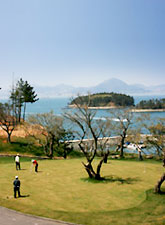 Thanks to its upscale facilities and picturesque golf course, this resort is most popular among Korea's wealthy class. However, it didn't seem to have impressed Frederic that much. He remarked that the resort's modern facilities did not seem to fit in with the surrounding natural landscape. It may also be because he enjoys backpacking, and is not interested in golf or spas. Nonetheless, this is an upscale facility that offers a beautiful golf course next to the sea. The resort also offers the best in spas, restaurants, and cafes.
The resort offers spacious accommodations ranging from 115 to 260 square meters. Room rates for double occupancy are from 505,000 won to 965,000 won per night. Spa admission is 19,800 won.
Tel: +82-55-863-4000 (English, Japanese)

Daraengi Village ★★★★: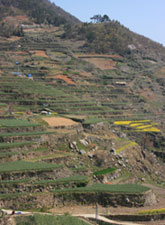 Daraengi Village gained popularity after it appeared in a popular commercial, and now, people associate it with Namhae Island. The village offers two major attractions: the first is the terrace rice patties with 108 steps created on a steep hill with stones and soil; the second is Gacheon Amsu rock, which is not only the guardian rock of the village, but also a popular fishing spot.


Sangju Beach ★★★: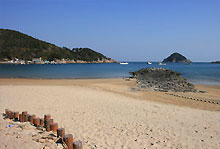 Most ports and beaches in Namhae are jar-shaped. Sangju Beach, like the belly of the jar, has golden sand, while the endmost part accommodates a small wharf. The beach is famous for the rocky islands off the coast, the pine forest, and emerald-colored sea.

Songjeong Beach ★★★: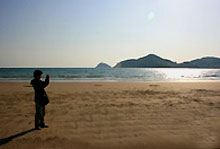 Songjeong Beach, located near Sangju Beach, has a similar shape. The only difference is in the ambience: Sangju Beach is like a gorgeous woman, while Songjeong Beach is more like a shy young lady.

Mijohang Port ★★★:
This small but vibrant port is popular among the locals, and is the most active fishing port where fishing boats move in and out in a constant stream to unload their catch at the fish market. If you go, make sure to visit the fish market, where you can witness the clamor of the crowds as the fish are auctioned and loaded on trucks for shipping.
[A local fish market
at Mijohang Port ]
[Mijohang Port ]
[Fishermen on Mijohang Port]
Haeoreum Art Village (Ceramics-making experience ★★★)★★★ :
The Haeoreum Art Village is located in a former school building facing the sea. Here, a variety of exhibits shed light on Korea's past. Visitors can also learn to make ceramics, hanji paper-craft, natural dyeing, and other crafts.

[Writing down the address
for delivery]
[Plates made by Frederic and
an accompanying traveler]
[Frederic working hard
on making a plate]
Frederic took part in a 30-minute ceramics class. The clay items take between a month and two months to dry, after which they are fired and mailed out to the creator. International mailing is not yet available. The participation fee is 10,000 won.

Mulgeonhang Port (Fishing experience ★★★★)★★★ :

[The fishing boat ridden
by Frederic]
[Frederic having soju and
raw fish they just caught
with the captain]
[Fishing]
This small port and fishing area facing the Germany Village is also famous for its forest. Three hundred years ago, the local people started planting trees along the coast as a windbreaker against the sea winds and waves so as to attract schools of fish into quieter coves. Today, the trees have grown to become a 30-meter-wide forest along 1,500 meters of coastline. It has been designated a natural monument.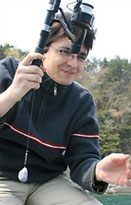 At Mulgeonhang Port, we decided to rent a small boat, which provided us with a memorable fishing experience. The daily rate for this type of boat ranges between 150,000 won and 250,000 won. For a 2 to 3 hour rental, the fee costs between 50,000 won and 100,000 won per person, but you may be able to strike a bargain depending on the number of people and the boat owner. Fees are strictly cash. You can rent a boat by visiting any of the stores with a "낚시 (fishing)" sign. During the off-season you may be able to just walk in and ask, but it is best to reserve at least one day in advance.

Frederic took a Daribangho boat +82-55-867-3416 (Korean), +82-11-839-3416 (Korean) / Namhae Changjo Naksi 010-9515-6130 (Korean) / Samcheonpo Naksi +82-55-867-4554 (Korean)

German Village ★★★:
This Korean hamlet (what does this mean? Hamlet?) is the only one that looks like a real German village. It was built for Koreans who had gone to Germany in the 1960s seeking work and later Korean-Germans had returned. The architecture of the houses is German-style, and even the construction materials were imported from Germany. From here, one can enjoy both the mountains and the sea, as the village faces east toward the coast. The sunrise over Mulgeonhang Port lighthouse is definitely worth a visit.
Bohn House (+82-55-867-0759 / Korean) / Berlin House (+82-55-867-5768 / Korean) Website : http://www.germanvillage.co.kr/( Accommodation reservations / Korean)

Geumsan Boriam Temple ★★★★: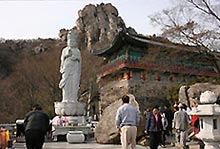 Geumsan is the tallest and most beautiful mountain in Namhae, and just below the summit is Boriam Temple, which is among the three holy sites that are believed to answer the supplications of the faithful who pray there. The temple looks out to the boundless seas of Hallyeo Haesang Maritime National Park, and behind are the beautiful crags of Mt. Geumsan, which is particularly known for its sunrises. Frederic had considered taking part in the temple stay program (only 10,000 won), but after learning that the program takes eight hours to complete, he changed his mind.

Treasures in Namhae found by Frederic

Even Better than Daraengi Village! Seongu Village is a Hidden Jewel!
[Seongu Village]
[A farmer plowing the field with
a cow at Seongu Village]
[Seongu Village's Garlic Field]
As we drove along the coastal road, Frederic suddenly wanted us to stop the car. His request to stop in front of Seongu Village was surprising since it wasn't a particularly well-known tourist site. But when we saw the village, we understood. This fishing village was even more beautiful than Daraengi. In fact, while Daraengi Village is on the coast, it is more an agricultural village known for its rice. On the other hand, Seongu Village follows the traditions of a fishing community, combining both agriculture and fishing. With a few boats always anchored at a small wharf, the village has a long history and still preserves its ancient folk customs. If you'd like to see genuine island traditions, visit this village. Note: the 4.5 hour hiking trail from Seongu to Daraengi offers the best view of Hallyeo Haesang Maritime National Park. Please be aware that this is not an easy trail.
How to Get to Namhae Island

The best way to travel to Namhae from Seoul is by express bus. Once on the island, however, traveling by bus may not be the most convenient option. In order to fully enjoy the tourist sites, and especially to see Namhae's coastline landscape, it is best to rent a car or a taxi.



Most Recommended Options to go to Namhae
1, Rent a car from Seoul, travel through Namhae, and return the car in Seoul
2, Travel to Namhae on an express bus from Seoul → Rent a car near Namhae Bus Terminal
3, Travel to Namhae on an express bus from Seoul → Rent a taxi near Namhae Bus Terminal (about 100,000 won per day)



Rent-a-car from Seoul : The most well-known car rental company is Geumho and AVIS. Both are large companies that offer convenient rental procedures even for foreigners. Insurance is fully covered, and renting and returning could not be easier as they have hundreds of car rental branches all around the nation.


Geumho
As Korea's leading car rental company, Geumho offers 28 rental branches in Seoul and hundreds nationwide. It is also the business partner of Hertz. Travelers can get easy access to Geumho since branches are opened in hotels like Hilton, Hyatt, Lotte, Ritz Carlton, Renaissance as well as major transportation hubs like Incheon Internationa airport, Gimpo airport, and Yongsan and Seoul stations. Those who sign up as members on their website also get discount benefits. The company also offers driver services (does this mean there is a driver / chauffer? Or are there driving lessons?).
Tel: +82-2-797-8000 (English)
Website : http://www.kumhorent.com/en/Main.aspx(English )
http://www.kumhorent.com/jp/Main.aspx(Japanese)
http://www.kumhorent.com/cn/Main.aspx(Chinese)
Information on rates and cars are available on Geumho's website. Real-time reservation and inquiries are also available.

AVIS
Avis is an international rental car company with worldwide chains. Homepage members can get discount benefits. The company also offers driver services.
Tel: +82-2-862-2847 (English)
Website: http://www.avis.co.kr/eng/index.jsp(English)
Information on rates and cars are available on AVIS's website. Real-time reservation and inquiries are also available.



Seoul ←→ Namhae Express Bus Schedule

| | | | | |
| --- | --- | --- | --- | --- |
| Departure | Arrival | Departure Time | Ride | Fare |
| Seoul | Namhae | 08:30, 09:50, 11:30, 13:30, 15:10, 16:40, 18:00, 19:00 | 4.5 hrs | 22,200 won |
| Namhae | Seoul | 07:30, 08:30, 10:00, 11:30, 13:00, 15:00, 17:00, 18:30 | 4.5 hrs | 22,200 won |
Seoul Nambu Bus Terminal: Subway Line 3, Nambus Bus Terminal, Exit 5 / +82-2-521-8550 (Korean)
Namhae Bus Terminal: +82-055-864-7101 (Korean)

Local Transportation
Bus: Since Namhae is a rural area, public transportation system is not very well developed. If you come to Namhae by express bus, it is best to rent a car or taxi.
Taxi: There are many taxis in front of Namhae Bus Terminal. The fare goes up depending on the distance traveled, but a ride across the island would cost about 100,000 won a day.
Rental car: The only car rental company in Namhae is located near the bus terminal. World Rent-a-car offers passenger vehicles of 2,000cc for 70,000 won.