Eclectic Artists and Dynamic Tunes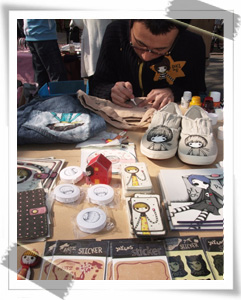 While many tend to visit Hongdae only during the bewitching hours at night, it's interesting to discover that a fabulous Saturday or Sunday can be spent visiting one of the most authentic markets near Hongik University. Here, you can browse around for a few hours, shop and then celebrate your purchases at one of the multitude of clubs or bars until the early hours of the morning. I found that the markets here offered a wide variety of reasonably priced and original Korean paraphernalia, more than appropriate gifts for friends and family members back home.

The Hope Market (Sundays) and Free Market (Saturdays), in operation since May 2002, are open from about 1pm to 7pm on weekend afternoons, and run through most of the year (although I've heard they are closed, somewhat inexplicably, during the months of November and February). Check with the Tourist Information booth on "Picasso Street" to be sure.
• Hope and Free Markets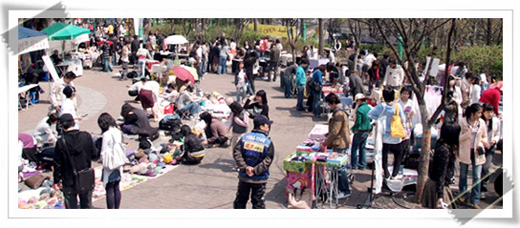 Hope and Free – what's the difference? Two different names for the markets are misleading, since they share the same location - the children's playground near the front gate of the university. However, keep in mind that some of the vendors (and merchandise) may vary depending on whether you go on a Saturday or Sunday.

The market is a makeshift gallery of up to 800 circulating vendors who sell a wide range of handmade, original objects geared primarily toward women, such as necklaces, earrings and other jewelry. While most of the vendors are clearly university students, others are artistic ajummahs (middle-age women), so there is a wealth of eclectic and creative stuff.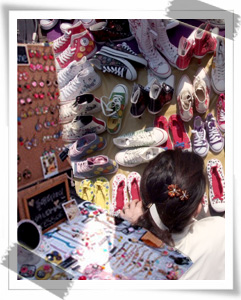 As I entered the market, there was a prominent banner advertising "hand-painting." This stall was run by an older woman who was also selling a stylish denim spandex jacket for 40,000 won, as well as a myriad collection of blouses, dresses and jackets, usually hand-painted with images of flowers or other botanical themes. An image of one particular girl appeared on at least six of the items. When I questioned the vendor as to whom the girl was, she just pointed to her head with a poignant gesture, perhaps indicating that it may represent an estranged daughter or beloved friend from youth.

Contemplating this, I moved on to the next stall, where they were selling fashionable blue and silver knit belts for 8,000 won (originally 12,000 won). They also had odd woolen hats that looked like animals; for example, one was bright green with protruding white frog's eyes. While these hats usually sell for 15,000 won, the friendly artists promised foreigners a 1,000 won discount. Visit the website at http://www.myredcat.com for more information and some corny pictures of people wearing the hats.

→ For more information on the Flea Markets in Seoul, click here!
• Picasso Street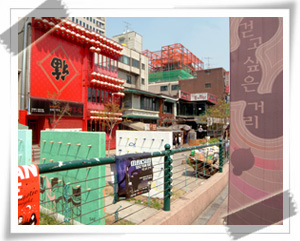 In general, Hongdae has become an experimental platform for new artists, especially for those whose work has not yet become commercial enough to break into, say, the Insa-dong scene. While "Picasso Street" is something of a misnomer, as the merchandise appears to convey a distinctly Korean style (with cloth material, floral insignias and other patterned trinkets featuring prominently), its artistic offerings are more than worthy of its namesake.

Another stall displayed several earring and necklace sets of interesting and exotic shapes and colors. One piece that caught my eye was a light green necklace (made of a material that looked like jade) and matching earring set that contained ornate golden leaves on each earring. There was a great assortment of other jewelry, such as handmade rings, ponytail holders and tiny ceramic animal figurines, including caricatures of fish, butterflies and teddy bears.

Some other items of note included cheap Converse All-Stars painted with amusing and colorful decals, and a computer mouse that would fit perfectly into the stylish atmosphere of an aspiring artist's home. Also, there were little blocks of cardboard on strings for 3,000 won, inscribed with your own individual message, courtesy of the calligraphy artist. See http://blog.naver.com/boottouch for more details (although the website doesn't offer much content, you can get an idea of some of the merchandise available).

For me, several other items also stood out. At the stall run by Ms. Hye-Jin Kang, there were hand-stitched diaries (7,000 won), useful ceramic clocks and incense holders, holders for cell phones and bankbooks that started at 3,000 won, little bags for digital cameras, and cigarette cases and Zippo lighters adorned with acrylic colors selling for 18,000 won. See http://club.cyworld.com/summer-dance for more pictures and details.
• The Club Scene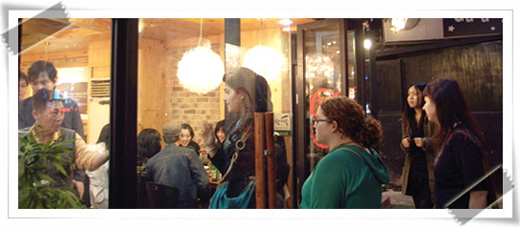 After the market, it's easy to find a bite to eat in Hongdae and then head out to the clubs. Hongdae has something for everyone and all tastes, ranging from hip hop and celebrity DJs, to reggae and old-time rock n'roll. On the last Friday of every month, Club Day, you can gain entry into more than a dozen rockin' clubs for 15,000 won. Basically, you receive a paper bracelet and a coupon that you can use at any of the clubs to buy either a beer or soft drink. Clubs like Tool, M2 and Cargo feature primarily electronic music, while Hooper, Q-VO, and Tune are more geared toward hip hop. Apart from the clubs, there is also a burgeoning live music scene in Hongdae, and rock/blues outfits like Somah Dat and reggae group, Windy City, are especially talented and energetic.

→ For more information on the night life in Hongdae area, click here!
→ For more information on the Hongik Univ. Street CLUB DAY, click here!
→ For more information on the Hong-ik Univ. Street The Sound Day, click here!

• Know Where You're Going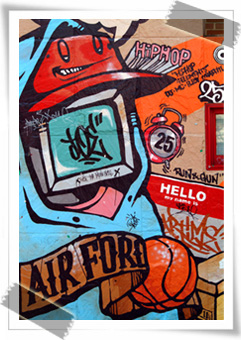 If you decide to visit Hongdae, make sure you know where you are going! Even once you understand exactly how to find this area, legendary with clubgoers, it's even more confusing if you arrive at night, simply because there seem to be so many bars, restaurants and other establishments, all flickering their bright neon promises. Also, if you're looking for "Hongdae"on an English subway map, you'll be frustrated. This is because the name "Hongdae" itself is somewhat of a slang term in English, since it is derived from the first part of "Hongik" and the first part of the Korean name for a university (Dae-hakgyo). So look for "Hongik University" on the subway map, if you're going by the English names.

To get to the markets, take exit 5 of Hongik University Station (line 2). You should see a Paris Baguette bakery and a Caffe Pascucci directly across the street as you exit. Walk down the main road about one block until you see the blue and orange sign of Omuto Tomato restaurant. Turn left and walk up 'Picasso Street' toward the imposing newly-built front gate of Hongik University. Turn right at the intersection and walk up a small alleyway about 50 meters until you reach a playground on your left.

The clubs and bars are also somewhat far from Hongik University Station, so it may be better to exit at Sangsu Station on line 6, instead. Have a look at the map and listing guide of this magazine for more information.
Written by Rowan Johnson
Photos by Ryu Seunghoo and Chun Minkyu
Article courtesy of SEOUL magazine