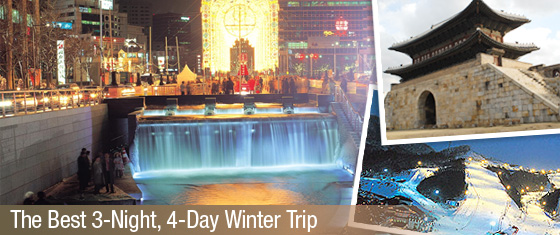 Experience A Bit of Everything about Korea in a Short Time


Experience first hand Korea's traditional yet modern lifestyle, its culture, and winter sports! Don't miss any of them!
The following is a brief guide to a wonderful winter package itinerary that allows travelers to discover the many different aspects of Korea.
Itinerary Overview
Day 1: Seoul: City Tour Sightseeing at Changdeokgung Palace → Insadong → Cheonggyecheon Stream → N Seoul Tower → Hotel or shopping at Dongdaemun Market
Day 2: Sightseeing in Suwon Depart from Seoul to Suwon → Sightseeing at Suwon Hwaseong Fortress and Everland → Back to Seoul
Day 3: Namiseom Island Depart from Seoul → Namiseom Island → Gangchon Resort (go night skiing and spend the night at Gangchon Resort)
Day 4: Seoul Gangchon Resort (go skiing in the morning) → Back to Seoul



Day 1: Blend of Tradition and Modernity within the Metropolitan Seoul
Visit the heart of Seoul. The trip may be short, but you don't want to miss the capital city of Korea. First, visit the royal palaces that represent both ancient and modern-day Korea, the Cheonggyecheon Stream, and N Seoul Tower. Sightseeing through the city along with shopping will make the day seem too short. So, let's go! Here is a short list of the most attractive destinations in Metropolitan Seoul.


Day 2: Exciting Entertainment 'Jewel in the Palace' and Korea's largest Theme Park, Everland
The historic site of Hwaseong Fortress and the Hwaseong's Haenggung Palace in Suwon has spurred increasing numbers of travelers in Korea since the TV drama 'Jewel in the Palace' was aired. Also, Everland is just a short stop away. Everyone will enjoy this fantasy-filled theme park.


Day 3: Gangchon Resort, a Snow-covered Wonderland where the Romance of Winter Sonata Lives on
Winter Sonata is the catalyst that set off the Korean Wave. One of its film locations on Namiseom Island is still fresh with the memories left behind from the two leading actors. After a leisurely walk along the many paths, there is one more thing you must see. Gangchon Resort offers snow-covered slopes for an exciting skiing experience. Beginners and advanced skiers are all welcome. Enjoy Korea in the snow!