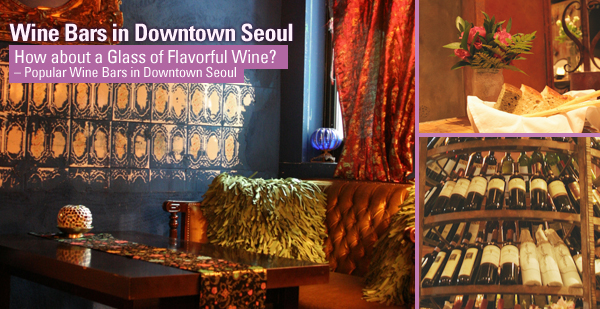 How about a Glass of Flavorful Wine?
If you are a visitor to Seoul, and love a glass of wine, here are a few tips on where to enjoy great-tasting wine in a special ambience.

In this edition, we present two wine bars in Gangbuk and two in Gangnam areas, all of which are frequented by gourmets and wine lovers. Actually, the wine bar located in Gangbuk area is known as a popular hangout for foreigners.



[ Foreign Language Service ]
The wine bars on this list offer English service. Most serving staff can speak English and the menus are also in English. Naos nova in Gangbuk also has Japanese and French-speaking staff.
Naos nova
The owner of Naos nova studied design for over 10 years in France, and spent five years planning for his bar. Not only a wine bar, it is an all-inclusive conceptual space: a champagne bar, French bistro, restaurant, and gallery. Housed in a building with one basement floor and two ground floors, it offers meals, wine, and other beverages. Most meals are fusion cuisine melding flavors of the East and West, with the most popular entrees being the chicken breast salad in orange and soy sauce dressing and the charcoal-grilled steak.
The bar offers 50 different types of champagne and a wine list of over 300 wines, mostly from France. Considering the lovely nighttime view of downtown Seoul, the best time to visit is after sunset. And if you sit on the terrace, you'll receive a 10% self-service discount.

- Tel:

+82-2-754-2202 (Korean, English, Japanese, French)


- Hours:

12:00 PM ~ 01:00 AM


- How to Get There:

Subway Line 4, Myeongdong Station, Exit 3 → Take a taxi (It takes between 5 to 10 minutes.)


- Menu:

Seafood stew 32,000 won (10% VAT not included)



Ahndamiro
Ahndamiro is a Korean word meaning to fill to the utmost. Not only are the staff people friendly and kind, but the quality and flavor of the food is superb. The restaurant has over 100 types of wines from Chile, Italy, U.S., Australia, and France, and serves a house wine sold by the glass to accompany a meal.
Highly recommended are the sirloin steak and the fettuccine with beef tenderloin and gorgonzola cheese sauce. The antique style design combines steel and wood, and the space is softly illuminated for a cozy atmosphere.

- Tel:

+82-2-730-5777 (Korean, English)


- Homepage:

www.ahndamiro.com (Korean, English)


- Hours:

11:00 AM ~ 12:00 AM


- How to Get There:

Subway line 1, Jonggak Station, Exit 3 or Subway line 3, Anguk Station, Exit 6
For more details, refer to the homepage, www.ahndamiro.com.


- Menu:

House wine (8,000 won/12,000 won), steak 34,000 won, spaghetti 12,000 won~16,000 won, seafood and meat dish around 30,000 won (10% VAT not included)



Aligote
Famous for the longest wine list in Korea, Aligote is both a wine shop and a wine bar. It offers 500 types of wine from 20 countries including France, Germany, and the U.S. A renovated private house, Aligote's ambience is cozy. You can enjoy wine on the second floor of the terrace or in the outdoor garden on the first floor.
Wine can be purchased at the wine shop on the first floor and enjoyed with a meal at the restaurant on the second floor. There is a 15,000-won corkage charge per bottle. Rather than separating menus according to regional cuisine, the restaurant has developed a number of menus to match the wine.

- Tel:

+82-2-514-9973 (Korean, English)


- Hours:

11:00 AM ~ 02:00 AM (Closed on Sundays, Chuseok, and New Year)


- How to Get There:

Subway Line 7, Gangnam-gu Office Station, Exit 4 → Walk towards Raemian apartment and turn left at the first corner → The bar is just ahead.


- Menu:

Smoked duck 27,000 won, mussels & clams 26,000 won (10% VAT not included.)



Grandmother
Just as its name implies, Grandmother is a unique wine bar. Located on Garosugil Road in Sinsa-dong, now considered quite a trendy neighborhood, it is easy to spot from the painting of a person's face on the exterior of a second-story building. The interior is even more unique. The first floor is done in an Oriental motif with a strong Persian flavor. The second floor is also Oriental style with blue as the dominant color. Subdued lighting and unique tables and chairs create a distinct atmosphere.
Meal service, until 9 pm, includes fusion cuisine, mainly Chinese and Thai. While Grandmother's wine selection is not as extensive (50 types), it is especially popular among women because of its unique ambience.

- Tel:

+82-2-544-7411 (Korean, English)


- Hours:

06:00 PM ~ 02:00 AM


- How to Get There:

Subway Line 3, Sinsa Station, Exit 8 → Walk ahead and turn left at the first 3-way intersection → The bar is located on the right at half-way of Garosugil Road.


- Menu:

Thai salad 38,000 won, fried rice 12,000 won~15,000 won, wine 45,000 won~210,000 won (10% VAT not included)