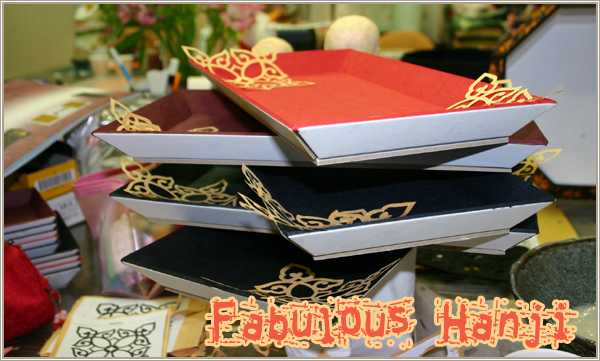 Hanji, the Korean traditional paper, is an integral part of Korean traditional culture. For more than 1,600 years, it has played a central role in the lives of Koreans, who learned to use it in a dizzying number of ways. From books to walls, to windows and floors of houses to coffins, hanji was practically an everyday necessity for Koreans, from the day they were born to the day they died. Let's take a closer look at this fantastic paper, which captures so well the essence and soul of Korean people.
What Exactly is Hanji?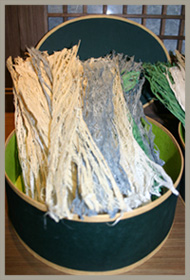 Hanji is the name of the Korean traditional paper. It is made from the bark of mulberry trees called chomok. There are three slightly different kinds of mulberry trees in Korea, depending on the climatic conditions in which they grow. Each kind of mulberry tree produces a specific type of hanji with a specific use. Mayopjong for example, which is mainly found in the center of the country, has a tough but thin bark with relatively few fibers. It is chiefly used as wall and floor paper. On the other hand, Yojojong has a thick bark with smooth and long fibers, which makes it ideal for calligraphy paper.


The Origins of Hanji

Ts'ai Lun, a Chinese eunuch, is said to have invented this paper in 105 A.D.
In Korea, the origins of hanji are somewhat mysterious because it is not clearly documented. However, ancient Japanese chronicles mention a certain monk named Tamjing bringing with him to Japan in 605 paper, ink, an ink stone and a grinding stone.
From Korea, the art of making paper was quickly introduced in Japan.



[ Characteristics of Hanji ]

Hanji has many qualities which make it an exceptional product:
It is durable, it can indeed last for well over a thousand years, it is smooth to the touch, it ventilates well, it isolates well and finally it is sheen and translucent.

Compared to the fibers of the Chinese, Japanese, and Filipino mulberry trees, the fibers of the Korean mulberry tree are longer, stronger, and is quite sheen, which gives a higher quality to the paper.
The Many Uses of Hanji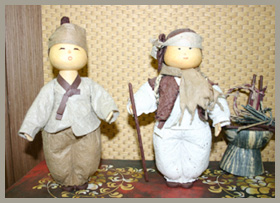 Hanji Dolls



With its fine texture and smooth surface, hanji has been popular among scholars and painters for centuries. Hanji was also used for official government records due to its remarkable durability. The earliest example of mobile type printing in the world, the Pulcho Chickchi Shimch'e Yojol, printed in 1377 can be admired at the French National Library in Paris.

Few countries have used paper in such a diverse way as Koreans. Hanji is or was used in making handicrafts, ropes, shrouds, and everywhere in the house as coverings on doors, windows, and floors. Hanji really was an integral part of Koreans' lifestyle.
Hanji People (한지와 사람들)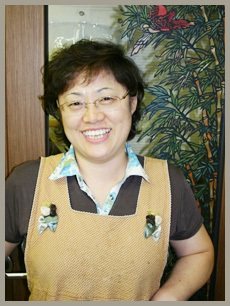 Lecturer, Kim In-Suk



There are hundreds and hundreds of hanji articles for sale in Seoul. While any one of them would surely make a great souvenir or present, what about making your own hanji object? This is what the shop "Hanji People (한지와 사람들)" offers located in the Insadong traditional area, a tempting proposition, isn't it?

This charming little boutique, located on the second floor of the Dong-il (동일) building on Insa-dong's main street, offers hanji handicraft-making courses for everyone from beginners to experts. So how does it work? It's simple! Choose the object you wish to make from the boutique's catalogue according to your taste, the time you wish to spend on it, and your budget and voilà! All that's left to do is to roll up your sleeves and begin but don't fret, you'll be assisted by an experienced hanji experts, the joyful Kim In-Suk or one of the regular workers at the workshop.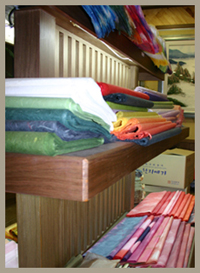 The boutique is divided into two parts: one is the actual shop where you'll find the superb works of the talented Kim In-Suk and the other is the workshop area.

If you have a few hours to spare I warmly recommend you go try your hand at making your own hanji piece. Seeing your own object slowly take life to finally take it home is a particularly nice feeling indeed. Moreover, the ambience is very relaxed and even though Mrs. Kim doesn't speak english, there will always be someone to help you and advise you.

Hanji people proposes an original and refreshing experience that we highly recommend during your next visit to Insa-dong !

→ Link to the Insa-dong Art Street
→ Link to the Traditional Culture Hands-on Programs



[ Further Detailed Information ]

Getting there : The shop is located on the main street of Insadong, the traditional district, close to the front of the Starbucks Coffee Shop (스타벅스 커피), on the second floor of the Dong-il (동일) building. Keep an eye open for the sign that says "한지와 사람들 (Hanji People)".
Insadong is accessible by using subway line No.3 (orange), Anguk station.

Business Hours : 10:00 – 18:00 from Monday to Friday
10:00-16:00 Saturdays
Address : 2F Dongil B/D, #170 Insa-dong, Jongno-gu, Seoul
Tel : +82-2-725-9979
Fax : +82-2732-9979




[ Photo Gallery ]
Written by Mathieu Deprez