N Seoul Tower located on Mt. Namsan offers great panoramic views of the city, and has been a symbol of Seoul since it first opened to the public in 1980. The tower has not only been given a new look, but also a new name following a complete makeover. It is now a true cultural space with various performances, movies, exhibitions as well as upscale restaurants and snack bars.
Topping the list of best sites according to tourists, N Seoul Tower draws a large number of visitors every day. KTO visited N Seoul Tower to see what is making this place such a great attraction since its re-opening on December 9, 2005. Join us for a cyber tour of N Seoul Tower before you hit the road.
N Seoul Tower Floor Guide

① N TOWER T5 : 'N Grill,' a revolving restaurant
② N TOWER T3 : Digital Observatory / Shocking Edge/Digital Telescope
High-powered Telescope
③ N TOWER T2 : Analogue Observatory / Down Elevator / Sky Restrooms
Souvenir Shop
④ N TOWER T1 : Korean restaurant 'Hancook'
⑤ N PLAZA P2(F2) : Café Swee Tree / Roof Terrace / Multi Stage / Sky Road
⑥ N PLAZA P1(F1) : Bakery / Characters & Photos / Convenience store / Food Court / Reed of Light Garden / Shower of Light/Glass Terrace / Souvenir Shop / Ticket booth, etc ⑦ N PLAZA P0(B1) : Pavilion/Children's Theater/Observatory Elevator Lobby/Bakery

★ PLAZA P1 Facilities
Ticket Booth

Observatory tickets and package tickets are on sale at the ticket booth outside the tower. Information leaflets are also available in Korean, English, Chinese and Japanese to provide better convenience.

N Seoul Tower Observatory Admission fee: Children (Ages 4-12): 3,000 won/ Teens and Adults (Ages 13-64): 7,000 won / Senior (Ages 65+): 5,000 won
Characters & Photos

At this photo zone located right next to the ticket booth, you can take composite pictures with your loved ones. Get memorable scenes with a background of N Seoul Tower, Mt. Namsan, or one of the other 18 backgrounds. The sets are replaced every season, so you'll have a wide selection. If you prefer the indoor photo zone, you can use your own camera to take pictures with your friends or loved ones.

Price: 4x6 print: 3,500 won/ 6x8 print: 5,000 won/ 8x10 print: 10,000 won
Gift Shop

The gift shop located on the first floor sells popular N Seoul Tower souvenirs. You will also find some great designer items such as key holders, diaries, and accessories. This is a great place to buy gifts for your friends.
Coffee/Sandwich & Food Court

Coffee & Sandwich
A bakery and café serving coffee, drinks, and sandwiches, this place is perfect for a simple snack or light meal. The large windows offer a nice scenic view, and if the weather allows you can take your coffee to a table on the outdoor terrace.

Price: Ham & cheese sandwich 4,500-won/ Green salads 4,000 won/ Ice Americano 3,000 won

Food Court
If you are looking for some simple light food, try the Food Court across from Swee Tree. With colorful lighting, a green ceiling, a black and white tiled floor, and unique streamlined chairs, this interior design makes even the simplest meal a 5-star fare.

Price: Gimbap, noodles, rolls, bibimbap between 3,000 and 6,500 won
Media Art (Way down to N PLAZA P0)

A large display of the N Seoul Tower logo and a wall covered with tourist information in Korean is not just a promotion, but a creation of a digital media artist. Take a memorable picture in front of the logo.
★ PLAZA P0 Facilities
Lobby & Media Zone

The lobby is particularly popular among young couples with its attractive red and white seating. The seats are large enough for two people and located by windows. What's even nicer is they are equipped with monitors for viewing free movies and music videos. Since there is no admission, this could become a hot spot for couples on a tight budget.
Pavilion A & B

The Pavilion is a cultural experience space with performances and exhibitions for adults and children. Currently, the filming set of the movie Typhoon is being shown at Pavilion A, and exhibitions of other popular filming sets are scheduled on a regular basis. There are life-size photos of the stars and replicas of the costumes worn in the movies. Visitors can dress up in these costumes for a photo memory.

At Pavilion B, there are performances that both adults and children can enjoy. If you are here with your children or loved one, enjoy the stage performance right before your eyes.

Admission: Pavilion A: 3,000 won/ Pavilion B: 20,000 won
Observatory Elevator Lobby
In the Observatory elevator lobby, you will find an interesting glass wall showing a print of world-famous towers and their heights. There are two elevators that go up to the observatory. While neither offers an outside view, a monitor shows the location and the height of the elevator.

Observatory Admission: Children (Ages 4-12): 3,000 won/ Teenagers (Ages 13-18) and Adults (Ages 19-64): 7,000 won / Seniors (Ages 65+): 5,000 won

★ N TOWER 5: Revolving Restaurant 'N Grill'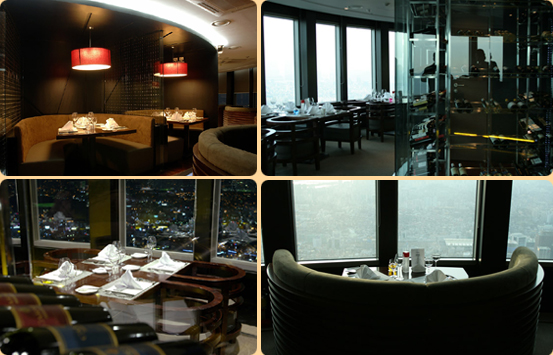 Located on the top floor of N Seoul Tower, N Grill is a unique revolving restaurant that makes a 360 degree revolution every 1 hour 40 minutes. Wherever you sit, you can take in a view of Seoul in all four directions. The restaurant is so popular for its romantic dinners and spectacular night views that weekend reservations were completely booked last month. The most popular seats are the crescent loveseats facing the windows. The upscale, romantic ambience is enhanced by red lamp shades, deep green furnishings, and hardwood tables and chairs.
This is one of the top dining restaurants in Seoul to enjoy a great night view. To book a table, it is best to make a phone reservation at least two weeks in advance.

Services are available in English and Japanese / Phone reservation required / Choose an entree of either Beef steak (60,000 won), New York steak (55,000 won), Fish grill / Lobster (75,000 won), and get an free appetizer, dessert, soup, and drink / 10% VAT (Value added tax) not included
★ N TOWER 3: Digital Observatory

Equipped with high-powered telescopes, the digital observatory offers a 360-degree view of Seoul. Another point of interest is the display of world cities and street names on each window panel. Why not look for Tokyo on the window facing that city? Even though the city is not within view, many people can be seen trying to find it through the high-powered telescopes.
★ N TOWER 2 Facilities
Analogue Observatory

The observatory has a snack area, so you can enjoy a simple snack as you sit by the window enjoying the view. While the digital observation equipment is being used as you stand, the analogue observatory offers chairs for relaxing and chatting. Each window panel has a window guide with various points of interest in Seoul, and visitors can become quite engrossed in searching for them.
Sky Restrooms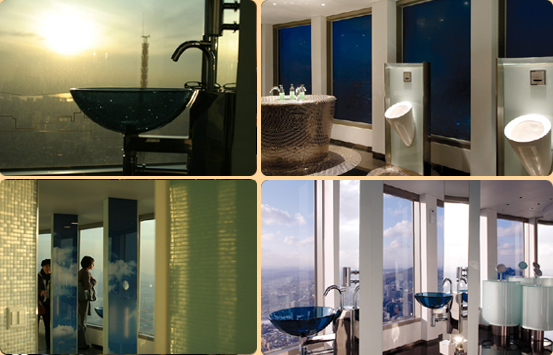 At N Seoul Tower, you can enjoy a great panoramic view even in the restrooms. The Sky Restrooms feature sky motif wallpaper, blue and white washstands and tiled walls that shimmer in the daylight. You will be surprised to find people taking pictures in the restrooms. No wonder - they offer views that rival the ones in the observatory, so don't miss a chance to see the restrooms too.
Souvenir Shop

Like the gift shop on the first floor, this shop also sells memorabilia of Mt. Namsan, N Seoul Tower, and Sungnyemun Gate. Most popular with tourists are the N Seoul Tower key chains (8,000 won), buttons with a magpie, N Seoul Tower, or a cable car motif (1,000 won), a cable-car badge (3,800 won), and postcards (500~1,000 won). If you want to cherish your N Seoul Tower experience, buy yourself a souvenir as a nice memory.
★ N TOWER 1: Korean Restaurant 'HANCOOK'

Although it doesn't revolve like the N Grill, Hancook is a great place to dine in style. This Korean-style restaurant offers a lunch set menu, full-course set menus, and a buffet. The buffet bar offers delicious Korean porridge, japchae, noodles, pan-fried dishes, bibimbap, soup, salad, main dishes, and dessert. The minimum order per person is a lunch set menu or a full-course set menu, and children can select from the buffet bar free of charge (buffet bar is only for children).

Menu: Full-course set menu: 32,000 won / Lunch set menu: 22,000 won / Buffet for Children (Ages 7-12): 9,900 won, (Ages 3-6): 6,800 won / 10% VAT not included
★ N Seoul Tower's Outdoor Facilities
Beacon lighthouse is next to N Seoul Tower.
Panoramic view of Seoul from the beacon lighthouse
Mt. Namsan's popular cable car that goes up
to N Seoul Tower
Pavilion next to N Seoul Tower Plaza
Outdoor Glass Terrace on N Plaza P1
Chairs at Glass Terrace on N Plaza P1
Reed of Light Garden on N Plaza P1
Roof Terrace N Plaza P2

[Tips] Useful Tourist Information

① For a great night view and an unforgettable memory, visit N Seoul Tower between 7 p.m. and 12 a.m during their fantastic illumination show.
② You can enjoy a panoramic view of Seoul on the Glass Terrace (P1), Roof Terrace (P2), and in the lobby without paying an admission fee.
③ Admission to the observatory is free if you dine at N Grill with a full-course meal (37,000 won) or with a lunch set (26,000 won). There are other combinations such as the pavilion exhibit-observatory package or the composite photo-observatory package. Choose the package that's right for you to get more for your money.
Best Photo Spots
① If you want to take an entire picture of N Seoul Tower, you have to go to the Roof Terrace at P2 level and lie down on the floor down the stairway. Then, you will have the same angle as the photo on the left with the tower's logo.
② There are two cable cars in operation. If you want to take a picture of it, take a back seat inside a cable car, and take a picture of the other one going down or up. Your picture will show both cable cars and a view of Seoul.

③ In the evening when the lights are turned on, you can take a romantic photo against the night view of Seoul and fabulous illumination of the terrace on the first floor.
Don't turn on your flash too high, though.

How to Get There

(1) By Cable Car

Access by taxi or car is prohibited so you'll have to walk, take a bus, or cable car. From Myeongdong Station, it is a ten-minute walk to the cable car platform. The way up by cable car offers a great view of Seoul and a pleasant ride.

Fare: Round-trip: 6,300 won, One-way: 4,800 won
Hours: 10:00~22:30




| | |
| --- | --- |
| | |
| ① Take Subway Line 4 to Myeongdong Station | ② Take exit 3 from the station |
| | |
| ③ Take the wide road next to the convenience store | ④ Walk straight to the left of Pacific Hotel |
| | |
| ⑤ Continue walking through the commercial quarter until you reach a small stairway | ⑥ Walk up the stairway |
| | |
| ⑦ Continue walking by the restaurants on your right | ⑧ Keep walking up in the direction of Mt. Namsan |
| | |
| ⑨ There is a vacant lot on your right and you will find the cable car platform | ⑩ Buy a ticket at the booth on the third floor, and take a cable car on the fourth floor |



(2) By Bus
You can also take a yellow bus at Chungmuro station (Line 3 or 4) or at Dongguk University station (Line 3), which will take you to the parking lot of N Seoul Tower. The bus runs regularly so you can take it from wherever it is most convenient. Even the bus ride up the winding road affords a nice view of the mountain. Bus No. 2 will drop you off at the bus stop right below N Seoul Tower, and you can walk up to N 5 to Seoul Tower Plaza. After completing your tour, take the same bus at the bus stop where you got off. There is a bus every 6 minutes from 8 a.m. to 12 a.m.

Fare: 550 won / Hours: 08:00~24:00 / Bus interval: 5~6 min.

| | |
| --- | --- |
| | |
| ① Take Subway Line 3 or 4 at Chungmuro Station, and go out of Exit 2 to the right of Daehan Multiplex entrance | ② Take the yellow bus 2 at the bus stop in front of the subway station |
| | |
| ③ Get off at the N Seoul Tower bus stop | |