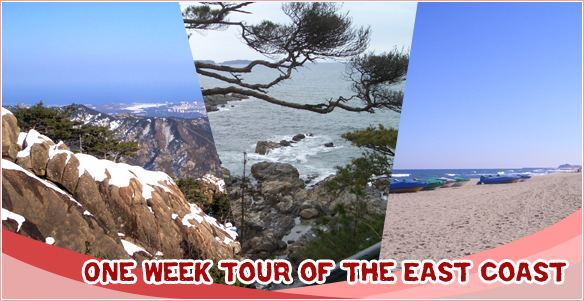 Gangwon-do is a region you cannot easily forget. Wild and beautifully preserved, it's the least populated region in the country. Here, man hasn't domesticated nature but had to adjust to it, which is all the better for the tens of thousand of tourists that come each year to unwind amidst Gangwon-do's beautiful scenery.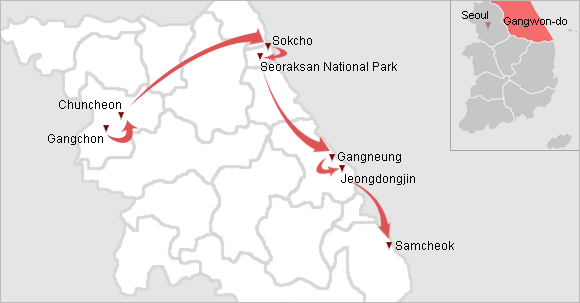 Detailed itinerary:
◈ Day 1
Gangchon: Gugok Falls
Chuncheon: Jungdo Island

◈ Day 2
Sokcho(Yangyang-gun) : Naksan Beach – Mt. Naksan Provincial Park and Naksansa Temple
Hwajinpo: Hwajinpo Lake and Beach – Kim Il Sung and Syngman Rhee residences

◈ Day 3
Visit of Mt. Seoraksan National Park

◈ Day 4
Gangneung: Ojukheon Residence – Gyeongpodae Beach
Jeongdongjin: Unification Park

◈ Day 5
Samcheok: Cave exhibitions – Jukseoru Pavilion – Maengbang Beach – Hwanseongul Cave

◈ Day 6
Return trip to Seoul


▒ Visit Gangchon!

Bicycling is the easiest and nicest way to get around Gangchon. A lot of bike rental places are scattered all along the main street. The most adventurous (or maybe laziest!) may prefer to rent a scooter rather than a bicycle. The bicycle path (at the intersection on your right after the small bridge) will lead you directly to the entrance to Gugok Falls after a 15 minute ride. Gugok Falls consist of a spectacular 50 meters high waterfall surrounded by sharp looking rocks. The stream running along the mountainside will guide you to the waterfall. In winter, the waterfall is completely frozen and truly impressive. The huge blocks of ice are an ice climber's dream come true.

On the way to Gugok Falls
Gugok Falls
Detailed Information:
Cheongnyangni station, Seoul (subway line 1 exit 4) → Gangchon: 4,200 won (length of trip: 1hr 40mins, one train every 50 minutes)
Bike rental (all along the main street): 2,000 won per hour
Entrance Ticket price to Gugok Falls: 1,600/1,000/600 won (adults/youths/children – free for people over 65)

▒ Chuncheon

Delicious dak-galbi

The neighboring city of Chuncheon, the capital of the province, offers nice views of the surrounding mountains. The charming island of Jungdo in particular, offers scenic views of the lake and nearby mountains. Again, a bicycle is the best way to tour the island; the views on display are definitely worth the effort. For those who want to take it easy, horse drawn carriages will take you for a tour around the island, an equally nice way of exploring Jungdo Island. This little island also features restaurants, sports fields (tennis, basketball) and, in summer, an open-air swimming pool, rowing boats and water skiing. The island is easily accessible from the city center, which only takes a 5 minute ride to get there.
Chuncheon is well known for its dalk-galbi (diced grilled chicken in hot sauce), there's even a street dedicated to dalk-galbi so to speak where you'll find plenty of restaurants to satisfy your dalk-galbi cravings. Ask any taxi to take you to a street named dalk-galbi gauri.

If you plan on staying at a motel during your stay, the Ritz Motel located not too far from the bus terminals is a good place (it lives up to its name!): rooms are modern, and spacious, along with bathrooms which have ample space.


View from Jungdo Island
Detailed Information:
Bus Gangchon (the bus stop is outside the station) → Chuncheon: 950 won
Taxi from Chuncheon intercity bus terminal → Jungdo Island: 3,500 won
Return Ferry ticket: 4,300 won(adults) /2,800 won (students) /2,400 won (children) – leaves every half hour Last ferry is at 5pm during winter (9:30pm during summer)
Bike rental: 3,000 won per hour


▒ Travel to Sokcho

Naksan Beach

This big crescent-shape beach is a perfect spot to relax. A dizzying number of seafood restaurants are located near the beach, a temptation you'll find hard to resist. Squid sundae (noodle and blood sausage) is a local specialty made with squid, carrots, onions, seaweed and spices mixed together, covered in egg yolk and fried. Scrumptious!

Right near the beach on a little hill is Mt. Naksan Provincial Park and Naksansa Temple. Unfortunately, last year a forest fire ravaged most of the trees; nevertheless the park still has a certain appeal. The vegetation and smells are reminiscent of the South of France. On the top plaza where the statue of the Goddess of Mercy looks out over the East Sea, there is a spectacular view of the East Sea, which captures the distinctive mountains of the region. A little out of the way, in a tiny temple nested just above the sea in a rock anfractuosity, a Buddhist monk, impassive to the coming and going of tourists, recites his prayers in a monotonous and enthralling voice.


Saint-Tropez
Detailed information:
Chuncheon → Take a Sokcho bus: 12,000 won (2 hours 45 minutes, every 40 minutes)
Sokcho → Go to Mt. Naksan Provincial Park: Take bus 9-1 outside the intercity bus terminal, 1,000 won, takes 25 minutes.
The entry to the park is free.

▒ Hwajinpo

Hwajinpo is the perfect place to combine leisure with cultural activities. This immensely large beach has quality sand and a really enchanting setting - a pretty lake surrounded by mountains is nearby.

| | |
| --- | --- |
| | |
| On the way to Hwajinpo Beach | Hwajinpo Beach |




Kim Il Sung's Summer Residence

Because of the beautiful surroundings in this area, Hwajinpo is a coveted spot for people wanting to build their summerhouses. Two very prominent figures in the history of Korea have lived here, Kim Il Sung (1912-1994 – leader of North Korea from its creation in 1948 until his death. His son Kim Jong Il succeeded him) and Syngman Rhee (1875-1965 – politician and South Korea's first president), both had their summerhouses there. Kim Il Sung's residence, refurnished to its original design, is a charming house overlooking the sea. Inside is a small exhibition on Kim Il Sung and on the historical relationship between the two Koreas.





Syngman Rhee's Summer Residence

A hundred meters from there is Syngman Rhee's residence, a much humbler abode. The austere house of the former president has a big living room, a small room, and a small office. It is full of the former president's personal belongings such as tables, chairs, clothes, various documents, desk, etc. Visiting the house is like being taken back 50 years ago.
Detailed Information:
Sokcho → Go to Hwajinpo Beach: Take bus 1-1 outside the intercity bus terminal. 4,000 won, which takes one hour.
Hwajinpo Beach → Kim Il Sung's residence: follow the main road, cross the bridge and go straight. Turn left at the crossroads and walk for 5 minutes. 20 minutes total on foot.
Hwajinpo Beach → Syngman Rhee's residence: go straight at the crossroads (see above) and walk for 5 minutes. 20 minutes total on foot.
Admission fee: 2,000 won (adults) /1,500 won (youth/children). Open from 9am to 6pm during the summer season and from 9am to 5pm during the winter season.


▒ Off to Mt. Seoraksan National Park!

Sinheungsa Temple

The stunning Mt. Seoraksan National Park is one of the most beloved attractions in the country and for good reason. Impressive by its size and its spectacular views, the park is so big that a week wouldn't be enough to see it entirely, so KTO will focus on the most popular and easily accessible part of the park, known as "outer" Seorak. This region of the park possesses many major sites such as Sinheungsa Temple, Gyejoam Hermitage, Ulsanbawi Rock, Mt. Gwongeumseong, Biryong Falls, etc.

The construction of Sinheungsa Temple began on the seventh year during the reign of Queen Jindeok (653) under the supervision of Jajangyulsa (Great Monk). The temple at that time was called Hyangseongsa. It is a nice temple featuring, amongst other things, a garden of stone sculptures, a three-story pagoda, and a huge 1,400 years old bell particularly well preserved.

Rock engraving - Gyejoam Hermitage


Gyejoam Hermitage is a good place to take a break before starting the most difficult section of the ascension of Ulsanbawi Rock. The Great Monk Jajang set up this hermitage, located in a cave at the foot of a large boulder named Moktak, in 652. Engraved on the wall in Chinese characters is the inscription "Hall of Paradise".

On the way to the Summit



The view from the top of Ulsanbawi Rock is fantastic. The access to the summit is quite difficult and strenuous and not well suitable to children or senior citizens. It's a 3-4 hours walk (return) from the park entrance to the summit. As an ultimate test, you'll have to climb a steep 800 steps long stairway leading to the summit. Once perched on top of the rock, you'll soon forget about your aching legs for the view is truly breathtaking-a definite high in the visit to this park.

View from Gwongeumseong Summit


The cable car situated near the park entrance will take you straight to Mt. Gwongeumseong. It's after a tiring workout like the Ulsanbawi ascension that we truly appreciate a facility such as the cable car! The cable car will drop you near the summit where you'll be able to enjoy a panoramic view of the park, Sokcho, and the East Sea.

Biryong Falls



Biryong Falls are a 45 minute hike away from the park entrance. The path leading to the waterfall, winding along a ravine, is especially nice. This small waterfall gets its name, "Dragon's Waterfall" from its shape, reminiscent of a dragon leaping out from the pond from below.

During your daily excursions, if you feel like eating something, the gamja butchim (potato pancake) is a local specialty that's simple yet delicious. Just dip it into some soy sauce and enjoy!

Detailed Information:
From Sokcho → To Mt. Seoraksan National Park: Take bus number 7 (the bus stop outside the intercity bus terminal), 900 won, takes 30 minutes.
Admission fee: 3,400 won
Baggage storage facility (situated just before the ticket booth): 1,000 won for the day.
Cable car cost: 8,000 won(adults) / 5,000 won (children)

For more info on Mt. Seoraksan National Park: Click here!
For more info on Ulsanbawi Rock : Click here!
For more info on Biryong Falls: Click here!



▒ Stopping by Gangneung
Ojukheon Residence is the birthplace of Shin Saimdang (1504-51) and her son Yi Yulgok (1536-84) and an important landmark in the Korean cultural landscape. Shin Saimdang was an accomplished artist and writer and her son became a renowned philosopher and politician.
Shin Saimdang has been considered as a role model for Korean women for a long time. A woman of a kind, gentle disposition and deeply filial piety, Saimdang excelled in scholarly achievements and became the most outstanding woman artist in Korea with her brilliant paintings and poetry as well as sewing and embroidery. On the back of the 5000-won bank note are figures of Ojukheon Residence. The new bank note will feature a drawing by Shin Saimdang.
Saimdang taught her son the classics of literature very early on. In 1564, at age 28, Yi Yulgok obtained the first prize in a state examination. He was later assigned to various important government positions and was in charge of the Kiho School of Confucian Studies.
Constructed by a learned Confucian named Ch'oe Ch'I-un (1390-1440), Ojukheon is a perfect example of "yangban" architecture. The subtle charm and timeless elegance of the houses contribute to the dignity and harmony of the place.
Apart from the Yangban houses, the complex also houses a small park, a museum on everyday life during the Joseon period (1392-1910) and the municipal museum.
Ojukheon Residence
Detailed Information:
From Gangneung → To Ojukheon Residence: Take bus number 202 (bus stop is outside the intercity bus terminal), Bust Ticket cost: 900 won
Admission fee: 2,000 won (adults/ youths) 1000/500 won (children)

For more info Ojukheon Residence : Click here!

▒ Gyeongpo Beach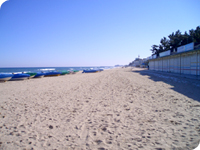 Gyeongpo Beach
Not too far from Ojukheon, on the same bus line, is the nicest and biggest beach of Gangneung. This 6km long beach is characteristic of the Gangwon-do beaches: white sand, a cobalt blue sea, and a pine forest with all the amenities to make your stay enjoyable such as parking space, restaurants, cafes, camping site, etc.
To get there, get off Bus 202 at the last bus stop.

▒ Jeongdongjin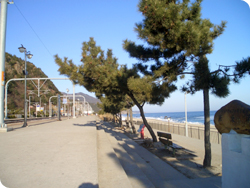 Jeongdongjin Train Station


Jeongdongjin is a charming little town nested between the sea and the surrounding mountains. The town is famous for its scenic train station located very near the beach. The town has a nice atmosphere and has a distinctive charm that many other towns do not have. Come dinnertime numerous beach tent-restaurants offer a variety of seafood dishes. The saengseongui or fried fish is especially tasty.


Unification Park, a short ride away from the city center, has a very original attraction. In September 1996, a North Korean submarine got stranded on some underwater rocks forcing the crew to get out and try to return to North Korea. This prompted a deadly manhunt that lasted over a month (25 of the 26 crew members were shot dead and the South Korean casualties, civil and military, tallied 17).
Once inside the submarine one really wonders how 26 people could have fit in such a cramped space – let alone live. Following this incident, North Korea officially apologized and assured that he would do all his best to prevent such a thing from happening again. Two years later another submarine, much smaller, was found entangled in South Korean fishing nets

The warship has a less turbulent history (she was given by the Americans in 1972 and gradually turned into an exhibition after the Gulf War). It is interesting though to see how life aboard the ship could have been and the whole ship has a strange old-fashion feel – the ship was built in 1945.
Detailed Information:
The train is the best way to get to Jeongdongjin. The taxi fare to go from Gangneung intercity bus terminal to Gangneung train station is approximately 3,000 won.
From Gangneung → To Jeongdongjin: 2,800 won, (takes 15 minutes by train).
From Jeongdongjin → To Unification Park: Take bus number 111-112-113: costs 950 won (from the train station go straight between the motels; the bus stop is on the left near the Family Mart)
Admission fee: 2,000 won (adults) /1,000 won (youths /children)

For more info on Jeongdongjin: Click here!



▒ Let's Go to Samcheok!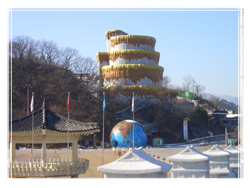 The town of Samcheok has two exhibition halls dedicated to caves, a useful stopover if you plan on visiting the famous Hwanseongul cave. These two exhibition halls located close to one another will teach you about the various types of caves and the various types of concretions and organisms common in caves.
The first exhibition is located in what looks like a big wedding cake. You will learn many things about caves in general, from their formation to the organisms that usually inhabit them. The explanations are mainly in Korean, however the exhibition as a whole is rather entertaining (videos, cave reconstitutions, 3D holograms, etc.) which means you can still have a good time.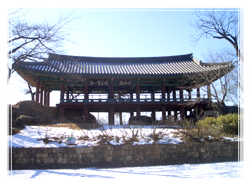 Jukseoru Pavilion


The other exhibition is located in a bat-shaped building and features various life-size reconstitutions of caves (volcanic, sandstone, marine, salt, gypsum, ice and limestone). This exhibition will surely be a hit with children and the young at heart who have the desire to play Indiana Jones in a relatively safe environment!

Perched on top of a cliff, the Jukseoru Pavilion overlooks the Osip river, firmly planted on huge supporting beams. Despite the age of the building (probably dating from the 12th century but reconstructed in 1403) it is possible to visit it, and to touch it, which is rather exceptional. The pavilion was a popular hang out for poets, the famous Yi Yulgok wrote poems here.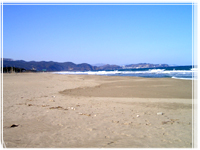 Maengbang Beach



Samcheok also has some nice beaches, Maengbang being one of the most popular. This beach looks a bit wilder than the other beaches around the region and even during peak season it is generally possible to find a spot. This beach has shallow water, which make it especially user-friendly and well suited to children and senior citizens.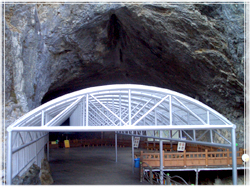 Entry to Hwanseongul

Hwanseongul cave is approximately 530 million years old and is one of the biggest karstic (limestone) cave in Asia. It is indeed impressive, not just by its size but also by the variety of its concretions: stalactites, stalagmites, drapes, organs, popcorn, etc. There are also a few waterfalls and some unexpected formations like the "Great Wall". There is even a concretion, which is said to have the shape of the Virgin Mary (it is quite difficult to see it because of its semi-obscurity!) This natural gem is not so easily accessible and you will have to do some legwork to get to it but again it is all worthwhile.
Detailed Information:
It is not possible to go directly from Jeongdongjin to Samcheok without making a change in Donghae.
From Jeongdongjin train station → To Donghae train station: Train ticket cost: 6,700 won, takes 27 minutes.
Taxi from Donghae train station to Donghae bus terminal: costs 3,900 won
Bus from Donghae to Samcheok: costs 1,200 won
The cave exhibition halls are a 10 minute walk away from the express bus terminal (ask for a map at the tourist information booth outside the terminal).
First exhibition: costs 3,000 won, Second exhibition: costs 2,000 won.

Bus from Samcheok to Hwanseongul:
☞ From the express bus terminal: Bus leaves at 06:10am – 08:20am – 10:20am– 02:20pm– 05:10pm; bus ticket costs 2,420 won
☞ From the intercity bus terminal, take a yellow city bus – more frequent departures than from the express bus terminal; taxi costs 2,400 won
Admission fee to Hwanseongul: 4,000 won (adults) /2,000 won (youths/children)



▒ Return to Seoul
Buses for Seoul (Gangnam bus terminal) leave from Samcheok express bus terminal. Time: One bus leaves every 1.5 hours as well as every 4 hours Bus ticket cost: 14,500 won.