One of the easiest and most relaxing ways to see Jeju Island is by renting a car. The top tourist destination for leisurely vacations in Korea, Jeju Island is perfect for a driving tour with an efficient road network and beautiful scenery. Some travelers may be tempted to drive faster than the limit, but because of the island's winding roads, speeding is strictly forbidden. The best road for driving is probably Route 12, the beltway around the island. Route 12 provides access to coastal roads along the way, so travelers can enjoy a fantastic drive along the coast with a view of the emerald-colored sea and soaring gulls. Its stunning natural scenery of the island has made it a favorite filming location for numerous Korean TV mini-series, many of which are popular around the world. This Best Tour of Jeju includes some of these filming locations as well as other scenic destinations.
Day 1
Day 3
06:40 Departure from Seoul Gimpo Airport
07:45 Arrival in Jeju Airport
09:15 Biyangdo Island (Spring Day)
15:40 Hyeopjae/Geumneung Beach (Jewel in the Palace)
16:00 Hallim Park
18:00 Blackstone (Dinner) and
18:00 lodging (Ilseong Condo)
09:30 Oedolgae (Jewel in the Palace)
11:00 Paradise Hotel Jeju Honeymoon House
11:00(All in)
12:30 Jeju Folk Village (Jewel in the Palace)
14:00 ATV Jeju Joy (Jewel in the Palace)
16:00 Seopjikoji (All in) / Seongsan Ilchulbong
19:00 Lodging in Jeju-si (Coastway)
Day 2
Day 4
09:00 O'sulloc Tea House Museum
10:30 Mt. Songaksan (Jewel in the Palace)
12:00 Jungmun Resort Complex(Museum of African Art)
12:00 Teddy Bear Museum /
12:00 Convention Center (All in) /
12:00 Jusangjeolli Cliff /
12:00 Lotte Hotel (All in)
21:00 Lodging in Jungmun (White Scenery)
08:00~17:00 Hiking in Mt. Hallasan
18:00 Car Return and Dinner
19:30 Departure from Jeju Airport
▒ Photos and Overview of Course ▒
Taking a plane is the best way to get from Seoul to Jeju Island. The route is served by two airlines: Korean Air and Asiana Airline. We took Korean Air's 06:40 flight and arrived in Jeju at 07:45. Both airlines offer a 5% discount on online reservations through their website.
Round trip fare: 69,730 won * 2 = 139,460 won 
Korean Air website (English) / Asiana Airlines website(English) / We rented a car from Avis. There is a 60% discount for those who register as members on the Avis website (http://www.ajrentacar.co.kr/)The rate is 141,200 won for 84 hours
[Renting a Car]
Rental car counters are located next to Gate 2 on the arrival floor (F1, Domestic Terminal) of Jeju International Airport. Despite the large number, most offer similar rates. You can rent a car for the day or make a reservation in advance.
Rental car counters at Jeju Airport
※ How to rent a car
1. Book a car at an airport
rental car counter
2. Take a shuttle bus
to rental car office
3. Make payment at
rental car office
4. Check car condition
5. Drive away
6. Return car to rental car office
1)Visit one of the rental car counters at the Jeju International Airport and make an online reservation → 2)Take a shuttle bus from the airport (2 minutes) to the rental car office (car location) → 3)At the office, fill out a rental agreement form and pay for the car → 4)With an agent, check the condition of the vehicle and the gas gauge, and make notes in the agreement → 5)Start your car trip in Jeju → 6)Return the car to the same rental car office → 7)When returning the car, check the car condition and gas gauge with an agent → 8)Take the shuttle bus back to Jeju International Airport.
| | |
| --- | --- |
| Rental car companies | Telephone |
| Jeju | +82-64-742-3307 (Korean) |
| Kumho | +82-64-743-8107 (Korean, English, Japanese) |
| Association of Rental Car Agents in Jeju | +82-64-747-4301 (Korean, English, Japanese) |
| Avis | +82-64-749-3773 (Korean, English, Japanese) |
[Tips on Renting a Car]
1. Rental terms
1) Age: Driver must be at least 21 years old
2) Driving history: 1 year or more
3) Driver's license: Driver must have a valid international driver's license
4) Passport: Passport must be shown for photocopying
2. Car condition and gas level
After a car is assigned, check it inside and out with an agent, as you are required to fill out the rental agreement accordingly. Be sure to note in the agreement any dents or scratches to ensure you will not be charged for them. The gas in the tank is the responsibility of the driver, so make sure to return the car with the same amount of gas as when you picked it up. If necessary, get gas at a gas station near the airport. Don't add more than you used, as there are no refunds on gasoline.
3. Maps
Free maps of Jeju Island are available at rental car counters or the tourist information desk at the Jeju International Airport. Make sure to get one. The airport tourist information desk has Jeju maps available in English, Japanese, and Chinese.
[Tips on Safe Driving]
1. Surveillance Cameras
Travelers are advised to drive within the speed limit as surveillance cameras are installed on many roadways in Jeju. The speed limit is 50 km/hr in towns, 60km/ hr on two-lane roads, and 80km/ hr on four-lane roads. Drivers are responsible for any traffic tickets during the rental period.
2. Route 516 (#11), Route 1100 (#99)
Roads on Mt. Hallasan are extremely steep and winding. Car accidents as well as incidental damage occasionally occur on these roads, especially due to brakes overheating. To be on the safe side, use second or third gear when going downhill. When driving an automatic, stay in second. If you smell a burning odor, bring the car to a halt and let it cool down for 30 to 60 minutes before restarting.

[Depart for Biyangdo Island~]
| | |
| --- | --- |
| | |
| Boat for Biyangdo Island are anchored in Port Hallimhang | Tourists arrive in Port Biyanghang |
From Jeju International Airport, take Route 12 to the west for about thirty minutes until you reach Hallimhang Port. There, take the Biyangho boat (+82-64-762-7522) for Biyangdo Island. Hallimhang <→ Biyangdo Island (15 min, 3.2 Km)
Departure
Arrival
Departure Time
Arrival Time
Fare (one-way)
Adult
Children
Hallimhang
Biyanghang
09:00
09:15
1500
900
Hallimhang
Biyanghang
15:00
15:15
1500
900
Biyanghang
Hallimhang
09:15
09:30
1500
900
Biyanghang
Hallimhang
15:15
15:30
1500
900
Day 1
※ Biyangdo Island (Filming location of Spring Day)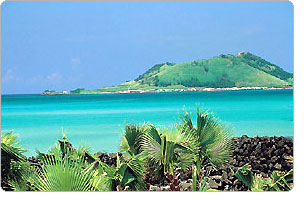 09:15
Biyangdo Island is where the stars of the TV mini-series Spring Day met for the first time. The public health center and the port were the backdrop for their affectionate encounter. Visitors will vividly recall the mini-series during their tour of the island, including the Biyang school, which was used as the clinic, Biyanghang Port, where actress Ko Hyeon-jeong pleaded, "Don't leave, don't leave," and the Mingyeongsanghoe store, where the signatures of the cast are on display.
It takes about an hour to walk around the island, or, if you prefer, rent a bicycle for 5,000 won. There is no chance of getting lost as there is only one road following the coastline of this tiny island. You can also enjoy a meal at Hodori restaurant or Mingyeongsanghoe store near the port. We had bomaljuk (shellfish porridge) (8,000 won), the signature dish of Hodori restaurant.
Bomaljuk porridge at Hodori restaurant
↘ Best 5 Tourist Sites in Biyangdo Island
1. Biyanghang Port
Biyanghang Port, where Ko Hyeon-jeong made her memorable plea, is picturesque, with a diminutive red lighthouse set against the blue sea.
2. Biyang School
The set for the clinic was built on the rooftop of the Biyang School, the only school on the island. The set has been dismantled, however.
3. Biyangbong Peak
Biyangbong is a volcanic island, and Biyangbong Peak is the main peak (114 meters above sea level). A white lighthouse stands on the summit, adding to the romantic ambience. From this vantage point, visitors can view Mt. Hallasan, the rock islets near Biyangdo Island, and some fantastic coastline. The walk to Biyangbong Peak takes about 20 minutes.
4. Biyang Marsh
The only sea marsh in Korea, Biyang Marsh is full of mystery: with the rising tide, it fills with salt water and at low tide it becomes a freshwater lake. Many rare creatures inhabit the marsh. It features a walking path, lawn area, rock exhibit area, and a spot to relax.
5. Bizarre Rock Formations
Since the island is a volcano created thousand year ago, numerous lava boulders rise from the sea along the northern coastline.
From Biyanghang Port, we took the return boat to Hallimhang Port at 15:15 (It takes 15 minutes and the fare is 1,500 won). From there, we moved to Hyeopjae via the coastline route. It is only a 5-minute drive. On the way are road signs for Hyeopjae Beach.
* Hyeopjae / Geumneung Beach (Filming location of Jewel in the Palace)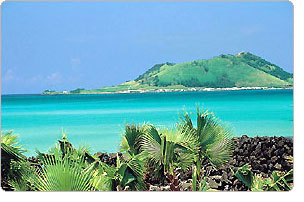 15:40
Famous for its jade-colored waters, Hyeopjae Beach was the location for several scenes from Jewel in the Palace. Visitors will recall the scene in which Janggeum leaves on a boat arranged by Min Jeung-ho and the touching moment as he looks out to sea after she left. The scene in which Janggeum rushes towards her dugout was also filmed here. Adjacent to Hyeopjae Beach is Geumneung Beach, and the scenery is similar. However, because Hyeopjae Beach is better known, Geumneung Beach is the quieter of the two.
Free admission.
→ Click here for more on Hyeopjae Beach
Hallim Park is located right next to Geumneung Beach.
* Hallim Park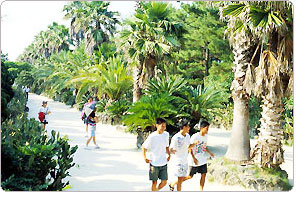 16:00
Along with Hyeopjae and Geumneung beaches and the view from Biyangdo Island, Hallim Park can also be counted as the top tourist destinations on Jeju Island. Spanning 81 acres, the park is surrounded by towering palm trees and thick pine forests. The park boasts picturesque scenery and gorgeous flowers and trees year round. Numerous points of interest include Hyeopjae Cave, the Tropical Arboretum, Jeju Stone and Bonsai Garden, Jaeam Folk Village, Stone Exhibit, and the Garden of Birds.
Admission: 5,000 won (19+)
→ Click here for more on Hallim Park
From Hallim Park, a 5-minute ride on Route 12 toward Seogwipo brought us to Blackstone, a great restaurant operated by the Blackstone Golf Club located right on Route 12.
* Dinner at Blackstone and Hotel Check-in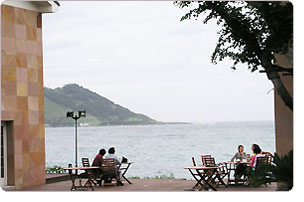 18:00
The Blackstone Golf Club converted its clubhouse into a wonderful restaurant, which opened in summer 2005. Blackstone's exterior and interior design are elegant, and a window table will delight diners with a great view of Biyangdo Island. A choice of restaurants includes Gen for Japanese food, Bella Vista for Italian food, and a café.
We ordered seafood spaghetti in tomato sauce (13,500 won) at Bella Vista. Many customers were seated at outdoor tables, where they enjoyed their dinner or coffee while gazing at the stunning view.

After dinner, we made a U-turn at Blackstone and headed back to Geumneung Beach. We checked in at the Ilseong Condo (+82-64-796-8400 (Korean)) across from the beach. (65,000 won for a room with a kitchenette).
If you are driving from Hallim Park in the direction of Geumneung Seokbulwon Garden, you will almost immediately come upon a large road sign for Bunjae Artpia and O'sulloc Tea House Museum. Take a left turn and follow the O'sulloc road signs for about 20 minutes.
Day 2
* O'sulloc Tea House Museum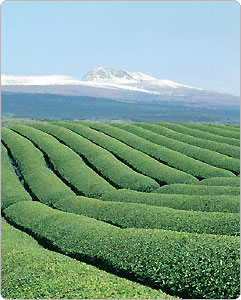 09:00
Jeju Island is blessed with optimal climatic and topographical conditions for producing green tea, and Seogwangdawon, a green tea farm, produces the popular seollok green tea of Taepyeongyang.
At the farm entrance is the O'sulloc Tea House Museum (opened since September 2001) offering visitors a dual treat: an educational experience at the green tea museum as well as a culinary experience at the green tea farm. The museum building itself looks like a green tea cup making it a nature-friendly spot to relax. Visitors can also enjoy refreshments such as green tea cake and green tea ice cream. The observatory atop the building offers a view of the green tea farm. Tourists are sure to love the elegant exhibit space and café, not to mention the breathtaking view of the green tea farm set against Mt. Hallasan.
Free admission.

| | |
| --- | --- |
| | |
| The museum seen from outside | Ice cream, cake, iced tea, and cookies are all made of green tea |
From O'sulloc Museum, drive for 20 minutes following the road signs to Mt. Sanbangsan. Just before you reach Mt. Sanbangsan, you'll see a sign for Mt. Songaksan.
* Mt. Songaksan (Filming location of Jewel in the Palace)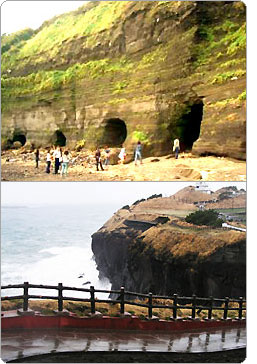 10:30
In the last episode of Jewel in the Palace, Janggeum finds a woman in labor inside a cave. She performs an operation that saves both the woman and her child. Jinjigul Cave is actually man-made. Aiming to use Jeju-do Island as an advance base to protect its mainland, the Japanese military excavated the cave in early 1945. Inside the cave, there is an interesting exhibition showing military equipment and everyday articles used by the Japanese military. Mt. Songaksan is a famous drive destination. The driving path, which extends from Mt. Sanbangsan to Mt. Songaksan, is noted as one of the most beautiful of coastline driving in Jeju. Vehicles smaller than 12-passenger van are allowed to go up to the summit of Mt. Songaksan, so drive you car up to the top to enjoy a particularly great vista.
Free admission.

Jungmun Resort Complex (Museum of African Art / Teddy Bear Museum / Convention Center (Filming location of TV mini-series All in) / Jusangjeolli Cliff / Lotte Hotel (Filming location of All in)
* Jungmun Resort Complex
(Museum of African Art / Teddy Bear Museum / Convention Center (Filming location of TV mini-series All in) / Jusangjeolli Cliff / Lotte Hotel (Filming location of All in)
12:00
Windmill in Lotte Hotel (Filming location of All in) The Volcano Fountain Show at Lotte Hotel Jungmun Resort Complex is not only a major tourism center in Jeju, it is also the largest in Korea. Situated in the stunning natural setting of the Jungmun coast, the complex features a variety of places to visit and things to enjoy right on the premises: Yeomiji Botanical Garden, Jungmun Golf Club, Cheonjeyeon Falls, Jungmun Beach, Pacific Land, Teddy Bear Museum, Sori Island Museum, Museum of African Arts, Jeju Convention Center, and Jusangjeolli Cliff. The complex also houses a number of super deluxe hotels, including Hotel Silla and Lotte Hotel. And in addition to first-class hotels, there are also many medium- and low-priced lodging facilities and restaurants near the Jungmun Resort Complex. The resort has been popular with many film, TV mini-series, and commercial producers because of the beautiful landscape surrounding it. The movie Swiri was filmed on Swiri Hill of the Hotel Silla and the TV mini-series All in was filmed in the Lotte Hotel. Time permitting, it would be great to visit all the interesting places in this resort, but even a full day would not be enough. So, for this tour, we selected five places of interest that are either the most popular tourist destinations or filming locations. And all five sites are within five-minute's drive.
Windmill in Lotte Hotel (Filming location of All in)
The Volcano Fountain Show at Lotte Hotel
(volcano fonutain show)

Galchijorim (simmered cutlassfish)
The Museum of African Art
1.12:00
For lunch, we relished galchijorim (set menu 13,000 won for one person), a local specialty of simmered cutlassfish at the restaurant 'Madanggipeunjip (마당깊은집)' near the entrance to Jungmun Resort. Then, we headed to the Museum of African Art (6,000 won/19+). Newly opened in 2005, the museum is designed after an Islamic Mosque in Djenn'e, Malli in West Africa. From its exotic exterior design to its interesting exhibits, one can see why this recently opened museum is so full of visitors.
The Teddy Bear Museum
The Louis Vuitton Teddy Bear is
priced at KW 240,000,000
2.16:00
Located near the Lotte Hotel, the Teddy Bear Museum (6,000 won/19+) is particularly popular among newlyweds, tourist families, and especially young women. It features an array of teddy bear-related exhibits, including the smallest teddy bear in the world and the Louis Vuitton teddy bear that was auctioned at a world-record price of KW 240,000,000.
→ Click here for more on the Teddy Bear Museum
3.16:00
Actor Lee Byeong-heon's office scenes in All in were filmed at the second-floor restaurant in ICC Jeju, the International Convention Center Jeju. The Hyatt Hotel, which was filmed as Choi Jeong-won's hotel (Actor Ji Seong) can be seen through the expansive windows of the restaurant.
Free admission.
4.17:00
Jusangjeolli Cliff on the Jungmun Daepo Coast near the Convention Center is one of Jeju Island's greatest tourist attractions. Reminiscent of black crystal pillars, such formations are a unique feature of volcanic regions. Admission is free. After sightseeing around the cliff, we went to the restaurant district near the entrance of Jungmun Resort and ordered haemul ttukbaegi (spicy seafood stew served in an earthenware bowl). Most restaurants serve the same tasty dish for the same price. (Haemul ttukbaegi 8,000~10,000 won)
→ Click here for more on the Jusangjeolli Cliff
⑥20:00
After dinner, we went to see the Volcano Fountain Show at the Lotte Hotel (show starts at 20:00 / performance lasts 15 minutes / admission is free). Built on a budget of 200 billion won, the Lotte Hotel is a super deluxe hotel famous for its romantic landscape and atmosphere. Its outdoor space features the Lake of Love and a tall windmill set right in front of a cliff. This windmill, built in a typical Dutch style, was the most frequently appearing background for the mini-series All in. The hotel's Volcano Fountain Show, which was also seen in the mini-series, provides great entertainment for both hotel guests and outside visitors. The show is followed by small-scale night festival. The Lotte Hotel's outdoor space is the perfect place to enjoy a fantastic night view with a glass of beer and snacks.
→ Lotte Hotel website
Exterior view of White Scenery
Inside view of White Scenery
That night, we stayed at an inn called White Scenery (Hayan Punggyeong, or 하얀 풍경 in Korean). /
(+82-64-763-5000 (Korean)/http://www.whitescenery.com/http://www.whitescenery.com/8-pyeong 2-person 40,000 won/kitchenette)

Day 3
* Oedolgae (Filming location of Jewel in the Palace)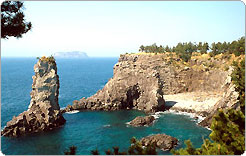 09:30
This is where Janggeum stands alone on a precipice gazing resolutely out to sea. Visitors can enjoy a pleasant walk along the coastal cliffs.
Free admission.
→ Click here for more on Oedolgae
From Oedolgae, take Route 12 in the direction of Jeongbang Pokpo Falls and turn right after you see the road sign for Jeongbang Pokpo. Pass Jeongbang Pokpo and keep going straight. You will see the sign for Paradise Hotel Jeju.
* Paradise Hotel Jeju Honeymoon House (Filming location of All in)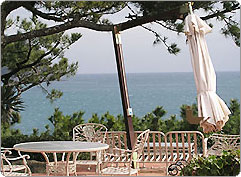 11:00
The Paradise Hotel Jeju, the first Mediterranean-style hotel in Korea, was built on the site of the summer residence of Lee Seung-man, first President of Korea. Overlooking the sea, it offers a beautiful view. All in was filmed at the annex building Honeymoon House, a Korean restaurant. As the name implies, the restaurant has a sweet interior design. In the mini-series, it was the meeting place for Song Hye-gyo and Park Sol-mi. Other filming locations in the hotel include the living room of the master suite, and the walking paths near Honeymoon House. After looking around the summer house of President Lee Seung-man and the seaside walk, we went to the Honeymoon House, where we ordered seongge miyeokguk, or sea urchin seaweed soup set menu. The soup is a local specialty and comes with bulgogi (25,000 won per person/tax not included).
From Paradise Hotel, take Route 12 in the direction of Pyoseon. The Jeju Folk Village is a 15-minute drive away.
* Jeju Folk Village (Filming location of Jewel in the Palace)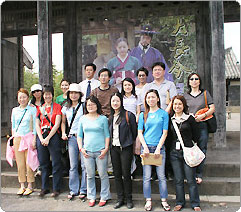 12:30
The folk village is a great place to experience the traditional lifestyle of the island. In Jewel in the Palace, the village was the setting for many scenes in which Janggeum studied Korean medicine while working as a maidservant for the local governor of Jeju. Information with photos and descriptions of the scenes make it easier for visitors to find the locations. A large photo of Daejanggeum in front of the Jeju government office gate is particularly popular for taking photographs.
Admission: 6,000 won (19+)
→ Click here for more on Jeju Seongeup Folk Village
From Jeju Folk Museum, take Route 97 in the direction of Seongeup and you will reach Seongeup Horseback Riding Club after a 10-minute drive. ATV Jeju Joy is within the club. You will see a signboard for ATV Jeju Joy in front of the club.
* ATV Jeju Joy (Filming location of Jewel in the Palace)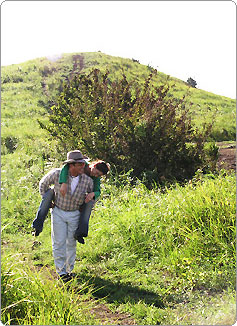 12:00
Many of the scenes were filmed on an open range located in Seongeup-ri, Pyoseong-myeon, Namjeju-gun. Filmed here were scenes of Janggeum carrying the dying Lady Han on her back and later burying her. This is also where Janggeum is taken by military guards to a place of exile on the island. Other scenes shot here were Janggeum going back to search for Lady Han's grave, and erecting a tombstone. Visitors can still see the tombstone by registering for the Daejanggeum tour operated by ATV Jeju Joy. A thrilling experience awaits tour-goers, who will visit the filming locations in an all terrain four-wheeled vehicle. The tour is interesting and beautiful even for those who haven't seen the mini-series.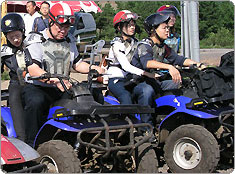 < ATV Jeju Joy Visitor Information>
Address: 2060-3 Seongeup-ri, Pyoseong-myeon, Namjeju-gun, Jeju-do
Telephone: +82-64-787-2040 (Korean)/
Travel Phone +82-64-1330 (English, Chinese, Japanese)/
Price: Adult 30,000 won
Running time: 40 to 45 minutes
From Seongeup, take Route 1119 in the direction of Seongsan (about 15 minutes). You will see road signs for Seongsan Ilchulbong and Seopjikoji. Drive another 20 minutes in the direction of Seopjikoji. Route 1119 is well known for its picturesque fields of eulalia reeds. As you drive along, you'll watch the majestic reeds gracing both sides of the road, Mt. Hallasan rising in the distance, and volcanic oreum mounds spreading across the golden plain.

* Seopjikoji (Filming location of All in) / Seongsan Ilchulbong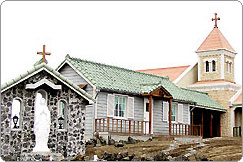 16:00
Until September 2003, the outdoor set location of All in included a church, convent, and daycare center on a beautiful landscape in Seopjikoji; however, that set was destroyed by Typhoon Maemi. Following numerous requests for reconstruction, the 'All In House' was built, this time including a casino. Starting with three chips, visitors can play against a casino dealer, and those who collect twenty chips win a special souvenir. Other places of interest in Seopjikoji are the lighthouse and the signal mound called Yeondae. Seopjikoji is, in itself, like a beautiful painting of the sea, plains, lighthouse, and horses. No wonder it is used frequently as the filming location for numerous Korean movies, including Danjeokbiyeonsu and The Uprise of Lee Jae-soo.
Free admission.
→ Click here for more on Seopjikoji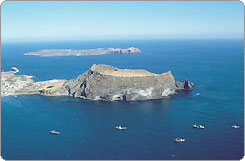 17:00
From Seopjikoji, Seongsan Ilchulbong is only a five-minute drive. This 182-meter high volcanic crater erupted beneath the ocean a hundred thousand years ago.
The ninety-nine jagged pinnacles around the edge of this huge crater give it the appearance of a massive crown. The wondrous scene of the sunrise from Seongsan Ilchulbong is particularly impressive. And in springtime, when canola blossoms emerge in their entire splendor, the crater becomes even more radiant. Admission: 2,000 won.
→ Click here for more on Seongsan Ilchulbong

After seeing Seongsan Ilchulbong, we drove to Jeju-si city on Route 12, enjoying the magnificent views along the coastal road that stretches from Seongsan Ilchulbong to Hadori. We decided to stay at an inn called Coastway near the Yongduam~Iho Beach coastal road so we could enjoy a night drive. The coastal road is lined with restaurants, coffee shops, and inns, and is a great place to watch the illuminated Yongduam Rock and the beach.
Coastway
Yongduam~Iho Beach coastal road
*Coastway (+64-713-0003(Korean)/http://www.coastway.co.kr(Korean)
/15-pyeong 2-person room 70,000 won/kitchenette).
Follow the road signs to City Hall and take Route 11 in the direction of Seogwipo until you reach Seongpanak Service Area. Driving in downtown Seogwipo can be confusing, especially in traffic, so it is better to leave early. It takes about 30 minutes.
* Hiking in Mt. Hallasan
The Four Seasons of Mt. Hallasan Spring
Fall
Summer
Winter
08:00
Mt.Hallasan, the best-known mountain on the island, rises from the center of Jejudo Island at 1,950 meters above sea level. The dormant volcano has a crater lake called Baengnokdam and 368 parasitic volcanic cones called oreum around, creating a mystical feeling.

Mt. Hallasan is well known for its vertical ecosystem, ranging from temperate- to cold- climate areas. The well-designed hiking trails allow mountain climbers to observe variations of the mountain's ecosystem, which comprises 1,800 kinds of plants and 4,000 species of animals.

The hiking trail is a relatively short 10 kilometers, so it is possible to climb up to the summit and come down in one day. Because of the relatively capricious weather and strong winds, however, climbers are advised to be well prepared before their climb.
Two trails lead all the way up to Baengnokdam: Seongpanak and Gwaneumsa. The two other trails (Eorimok and Yeongsil) go only as far as Witse Oreum 1,700 meters high.

Missing Mt. Hallasan is like missing half of Jeju Island. Even if you don't have a full day for hiking, at least try the Eorimok or Yeongsil trails, which take half a day. For a full-day hike to the summit, the Seongpanak trail is easier and more popular.

If you have the opportunity to take this hike in spring, a special treat awaits you: the whole mountain is ablaze with the pink azalea blossoms. The round trip on this trail takes about 9 hours. Climbers need to be aware of admission hours: from 05:00 to 18:00 or from 09:00 to 22:00 depending on the season, so check on the schedule in advance. It is best to start early, and be sure to take a light jacket, lunch, and some snacks.


-Seongpanak: Seongpanak Square -> Dongneung Summit (9.6km, one-way 4 hrs 30 min.)
-Gwaneumsa: Gwaneumsa Temple→ Dongneung Summit (8.7km, one-way 5 hrs)
-Yeongsil: Yeongsil → Witse Oreum (3.7km, one-way 1 hour 30 min.)
-Eorimok: Eorimok Square -> Witse Oreum (4.7km, one-way 2 hrs)


Path
Winter
(11/12/1/2)
Spring/Fall
(3/4/9/10)
Summer
(5/6/7/8)
Up
Eorimok / Yeongsil
Seongpanak / Gwaneumsa
Eoseungsaengak
Down
Witse Oreum
Yongjingak
Jindallaebat
Summit

Hallasan National Park does not allow overnight camping. All visitors must descend the mountain before closing time, which depends on the season.
→ Click here for more on Hallasan National Park
From Seongpanak Service Area, take Route 11 to Jeju-si, and you will find a road sign for Jeju International Airport. Follow the signs to the airport. It takes about 30 minutes.
* Car Return and Dinner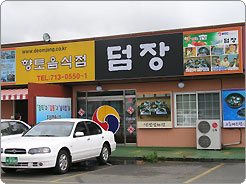 18:00
After returning the car to the rental office, we stopped at Deomjang, a traditional restaurant serving authentic local foods.
If your group includes four people or more, try the Deomjang sangcharim menu (65,000 won/a table for four persons),
offering all the Jeju specialties: dombegogi (broiled pork), galchijorim (stewed cutlassfish), bomalguk (shellfish soup), and godeungeogui (grilled mackerel). We ordered okdomgui (broiled tilefish), a specialty of Jeju that we hadn't tried yet. Okdomgui: 15,000 won/person
AVIS We took the free Avis shuttle bus to Jeju International Airport and took the 19:30 flight to Seoul.
[ TIPS ]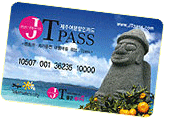 1. There are many inn-style lodging facilities with a kitchenette in Jeju Island. Since dining can be pricey on the island, such accommodations will trim your food budget.

2. You'll notice that admission costs to various attractions on Jeju add up, but there is a solution. Visit Bobo's Jeju booth (next to Gate 1 on the arrival floor of the airport's domestic terminal) for a free JT pass. With this card, you'll receive discounts on admission fees and restaurant bills at 70 or more of the tourist sites and restaurants in Jeju-si city. Note that discount rates may differ. And if you don't have a JT pass, try the discount coupons found on maps or tourist information leaflets.

3. You can make reservations for flights, rental cars, and lodging at visitkorea.or.kr.

[Related columns]
[ Map of Jeju Best Tour Itinerary ]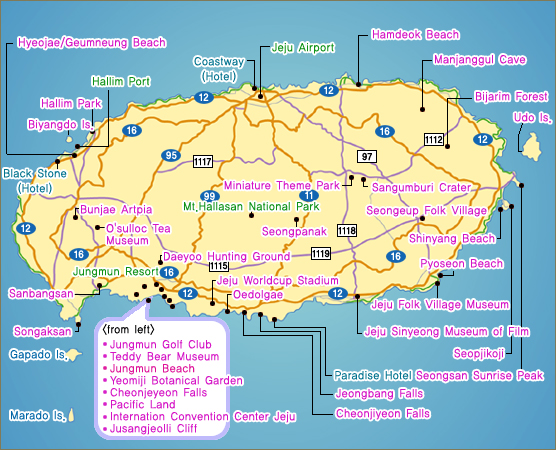 [ Map of Jungmun Resort Complex ]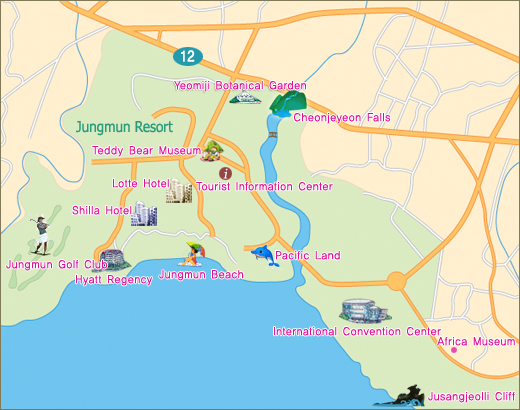 [ Total expenses per person, as of November 2005 ]
Seoul-Jeju round-trip air transportation: 139,460 won
84 hours car rental: 141,200 won
Round-trip boat for Biyangdo: 3000 won
Hallim Park admission: 5,000 won
Bella Vista seafood spaghetti in tomato sauce: 13,500 won
Ilseong Condo (lodging): 65,000 won
Galchijorim set menu: 13,000 won
Museum of African Art: 6,000 won
Teddy Bear Museum: 6,000 won
White Scenery (lodging): 40,000 won
Honeymoon House seongge miyeokguk set menu: 25,000 won
Jeju Folk Museum admission: 6,000 won
ATV Daejanggeum Tour 19+: 30,000 won
Seongsan Ilchulbong Admission: 2000 won
Coastway (lodging): 70,000 won
Mt. Hallasan Admission: 1,600 won
Okdomgui set menu: 15,000 won
Gasoline: 80,000 won
Total: 661,760 won