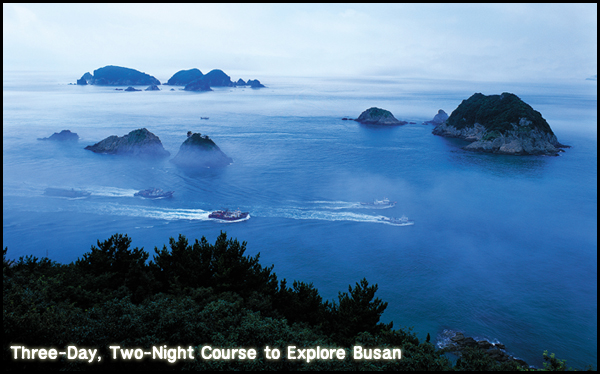 Three-Day, Two-Night Course to Explore Busan


Itinerary
Day 1:
Seoul Station - Busan Station - Gukje Market (Lunch) - Busan Museum of Modern Art - Dongbaek Island - Dinner at Paldogwangwang Hoetjip, a sliced raw fish restaurant – Hotel Paradise
Day 2:
Busan Passenger Terminal – Breakfast (at Gaetmaeul Haemul Ttukbaegi, a seafood stew restaurant) – Jangseungpo Passenger Terminal – Ferry Cruise to Oedo Island and Haegeumgang – Lunch (at Dubumaeul, a tofu dish) – The Park of Geojedo, P.O.W. Camp – Downtown Geoje – Jangseungpo Passenger Terminal – Jagalchi Market (Dinner) – Hotel Phoenix – Yongdusan Park Night Tour
Day 3:
Hotel Phoenix – Breakfast (Nampodong) - The UN Memorial Cemetery and Peace Park – Busan Station – Arrive in Seoul
▒ Day 1- Busan, the City of APEC 2005
The city of Busan, which will host APEC Economic Leaders' Meeting in November this year, is an international port city that has a lot to offer. The city features plenty of tourist attractions and festivals, which make it all the more popular among tourists. Busan, these days, is emerging as a main film location for Korean movies. Famous Korean movies filmed in Busan include Silmido, Old Boy, Got You Babe, My Brother, Chingu, Sympathy for the Lady Vengeance, and Typhoon, to name a few. The following itinerary for Busan and nearby Oedo Island is designed to show you the best way to explore the region through a three-day, two-night tour. You will be dazzled by the charm of Busan, the city of the APEC 2005 meeting, and the beauty of Oedo Island. .
→Click here for more information of Busan
→Click here for articles on Busan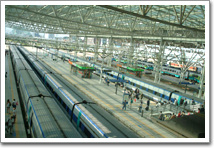 09:00 A.M. Seoul Station
It takes about two hours and forty minutes from Seoul to Busan by KTX (Korea's high speed train). There are various facilities at Seoul Station, such as restaurants, department stores, and shopping center. So, it would be good for you to have breakfast at Seoul Station before traveling.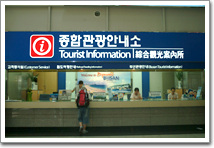 11:40 A.M. Busan Station
Busan station has a tourism information center on the right side of the ticket counters. You can get city's maps, tour guide information, as well as information on festivals and transportation for free at the center. Make this your first stop on your way to visit Busan, where you can also get discount coupons for Gwangalli cruise.

Go straight 100 meters from Busan station and take Busan Subway Line No.1 → Get off at Jagalchi station and take exit No. 7 → Walk straight for five minutes
Time required: 15 minutes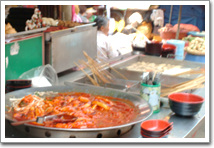 12:20 P.M. Nampodong Gukje Market
Gukje Market was created during the Korean War as displaced people flocked together and began to sell US army's military supplies. As the biggest traditional market in Busan, Gukje Market features a variety of goods at a cheaper price than other places. Local people say there is nothing that cannot be found at the market, as it has everything including daily necessities, apparel, foods and home appliances. This makes Busan's Gukje Market almost equivalent to Namdaemum Market in Seoul. You can also taste a variety of local cuisines at the market's food alley while you're shopping, including Eomuk, Busan's local specialty, ground fish.

Take the subway from Nampodong station → Transfer to Subway Line No.2 at Seomyeon station → Get off at Centum City station and take exit No. 1 → Walk five minutes.
Time required: 55 minutes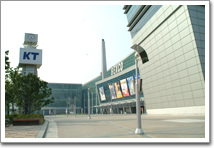 15:30 P.M. BEXCO
Busan Exhibition and Convention Center (BEXCO) features world-class facilities for international conventions, events and exhibitions. It offers specialized facilities, such as a convention hall that can house up to 5,800 people and a glass hall as big as 4,843 square meters, and an exhibition hall three times as big as a soccer field. The convention hall will be used as the venue of the APEC summit and ministers' meeting.

Cross the road at the front gate of BEXCO and walk.
Time required: 5 minutes


16:30 P.M. Busan Museum of Modern Art
The Busan Museum of Modern Art is busy all year round featuring a variety of exhibitions, such as paintings by Marc Chagall and landscape paintings by local artists. Sculpture is displayed in the park outside the museum. The park also has benches where you can take a rest for a while after a long stroll.

Take the subway at the Museum station, Line No.2 → Get off at Haeundae station and take exit No. 3 → Walk to Haundae beach.
Time required: 15 minutes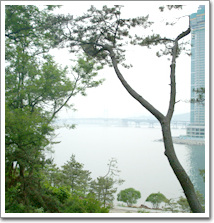 18:30 P.M. Dongbaek Island
Dongbaek Island is located at the far end of the southern part of Haeundae Beach. Due to the breathtaking beauty of the island, it is where Westin Chosun hotel and the venue for APEC summit are located. Gwangandaegyo Bridge in the distance can be seen from the island. With its unique beauty, Dongbaek Island is popular among tourists all year round as well as locals who enjoy taking a leisurely stroll along the island's pathways.

Follow the road next to Chosun hotel and walk towards Haeundae Beach → Cross the road at Busan Aquarium
Time required: 10 minutes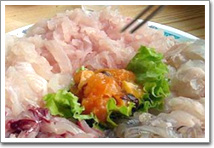 19:30 P.M. Dinner
You can enjoy fresh raw fish slices, at seafood restaurant streets around Haeundae Beach and Gwangalli, and Jagalchi market. The price for raw fish changes, depending on the price fluctuations of the fish market. For example, Paldogwangwang hoetjip, a sliced raw fish restaurant near Haeundae beach, charges 40,000 to 60,000 won for 2 to 4 people.
Paldogwangwang Hoetjip restaurant
Tel: +82-51-747-3880
Address: 1413-0, Jung-dong, Haeundae-gu, Busan Metropolitan City
Hours: 10:00~23:30 on weekdays, 10:00~23:30 on weekends

Cross the street from the restaurant and walk towards Marriot Hotel → next to the Marriot Hotel
Time reqired: 3 minutes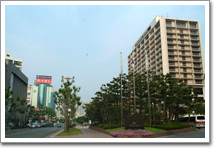 22:00 P.M. Hotel Paradise
Busan has a wide arrange of accommodations such as hotels, condominiums, and youth hostels. Hotels in Busan have embarked on a large scale of repair work and security improvement to fully prepare themselves for the upcoming APEC meeting. In addition, they're opening foreign language websites and trying to improve their employees' foreign language skills. Located in the middle of Haeundae beachside road, Hotel Paradise presents a fine view of the beach. Since the motel is close to the beach, it's easy to go out and take a walk at night.
Hotel Paradise
Tel: +82-51-742-2121
Address: 1408-5 Jung-dong, Haeundae-gu, Busan Metropolitan City
Room Rates: 312,000 won (tax, 10% VAT included)
→For Reservations

Pass the Marriot Hotel Go straight behind the McDonald building → Get on subway line 2 at Haeundae Station → Transfer to line 1 at Seomyeon Station → Jungangdong Station, Exit 8 → Go straight to the alley and turn left → Cross the street and go straight to the right-hand side
Time reqired: 71 minutes (subway 51 min. / walk 20 min)

▒ Day 2-Geojedo Island
Geojedo Island is the second largest island in Korea. It belongs to the city of Geoje, together with other 60 islets around it. Most of the tourists to Busan also make a stop at the island which is only 50 minutes away by a ferry ride. Geojedo Island is famous for its beautiful beach and wide stretches of sands. A number of small islets within 500 meters of the island also create a beautiful scenery. It's not easy to use public transportation on the island since buses do not operate frequently. Moreover, as there are few direct buses to major tourist attractions, tourists have to transfer many times. Thus, it is recommended to rent a car or to join a tour program run by a tour agency to enjoy the beauty of Geojedo island more conveniently.
Click here to know learn about Geojedo Island→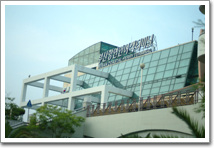 08:00 A.M. Busan Coastal Passenger Terminal
You can take a ferry to Geojedo Isalnd at Busan Coastal Passenger Terminal located in downtown Busan. The passenger terminal also runs ferries to Jeju Island once or twice a day. Passengers are required to write down their name, country, passport number, and contact number before getting on board. As waters are sometimes rough, passengers on the first floor of the ferry can suffer from seasickness. It is recommended for those sensitive to seasickness to sit on the second floor.

Time required: 55 minutes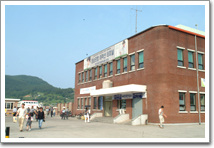 09:00 A.M. Jangseungpo Passenger Terminal
Jangseungpo Passenger Terminal is the ferry destination departing from Busan. The terminal is also used as a meeting place for those joining a tour program. You can also pick up your rental car here, or join a tour program run by a travel agency in the terminal. The terminal also has a ferry that returns to Busan, operating from 8 am to 6 pm.

Walk to the right side of Jangseungpo Passenger Terminal
Time required: 5 minutes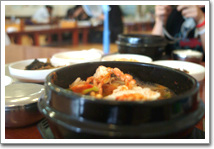 09:10 A.M. Breakfast at Gaetnaeum Gamasot Haemultang Restaurant (Seafood Stew Restaurant)
After a rocky ferry ride, you might feel uncomfortable coping with seasickness. Geojedo's famous Haemultang, or seafood stew, will be the food of choice to calm your stomach. Prepared by boiling a variety of seafood such as crabs, shrimps, and shellfish in a ttukbaegi, or a stone pot, Haemultang is a local delicacy that will make you feel healthier by bringing together all the nutrients of the sea. The restaurant has a wide arrange of dishes you can choose from, such as thick soybean paste stew with seafood, seafood stew served in a stone pot, spicy seafood stew, and rice cooked in a stone pot with chestnuts, mushrooms, and jujubes. These foods are also good choices as a light breakfast.
Gaetnaeum Gamasot Haemultang (Seafood Soup and Stew Restaurant)
Tel: +82-55-681-8222 (Kor), +82-55-1330 (Kor, Eng, Jap, Chi)
How to get there: Walk to the right side of Jangseunpo Ferry Terminal for two to three minutes
Address: 692-3. Jangseungpo-dong, Geoje-si, Gyeongsangnam-do

Cross the street in front of the seafood restaurant
Time required: 2 to 3 minutes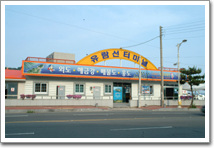 10:00 A.M. Jangseungpo Ferry Terminal
Jangseungpo Ferry Terminal runs a ferry ride to Oedo Island, Haegeumgang, Maemuldo Island, and Hongdo Island. Tickets for the ferry cruise to Oedo Island and Haegeumgang can be purchased here. Entrance fees for Oedo Island are not included in the ferry ticket price. Individual travelers have to buy a ticket at the terminal. They cannot make a reservation for the ferry ride. Ferries to Oedo Island are often canceled when weather conditions are bad. Thus, be sure to check the weather by making a phone call to the terminal before getting on board.


Take a ferry cruise to Oedo Island and Haegeumgang (Course A )
Time required: 3 hours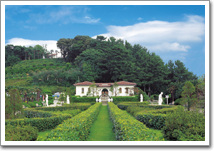 Oedo Paradise Island
Oedo Island became popular when the last scene of a popular Korean drama, Winter Sonata, was filmed there. The island's beautiful botanical garden and European style houses make you feel like you are in the best resort in the world. The view of the Haegeumgang and Oedo Island from the island's observatory is breathtaking. During one and a half hour walk around the island, you would feel like it's a scene out of a fairy tale. After visiting the island, the ferry ride will take you to a magnificent view of Haegeumgang.
→Click here to learn more about Oedo Paradise Island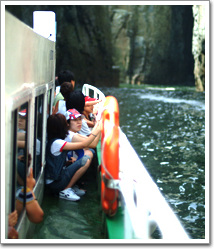 Haegeumgang
Now, the ferry cruise heads for Haegeumgang. It is famous for its natural formed rock sculptures and mountain-like rock islands in the ocean. Haegeumgang is also dubbed as a "Geumgangsan mountain in the ocean," which is the most beautiful mountain in North Korea, thanks to its fantastic scenery. You should be careful when going outside on a ferry since high waves can rock the boat. Make sure to cover your camera so that it won't get wet. Tour guides are available inside the ferry but only in Korean.


Cross the street at Gaetnaeum Gamasot Haemultang Restaurant and take a bus bound for Gohyeon Intercity Bus Terminal → Take a taxi at the bus terminal to the Historical Park of Geoje, P.O.W. Camp → Cross the street at the front gate of the Park
Time Required: 50 minutes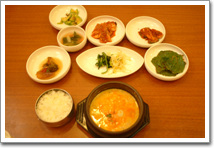 14:00 P.M. Lunch at Dubumaeul Restaurant
The main ingredient of Dubumaeul restaurant's dishes is tofu made of beans grown in Geojedo Island. Fresh tofu and soybean puree are made everyday by grinding beans. Foods here are good for the body, as their tastes are mild and most of the side dishes are composed of vegetables. Dubumaeul restaurant looks like Korean traditional thatched cottages from the outside. All seats are in Korean style, which means you have to sit on a cushion on the floor.
Tel: +82-55-638-3725
Address: 476-17, Sangdong-ri, Sinhyeon-eup, Geoje-si, Gyeongsangnam-do

Cross the street at Dubumaeul restaurant
Time required: 2 to 3 minutes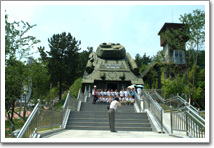 15:00 P.M. The Park of Geojedo, P.O.W. Camp
The P.O.W. Camp in Geojedo Island once held as many as 173,000 prisoners during the Korean war, but much of the camp was destroyed and only some parts are restored into a park which is open to the public. The camp displays pictures of prisoners and their belongings such as clothes. Due to its historical importance, many students gather at the park and are reminded of the tragedy of the Korean war.
→ Click here to learn more about the Park of Geojedo, P.O.W. Camp

Cross the road at the park and walk straight -> Turn left
Time required: 10 minutes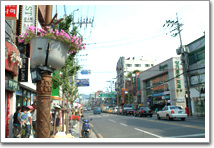 16:00 P.M. Geoje City
It takes a whole day to fully explore the charm of Geoje city. But using public transportation in the city is not easy even for Korean tourists. Thus, joining a tour program is a good option. Though there are no modern style, high-rise buildings in Geoje city, you can find every facility and shops that you need such as hospitals, and stores for daily necessities, clothes, and electronic products. Visiting the city's traditional market gives another sort of amusement as the market has all sorts of products indigenous to Geojedo Island. To get back to Busan, take a bus bound for Jangseungpo Passenger Terminal at Gohyeong Intercity Bus Terminal. Make sure that you arrive at Jangseungpo Terminal before 6pm when the last ferry to Busan departs.

Bus for Jangseungpo Passenger Terminal (40 min) → Ferry to Busan (1 hour) → Walk straight to Jagalchi Market (20 min)
Time required: 2 hours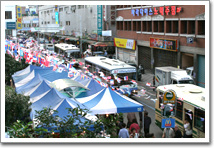 18:00 P.M. Jagalchi Market
The Jagalchi market in Busan is the largest seafood market in Korea. It is a must-see for anyone visiting Busan. A wide variety of seafood and dried fish are available as well as some great places to enjoy a delicious meal. The market is the perfect place to try some of the finest specialties of Busan, ranging from seafood fish such as hwareohoe (fresh raw fish), chobap (sushi), saengseon jigae (fish pot stew), and hoedeopbap (rice served with diced raw fish and vegetables), to others like gamjatang (pork soup with potatoes) and patjuk (red-bean gruel). But in particular, the Jagalchi market is most noted for its grilled eel. By itself, grilled eel makes a copious dinner, so be sure to stop at the market to try grilled eel for your last dinner in Busan.
→Click here for more on Busan Jagalchi market

Across the street from Jagalchi market, pass by Exit 7 of Jagalchi subway station and walk about 10 minutes in the direction of Nampo-dong station. → Hotel Phoenix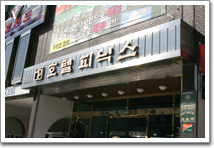 20:00 P.M. Hotel Phoenix
Located in Nampo-dong, Hotel Phoenix is conveniently located a mere 2 to 3 minutes walk from the subway, so it is the ideal place to stay when touring downtown Busan. The hotel has 95 rooms, as well as a karaoke, a coffee shop, and a sky lounge. The rates for a double room and twin room vary, ranging from 68,000 won to 200,000 won, and rooms are available in either ondol-style (sleep on a warm floor) or with a bed. Depending on the season, the hotel may offer discounts to below 100,000 won, so to realize maximum savings, check out the rate in advance.
Hotel Phoenix
Tel:+82-51-245-3030/ Fax: +82-51-241-1523/ e-mail: master@hotelphoenix.net
Address: Nampo-dong 5-ga 8-1, Jung-gu, Busan
Rate: 68,000 won (10 % tax and service charge included)
→Book a room

From Hotel Phoenix, walk about 5 minutes towards Nampo-dong station to the left→Before reaching Nampo-dong station, turn left in the direction of Royal Tourist Hotel at the Gudeongno three-way intersection→Yongdusan Park is right after Donga Golf Clinic.
Time required: 15 minutes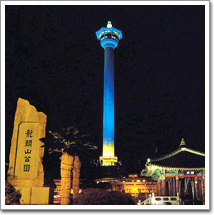 21:00 P.M. Yongdusan Park
One of the city's favorite tourist destinations, Yongdusan Park commands a great view of Busan and offers a variety of interesting tourist attractions like the Busan Tower and the Busan Aquarium. During the APEC summit meeting, the park will be turned into an interactive park with performances and traditional games. The park is generally open until 10 pm. If you are staying at a nearby hotel, stop by during the evening to enjoy a great night view of Busan. The admission to the park is free, but there is an admission fee for the Busan Tower and Aquarium.
→ Click here for more on Yongdusan Park

From Hotel Phoenix, walk to the left side towards Nampo-dong station and take the side street of Hana Bank. Seoul Kkakdugi restaurant is located at a small crossroads.
Time required: 5 minutes

▒ Day 3 - Visit to the UN Memorial Cemetery in Busan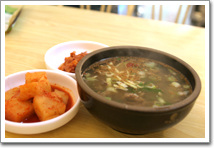 08:00 A.M. Morning Seolleongtang at Seoul Kkakdugi Restaurant
Seoul Kkakdugi has been serving its signature gomtang (ox tail soup) and seolleongtang (beef soup served with rice) since 1974. The restaurant is so popular that it is always bustling with people even during off peak hours. The soups have a particularly deep savor and the homemade kimchi tastes great. All dishes come in generous portions and the seolleongtang is served with noodles. You can help yourself to as much kimchi as you'd like from the small stone jar on the table. The price of seolleongtang is 6,000 won.
Tel: +82-51-245-3950
Address: 11-0, Nampo-dong 2-ga, Jung-gu, Busan

Take a subway at the Nampo-dong station → At Seomyeon, transfer to Line 2 in the direction of Gwangan and get off at Motgol station (subway ride takes 25 minutes)→Take Exit 4 at Motgol station, walk straight ahead, and turn right at the first three-way intersection→Follow the sign of the Korea Cadastral Survey Corp. (KCSC) and the UN Memorial Cemetery and walk straight on (10 minutes by walk).
Time required: 35 minutes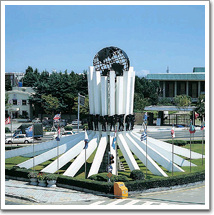 10:00 A.M. UN Memorial Cemetery in Busan
Since KTX will take you back to Seoul in no time, why not make the most of your morning time in Busan. The UN Memorial Cemetery is the burial ground for United Nations soldiers who died in duty during the Korean War. Many visitors come to pay their respect in front of the graves and the UN Memorial Tower. The UN Sculpture Park next to the cemetery is also a new tourist attraction. You can take a pleasant, peaceful stroll along a promenade that features various sculptures and a well-decorated garden. This is a place to visit if you want to learn about the Korean War and the ensuing peace. If time allows, also visit the city museum right next door.

Walk back to Line 2 Motgol station (15 minutes by walk) and take a subway → Transfer to Line 1 at Seomyeon and get off at Busan station (subway ride takes 22 minutes) → From Busan station, take a KTX train to Seoul (KTX ride takes 2 hours 40 minutes)
Time required: 3 hours 17 minutes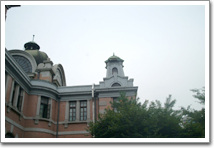 14:40 P.M. Seoul Station
With numerous restaurants and shopping arcades, the Seoul Station is a great place to enjoy a meal or go shopping. But the old train station located next to the newly built station is also an interesting place to visit. Located to the left from the Seoul Station's exit, the old station is currently under preparations to be opened as the Seoul Station Cultural Center. Even though the interior is not yet open to the public, taking a picture in front of the building will be a fine souvenir.
☞ Map of Busan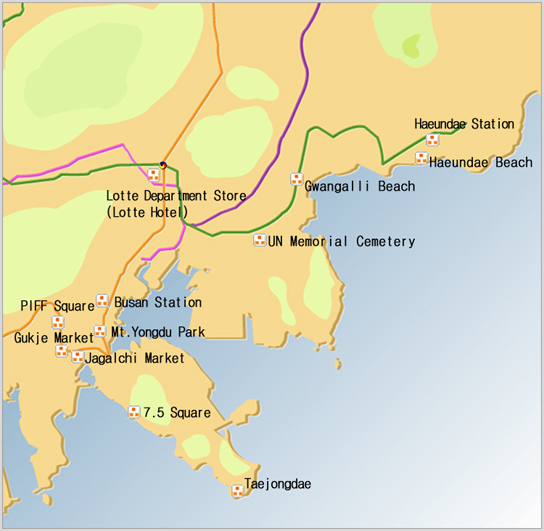 ☞ Tourist Map of Geojedo Island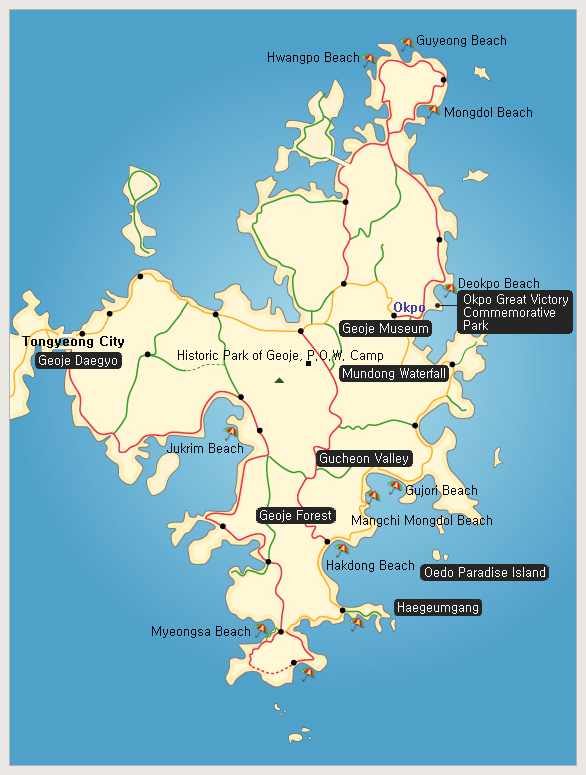 ☞ Total Cost of the Tour (as of August, 2005)
Seoul→Busan (by KTX)
44,800 won
Subway fare from Busan Station to Nampodong station
900 won
Lunch at Gukje market
Tteokbokki (Stir-fried rice pasta with vegetables)
2,000 won
Eomuk (Fish cake made of ground fish)
1,000 won ( 300 to 500 won for each)
Subway fare from Nampodong station to BEXCO
1,000 won
Entrance fee for Busan Museum of Modern Art
700 won (for the age of 25 to 64)
Dinner at Haeundae Beach
Assorted raw fish slices (small)
40,000 won
A bowl of rice
1,000 won
Hotel Paradise
312,000 won
Subway fare from Haeundae to Busan Station
1,000 won
Ferry fare from Busan to Jangseungpo Passenger Terminal
19,100 won
Breakfast (Haemul Ttukbaegi)
7,000 won
Oedo Paradise Island
Ferry cruise
15,000 won
Entrance fee for Oedo
5,000 won
Entrance fee for Hallyeo Maritime National Park
1,600 won
Bus fare from Jangseungpo Ferry Terminal to Gohyeon Intercity Bus Terminal
900 won
Taxi fare from Gohyeon Intercity Bus Terminal to the Park of Geojedo, P.O.W. Camp
2,500 won
Lunch at Dubumaeul (Sundubu Jeongsik, or soft tofu set menu)
6,000 won
Entrance fee for the Park of Geojedo, P.O.W. Camp
3,000 won
Taxi fare from downtown Geoje to Gohyeon Intercity Bus Terminal
1,900 won
Gohyeon Intercity Bus Terminal → Jangseungpo Passenger Terminal
900 won
Geojedo Isalnd →Busan Passenger Terminal
19,100 won
Dinner (grilled eel)
10,000 won
Hotel Phoenix
68,000 won
Breakfast (seolleongtang)
6,000 won
Nampodong Station → Motgol Station
1,000 won
Motgol Station → Busan Station
1,000 won
Busan Station → Seoul Station (by KTX)
44,800 won
Total Cost: 617,200 won
☞ Travel Tips
* Ferries from Geojedo Island to Oedo Island are often canceled when waters are rough or weather conditions are bad. Be sure to check the weather before you visit Oedo Island.

* It's not easy to use public transportation in Geojedo Island since there are few buses connecting major tourists attractions. There is also a one hour interval between buses. Therefore, it is advisable to join a tour or rent a car when traveling in the city of Geoje.

* Ferry rides between Busan and Geojedo Island and around Oedo Island take about five hours. Those who are sensitive to seasickness are advised to take medicine before getting on board. Having enough food before taking a ferry also helps to prevent seasickness.