Organized for visitors with a special interest in Taekwondo, this tour begins with a visit to Kukkiwon, the authority on degrees (dan) and training of Taekwondo masters, followed by sightseeing, shopping and lunch in the area around Gangnam station,and completed by a Taekwondo tour, organized by the Korea Taekwondo Tour Information Center at the War Memorial.
Course Description – Kukkiwon – Gangnam (Lunch) – Taekwondo Experience(War Memorial)
▒ Photos and Overview of Tour & Links for More Information
Kukkiwon : AM10:30
Established for the preservation and promotion of Taekwondo, Kukkiwon is the highest authority of Taekwondo in Korea. The institution evaluates the dan, or level, of Taekwondo practitioners, supervises the training of taekwondo masters, and propagates the practice of Taekwondo overseas. Visit the Taekwondo museum located inside the Kukkiwon, which is free to the public. After that, go to the gymnasium to see practitioners receive their evaluations or watch a practice session.
* Required time is about 20 minutes
→ Click here for more on Kukkiwon
How to Get to Kukkiwon from Gangnam Station on Subway Line 2

| | |
| --- | --- |
| Gangnam Station Exit 8 | Side street turning towards Kukkiwon |
Get out of Gangnam station from Exit 8 and walk straight ahead for two blocks for 3 to 4 minutes. Take a left turn at the small crossing and walk up along the up-hill road for about 5 minutes until the road splits into a Y-shaped path. Take the right side of the branch path and walk for about 1 minute. _ See map below
How to get to Korean Family Restaurant "Our Story"from Kukkiwon
From the Kukkiwon, walk toward Gangnam Station and enter the station through Exit 8. Follow the signs to Exit 5, and exit there. Walk straight ahead for about one minute, and after passing the Marché building,take a right turn at the side street. Walk about one minute and you'll see the sign "Our Story" on the left. _ See map below
Our Story - AM 11:30
Our Story is a Korean-style family restaurant chain catering to the culinary tastes of foreign tourists with fusion-style Korean dishes that combine the flavors of Western and Chinese cuisine with those of Korean food. From Monday through Friday, 11:30 to 17:00, the restaurant offers special lunch combos ranging from 8,000 won to 12,000 won. Or you might order from the set menu. It offers three different choices serving 2 people, priced from 37,000 won to 46,000 won.
There are also three choices serving 3 people, costing between 55,000 won and 65,000 won. Prices do not include a 10% tax. The area around Gangnam Station is a major meeting place for young people, with an endless array of restaurants, coffee shops, bars, theaters and shops full of clothing and accessories. After lunch, take a walk around the area and experience the energy of Korean youngsters.

* Time required for lunch and sightseeing of the streets of Gangnam Station : About 2 hours
* Recommended dish : seafood noodle salad 13,200 won
* Our Story Gangnam branch Telephone : +82-2-594-7676 (Korean, English)
Take subway line 2 at Gangnam station, transfer to line 4 at Sadang station, and get off at Samgakji station. Get out of the station from Exit 11 and you will see the building of the War Memorial at a distance. It takes approximately five minutes by walk. See map below for directions.
Total subway ride is 27 minutes / Fare is 900 won
Taekwondo Experience (Inside the War Memorial)
- 14:00
The Korea Taekwondo Tour Information Center, managed by Hoki Taekwondo, has one-day Taekwondo experiential programs for tourists to try simple Taekwondo moves and learn more about the art of self-defense. The Hoguk Mudokwan, located in the War Memorial building, offers the added advantage of a visit to the War Memorial museum.
The program offers two programs: a 90-minute course for 35,000 won or a 3-hour course, costing 70,000 won. With completion of the 3-hour program, participants can keep their Taekwondo uniforms. Those who complete both courses will receive a certificate of completion and a small memento. In addition to this one-day program for foreign tourists, Hoki Taekwondo also offers in-depth Taekwondo training, as well as a regular Taekwondo course designed for foreigners residing in Korea. All programs are offered in both English and Japanese, and participants should specify which they prefer. Prior application is necessary.

* Click here for more on Hoki Taekwondo Foreigner Experience Program
* Click here for more on War Memorial


Organizer: Hoki Taekwondo Inc.
Place
1, Hoguk Mudokwan inside War Memorial, Yongsan-dong 1-ga 8, Yongsan-gu, Seoul
(Subway Line 4 or 6, Samgakji station, Exit 11)
2, Hapjeong Hoguk Mudokwan, Hapjeong-dong 433-28, Mapo-gu, Seoul
(Subway Line 2 or 6, Hapjeong Station, Exit 8. Pick-up available at station upon calling.)
Language : English, Japanese
Reservation and Inquiries Telephone : +82-2-336-3361 (Korean, English, Japanese) / Master Ryan (An, Byeong-Cheol) mobile phone : +82-17-303-4962 (Korean, English)
Reservation and Inquiries E-mail : cashin76@hanmail.net (Korean, English)

< Total Expenses Incurred for the Course _ As of June 2005 >
Subway fare : 900 won (base fare)
Lunch at Our Story (Well-being 2-person set meal) : 46,000 won (10% tax not inclusive)
3-hour Taekwondo experience program : 70,000 won

Total :116,900 won
< TIPS >
The War Memorial is just two stops from the Itaewon station and then a short walk from Samgakji station.
The streets of Itaewon are always bustling with lots of foreign tourists. Visit some of the international restaurants, nightclubs, bars, and shops after your Taekwondo experience. If you are interested in browsing for electronic goods, there is also the Yongsan Electronics Market just a short taxi ride from the War Memorial.
-> Click here for more on Itaewon

< Map of War Memorial and its Surroundings >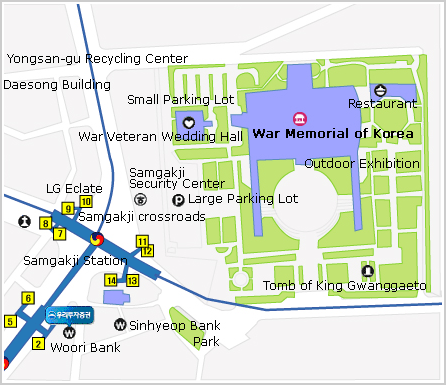 Taekwondo Tour
1.One-day Taekwondo Culture Experiential Program
3-hour Program
90-minute Program
70,000 won/person
Uniform, belt , honorary certificate, memorabilia
35,000 won/person
Certificate, memorabilia given, but uniform rented
* For the 3-hour program course, the demonstration is conducted only for a group of 30 persons or more.
* Program opened for one participant and up.
* When making a reservation for the Taekwondo experiential program, you must give your English name and height information. Since the program is designed for Taekwondo beginners, those who have already learned Taekwondo abroad or are currently learning it must give that information in order to receive an experiential program that fits their individual skill level.
*3-hour program course
Putting on Uniform
→
Demonstration
→
Meditation
→
Stretching
→
Basic movements
Basic move
→
Kicking
→
Kicking mitt
→
Self-defense
→
Pine board smashing

| | | | | |
| --- | --- | --- | --- | --- |
| | | | | |
| Contest | → | Completion Ceremony | → | Group Photo |
2.Taekwondo Training Program
Length of Program: Trainee is free to choose any length of program between 2 to 15 days
Hours: 3 hours a day
Price: To be negotiated
Notes: Most training is conducted in the morning, so participants are free to use their afternoon time for sightseeing in Seoul. Also, because this program is designed mainly for people who are currently learning or have already learned Taekwondo before, its price does not include the uniform, unlike the 3-hour program that does. Thus, the price for the training program is more affordable than the price for the one-day program.
3.Regular course (Opened for foreigners living in Korea)
Length of Program: Over a month
Hours: 1 hour every Monday, Wednesday, and Friday
Price: 80,000 won a month
Notes: All classes are conducted in English, and the course includes a free uniform.

*Detailed Information
Organizer: Hoki Taekwondo Inc.
Place
1, Hoguk Mudokwan inside War Memorial, Yongsan-dong 1-ga 8, Yongsan-gu, Seoul (Subway Line 4 or 6, Samgakji station, Exit 11)
2, Hapjeong Hoguk Mudokwan, Hapjeong-dong 433-28, Mapo-gu, Seoul (Subway Line 2 or 6, Hapjeong Station, Exit 8. Pick-up available at station upon calling.)
Language : English, Japanese
Reservation and Inquiries Telephone : +82-2-336-3361 (Korean, English, Japanese) / Master Ryan (An,Byeong-Cheol) mobile phone : 017-303-4962 (Korean, English)
Reservation and Inquiries E-mail : cashin76@hanmail.net(Korean, English)