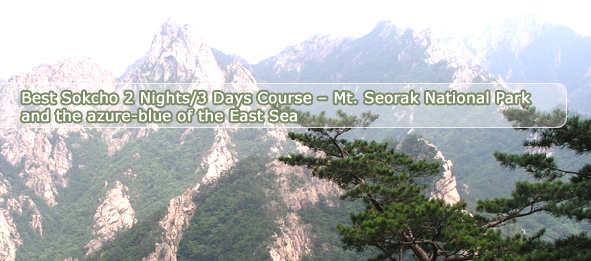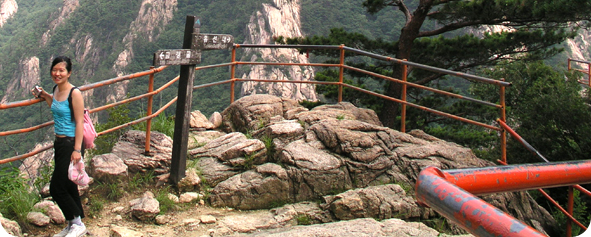 ▒ Course Description
Day 1: Sokcho Express Bus Terminal – Sokcho Beach – Welcome Condominium
Day 2: Mt. Seoraksan – Seorak Waterpia –Hanhwa Condominium
Day 3: Expo Tower (Bicycling around Cheongchoho Lake + Seokbong Museum of Ceramics and Pottery) - Sokcho Express Bus Terminal
The city of Sokcho, the gateway to Korea's most popular national park, Mt. Seoraksan, has long been one of the most beloved tourist destinations in Korea. The city is blessed with the azure-blue waters of the East Sea to the east and the country's most loved Mt. Seoraksan to the west. The city also offers many beautiful and well-known lakes, beaches, resort areas, hot springs, and historical relics to explore. There are also a variety of accommodation facilities such as hotels and condominiums to choose from. For these reasons, over 3 million local and international tourists visit the city every year. Here is an introduction to a backpack tour where you can travel around Sokcho and stay in one of the numerous condominiums where you can cook your own meals.
▒ Photos and Overview of Course & Links for More Information

Sokcho 2 Nights 3 Days - Day 1

◈ Sokcho Beach (Lodging in Welcome Condominium)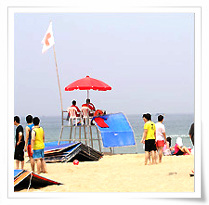 13:00 pm
Early in the morning, we went to Seoul Express Bus Terminal, which is connected with Subway Lines 3 and 7, to catch the 9 o'clock express bus for Sokcho. We arrived in Sokcho at 1 o'clock in the afternoon. We wanted to go to the condominium to leave our bags, but the Welcome Condominium accepts check-ins from 2 pm, so we thought we'd visit the E-mart store near the bus terminal to do some grocery shopping. By the way, the Welcome Condominium is located in front of Sokcho Beach, and it is only a 10-minute walk to Sokcho Bus Terminal and Sokcho Beach. After buying a few grocery items at E-mart, we headed for the condominium in time to check in. In our room, we changed into our swimsuits, grabbed a quick cup noodle for lunch, and hit the road to the beach at around 3 pm. It is only a 5-minute walk to the beach.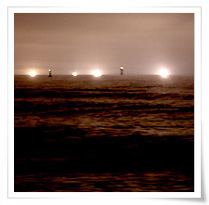 We had a great time at the beach, sunbathing and swimming in the crystal clear waters. We then came back to the condominium to cool ourselves off in our air-conditioned room. After a short rest, we made ourselves a simple omelet, which we enjoyed with some bread and fruit. After dinner, we went out again to enjoy the sea at night. Sokcho is famous for its squid. At night in the summer, bright lights can be seen on the horizon. These are squid catching boats; the lights are used to attract the squids. The lights flash like diamonds in the darkness of the night.


From Welcome Condominium, cross the road and walk about 3 minutes in the direction of Daepohang Port to World Mart. The bus 7 or 7-1 that stops in front of World Mart goes to Mt. Seorak National Park. It is the last stop. Bus fee 900 won. Ride takes about 25 to 30 minutes.


Day 2

◈ Mt. Seoraksan National Park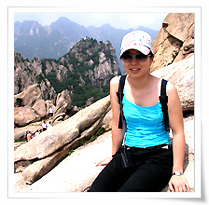 10:00 am
After checking-out from the Welcome Condominium, we took a bus to go to Mt. Seoraksan National Park. Upon arriving at the national park, we bought admission tickets at the ticket booth, entered the park, and left our bags in a locker. The price of the locker depends on the size of the bag: it costs 1,000 won for a small locker and 2,000 won for a larger one. There are four one-day hiking courses at Mt. Seoraksan: Gwongeumseong Fortress, Biryong Falls, Biseondae Cliff, and Ulsan Bawi Rock. Most trails can be covered within a couple hours, so we decided to experience two courses. First, we explored the Gwongeumseong Fortress course, which is accessible by cable car. The ride on the cable car takes about 6 minutes. Then, we walked for about 20 minutes and reached the summit of Gwongeumseong Fortress. This is a rocky peak from which we enjoyed a great birds' eye view of Mt. Seoraksan.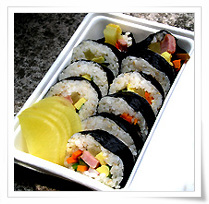 On top of Gwongeumseong Fortress, we rested for a while taking in the fresh wind and snacking on some cookies and drinks. After reaching the grounds, we bought two rolls of gimbap (dried seaweed rolls) on the first floor of the cable car boarding area. Gimbap is a simple meal for hiking and it is great both in terms of nutrition and portability. We then walked past the great Bronze Jwabul Statue, walked towards the Ulsan Boulder, and then had a look around the Sinheungsa Temple. After that, we headed towards Biseondae Cliff. Biseondae Cliff overlooks a beautiful valley. It is especially famous for its autumn foliage. With my feet soaked in the valley water that flows over large and flat granite, we ate our two rolls of delicious gimbap.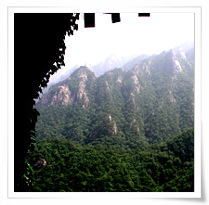 After finishing our lunch, we started for the Geumganggul Cave, which is 600 meters from Biseondae Cliff. Though it's only 600 meters, the path is fairly steep and in need of improvement, so getting there was harder than we thought. However, the scenery of Mt. Seoraksan as seen from the front of Geumganggul Cave is awesome. So even though it is hard, the hike is definitely worth the while. When we got there, we were quite thirsty. We were worried there wouldn't be any water in a cave on a mountaintop in rocks. But water ran down alongside the walls of the cave, and we filled up a small PET bottle. We sat down, looking down on the superb view below, and took about a 20-minute rest. Then, we walked back down to Biseondae and played in the waters for a long time. After that, we felt tired, so we took a nap on a flat rock, after which we descended from the mountain.
*Admission to Mt. Seoraksan National Park: 3,400 won
*Cable car: 7,000 won
*Gimbap: 2,500 won
Click here for Mt. Seoraksan National Park
Click here for Gwongeumseong Fortress


Take bus 7 or 7-1 at the bus stop where you got off. Get off in front of Sokcho fire station. Cross the street and take bus 3 or 3-1 in front of the gym. The bus will take you to Hanhwa Resort. Ride takes about 30 minutes. Bus fee is 900 won.



◈ Hanhwa Condominium Seorak Waterpia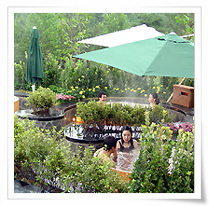 18:00
After checking in at the Seorak Hanhwa Condominium, we gathered some shower items and swimsuit and went straight to Seorak Waterpia, which is an annexed facility of the Hanhwa Condominium. Seorak Waterpia has various hot spring baths with numerous other amenities to enjoy, so it is a great place to have fun and give a weary body a healthy treat.

After a day of hiking, we could feel my muscles stiff. Seorak Waterpia is the best place to relieve stress from the body. The outdoor hot springs offer a variety of themed baths on artificial rocks and, naturally, are the most popular of the baths.

Hanhwa Condominium guests are offered a discount on admission, so bring your room key. The admission fee is also discounted if you go after 6 pm. The regular adult rate for day admission is 38,000 won, but with guest and evening discount, we bought our tickets for 25,500 won each.


Buses 3 and 3-1 stop in front of Seorak Hanhwa Condominium every 15 minutes. The bus will take you to downtown Sokcho. Take the bus and get off in front of Buyeong apartment or Cheongdae elementary school. A 5-minute walk will take you to Expo Tower near Cheongchoho Lake.
Ride takes about 15 minutes. / Bus fee is 900 won.


Day 3

◈ Cheongchoho Lake (Bicycle hiking)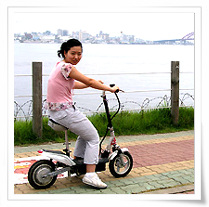 10:00 am
The Expo Park surrounding Cheongchoho Lake has the Expo Tower, from which visitors can get a bird's eye view of downtown Sokcho, as well as the Gangwon-do Province International Tourist Information Center. Behind the Expo Tower, there are many bicycle and minibike rental shops. We rented a bicycle to ride around the lake. Thirty minutes is enough to ride around the lake on the bicycle road. We thought it might also be fun to ride on a pocketbike or minibike, which is gaining popularity nowadays in Korea. The Seokbong Museum of Ceramics and Pottery is a short ride from the Expo Tower.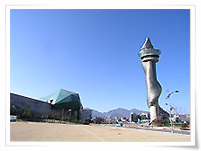 After a visit to the museum, We rode the bicycle again towards Expo Tower, and continued along the lakeside, then reached the Expo excursion boat wharf. For now, this is where the bicycle path comes to an end. We turned around and rode back towards the Expo Tower and returned the bike. We went on top of the Expo Tower to enjoy a panoramic view of Sokcho. Then it was almost lunchtime, so we took a cab in front of the Expo Tower and stopped at Pizza Hut for lunch. And this wrapped up my trip to Sokcho. It takes about 20 minutes to walk from the Expo Tower to Pizza Hut, but because we were not familiar with the direction, we just took a cab.
* Expo Tower ~ Pizza Hut taxi ride takes 4 minutes / 1,500 won.
* Pizza Hut ~ Bus terminal taxi ride takes 7 minutes / 2,000 won.
* Bicycle rental: 2,000 won (1 hour)
* Mini motorcycle rental: 5,000 won (30 min.)

▩Total Expenses Incurred for the Course _ As of July 2005

Round-trip Deluxe Express Bus between Seoul and Sokcho: 20,500 won*2 =41,000 won
Grocery shopping and snacks: 37,000 won
Admission to Mt. Seoraksan: 3,400 won
Cable car: 7,000 won
Tuna gimbap: 3,000 won
Admission to Seorak Waterpia: 25,500 won
Entrance to Expo Tower: 1,500 won
Bicycle rental: 2,000 won
Local bus (4 times): 900 * 4 = 3,600 won
Taxi ride from Expo Tower to Pizza Hut: 1,500 won
Taxi ride from Pizza Hut to bus terminal: 2,000 won
Pizza Hut cheese crust extrema, small: 20,900 won / Coke: 1,900 won
Welcome Condominium 16 pyeong, weekdays rate: about 40,000 won (price is subject to change depending on the season and day of the week)
Hanhwa Condominium 23 pyeong, Sun,. Mon.~Thu. rate: about 71,000 won (price is subject to change depending on the season and day of the week)

Total: 266,300 won


There is no train station in Sokcho. So most people take the express bus to travel to Sokcho. So, the first place you encounter is the Sokcho Express Bus Terminal where you can find the Tourist Information Center (+82-33- 639-2689 / English, Japanese, Chinese). Tourist information leaflets in English, Japanese, and Chinese are available for free, so don't forget to pick some up. Also, between 9 am to 6 pm, tourist guides who can speak English, Japanese, or Chinese man the center. So if you have any questions, make sure to ask a guide before starting your trip. The guides will also help you with accommodation and reservation. The Information Center closes in January during the off-peak season. You should note that at the Welcome Condominium (+82-2-587-8811~5 / Korean) we introduced in this edition, no one is available to take reservation in a foreign language, so make sure to get help at the Tourist Center to book a room.


Of the numerous and various accommodation facilities in Sokcho, Hanhwa Condominium (033-635- 7711/English) has the advantage of Seorak Waterpia, and Daemyung Condominium (033-635-8311/English) offers a particularly beautiful view. The recently renovated Welcome Condominium is clean and conveniently located near the Express Bus Terminal and Sokcho Beach. Hotels near Mt. Seoraksan include Hotel Sorak Park (033-636-7711/English), The Kensington Stars Hotel (033 -636-7131/English), and Mt. Sorak Tourist Hotel (033-636-7101/English). Meanwhile, downtown options include Blue Marine Tourist Hotel (033-631-5533/English), Sokcho Beach Tourist Hotel (033-631-8700/ English), and Hotel Good Morning (033-637- 9900/ English).
Local specialty food of Sokcho includes sashimi of fresh fish caught from the sea and sundubu (bean curd not pressed in a frame). There are many sashimi restaurants all over the city, but they are particularly concentrated around the ports of Daepohang, Yeonggeumhang, and Jangsahang. There are many sundubu restaurants near Hanhwa Condo. If you are craving for non-local food during your trip, try Pizza Hut located next to Gyo-dong Post Office, which is only five minutes walk from the Seokbong Museum of Ceramics and Pottery.