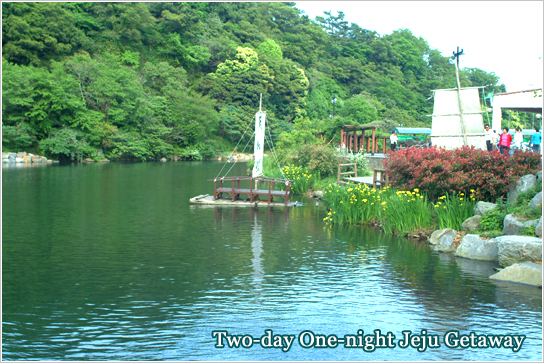 Course Itinerary
Day 1 : Gimpo Airport→Jeju International Airport→Magic World→Miniature Theme Park→Suites Hotel Korean restaurant (Lunch)→Jusangjeolli Cliff→Tour Farm→Seogwipo Sightseeing Boat→ Cheonjiyeon Waterfall→Hotel
Day 2 : Hotel→Yongduam Rock→Jeju local specialties shopping center→Elephant Performance→Pony ride→Korean restaurant in Seongeup Folk Village (Lunch)→Seongeup Folk Village→Ilchul Land→ Seopjikoji (House of All In)→Dongbong-ri Women Divers' Village (Dinner)→ Agricultural Food and Fish Shopping Center (Eobuin)→ Airport
Jeju, the largest island in Korea, is bustling with domestic and international tourists all year round. Its distinct scenery produced by four different seasons beckon numerous tourists. In spring, rapeseed flowers cover the fields all over the island. In summer, the aroma of mandarin orange hangs in the air. And in winter, Mt. Hallasan puts on a majestic, pure-white coat of snow. With its warm climate and tropical flora thanks to its location to the south of the Korean Peninsula, the island produces scenery that is distinctive from any other place in Korea. Jeju not only has a beautiful natural environment, but also boasts a wide variety of cultural facilities. A convention center of international scale, a World Cup stadium, unique and magnificent arboretums, theme parks, and museums, all combine to make the entire island one big theme park.
The most common transportation mode when sightseeing in Jeju is by rent-a-car or rent-a-taxi. But the cost can be rather expensive. The suggested Jeju one-night, two-days course presents a convenient and affordable way to explore Jeju on a trolley bus over the course of two days.

Click here for more information on Jeju →

Day 1 - Exploring the West of Jeju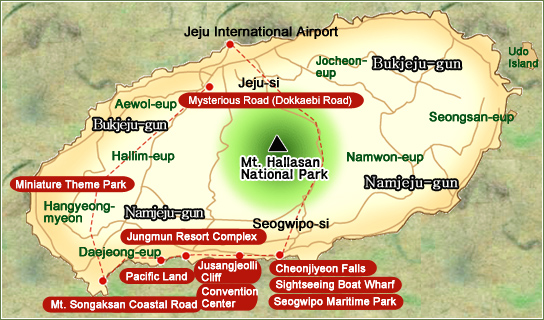 Board a flight at Gimpo Airport

8:10 am
The flying time from Seoul to Jeju is approximately one hour. Beverages are served during the flight. Reserving seats is advised, as Jeju Island is a popular destination for domestic and international tourists.

Click here for more on Gimpo Airport →
Click here to book a flight →


Arrive at Jeju International Airport
9:15 am
To get on a trolley bus, you must arrive at Jeju International Airport before 9:30 am. Take a trolley bus at the location given when signing up for the bus (Gate 4 on the arrival floor), and you are off for sightseeing in Jeju!

Click here for more on Jeju International Airport →

Ride the Trolley Bus
9:20 am
The trolley bus tour is divided into a one-day course to the western area and a one-day course to the eastern area. To view each part of Jeju, it is best to sign up for a two-day course. Pick-up service is available at the airport or major hotels. If you don't have an advance reservation, you can make one on the spot (trolley bus information desks are set up at the Ramada Plaza Hotel and the Hanhwa Resort Condo).

* Note: Unless a reservation is made as part of an international group, trolley bus service does not include an English-speaking guide and thus may be inconvenient. In this case, however, travelers may refer to the information leaflet available at tourist information centers.
Click here for more on Trolley Bus →

40 minutes bus ride
Visit Magic World
10:00 am
The highlight of Magic World is the Bicycle Show, which features the astonishing circus performance by a Chinese circus troupe. The breathless show program of Magic World is changed twice a year. The show runs for about an hour.



35 minutes bus ride

Visit the Miniature Theme Park
11:50 am
The Miniature Theme Park features miniature productions of the Buckingham Palace in Great Britain, the Eiffel Tower in France, the Opera House in Australia, the Bulguksa Temple in Korea, and the Great Wall of China. The park is known as one of the best attractions for picture taking in Jeju as people can take various poses in front of the structures.



25 minutes bus ride

Enjoy lunch at The Suites Hotel Jeju
12:55 pm
Lunch will be served at the Korean restaurant of the Suites Hotel located inside the Jeju Jungmun Resort Complex. The main menu is boiled mackerel, which is a must-try for those traveling to Jeju. Each table seats four persons. The main dish will be accompanied by 6 to 7 side dishes including seasoned bean sprouts and bracken, kimchi, fried dishes, and a soup.

5 minutes bus ride

Visit Jusangjeolli Cliff
1:45 pm
On the way to the Jusangjeolli Cliff, you can see the Jeju World Cup Stadium on the right. The stadium was built for the 2002 FIFA World Cup Korea/Japan. Hexagonal stone pillars piled up along the coast against a vast, heart-throbbing sea offer a mystical and spectacular view. It takes only 20 minutes to tour the attraction and take pictures.

Click here for more on Jusangjeolli Cliff →

20 minutes bus ride

Visit a Tour Farm
2:25 pm
At this tour farm, you will be able to see how mulberry mushrooms and mandarin oranges are grown and also buy them. You can also taste tea made of mulberry mushrooms and honey as well as eat as many oranges as your heart desires. You don't have to buy anything if you don't want to. However, the tour of the farm is provided only in Korean.

10 minutes bus ride

Ride on a Seogwipo Pleasure Boat
3:30 pm
Excursion boats embark 18 times a day. The sea voyage takes about an hour and visitors are taken to see the wonderful sights of Seogwipo while being exposed to the fresh wind of the sea. On the first floor of the boat, there is a bar that sells beverages and beer. The Seogwipo Pleasure Boat is optional; those wishing to take the ride will pay 12,000 won (20% discount off the regular price).

Click here for more on Seogwipo Pleasure Boat →

3 minutes walk

Visit Cheonjeyeon Falls
4:50 pm
One of Jeju's top tourist attractions, Cheonjeyeon Falls has not only a great 22-meter cascade but is also surrounded by a beautiful park. Don't miss the chance to take a leisurely walk underneath the tree shades. The pond formed by the falling water is home to carps, ducks, and a variety of other living creatures.

Click here for more on Cheonjeyeon Falls →

Return to Hotel
Travel Tip on Accommodations in Jeju
Accommodation-wise, Jeju can be divided into four zones: Jungmun Resort, Sinjeju, Tap-dong, and Seogwipo. Jungmun Resort Complex is an upscale accommodation area featuring a number of deluxe hotels such as Lotte Hotel and Hotel Silla. There are many motels in Tap-dong and Sinjeju with prices ranging around 35,000 won. Pensions, cabins, and condominiums are also available in other areas. Visitors are advised to book accommodation in advance based on their budget and purpose of visit.
Click here to make a hotel reservation ->

Day 2 - Exploring the East of Jeju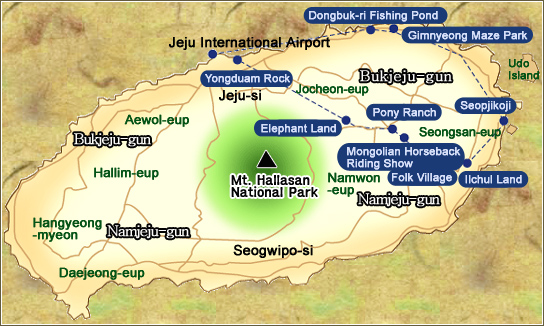 Get on the Trolley Bus

8:50 am
Get on the Trolley Bus: To take advantage of the pick-up service, inform the travel agent during reservation or the guide on the bus as to which hotel you are staying. If your hotel is not easily accessible, the pick-up location will be at a nearby street or in front of an easily identifiable building. So if you are on a two-day course, tell the guide where you are staying the day before.

10 minutes bus ride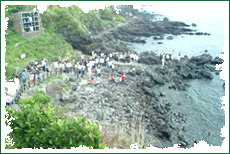 Visit Yongduam Rock

9:00 am
This rock is a popular attraction. It stands ten meters high and resembles the head of a dragon. As you walk down the stairway, you will find vendors selling sea squirts and sea cucumbers freshly picked from the sea.

Click here for more on Yongduam Rock →

25 minutes bus ride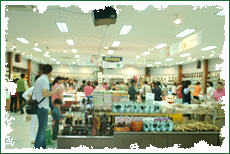 Shop for Local Specialties

9:45 am
At any of the shopping centers, you can find most of Jeju's local specialties such as dol-harubang (stone grandfather statues), key holders, picture frames, cactus cosmetic products, and canola flower chocolates. There are many shopping centers throughout Jeju.

40 minutes bus ride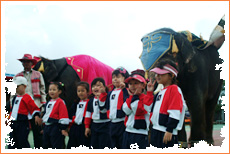 Enjoy Elephant Performance

10:50 am
On your way to the elephant show, you will pass Mt. Hallasan on Road 5.16. This road is well known for its woodland path framed by cedar trees, where numerous TV commercials and movies have been filmed. The 50-minute elephant performance is a variety show featuring elephant soccer and skits. After the show, you can take souvenir pictures with the elephants. (Visitors are charged an admission fee of 12,000 won.)

20 minutes bus ride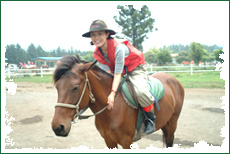 Ride on a Pony

12:10 pm
As you enter the pony ranch, you will be given boots, a vest, and a hat. After putting them on, you mount a pony. After riding the pony around the ranch, you can trot the pony. Riding time is 30 minutes, and if you want pictures taken, give your camera to one of the staff. Don't take your belongings with you on the pony ride as you might drop them during the ride.

20 minutes bus ride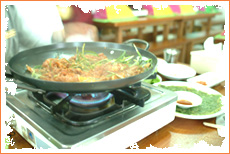 Enjoy lunch at Seongeup Folk Village

12:50 pm
The restaurant inside Seongeup Folk Village serves group visitors. It serves grilled seasoned black pork, a local specialty. Try the dish with rice wrapped in lettuce or other vegetables: the taste is heavenly. If you want to try a traditional liquor of Korea, try the dongdongju brewed from millet that is served for free. You can eat as much of the pork dish, side dishes, and dongdongju as your heart desires.

5 minutes bus ride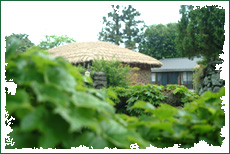 Visit Seongeup Folk Village

1:40 pm
With its well-preserved traditional houses, Seongeup Folk Village is the place to experience the local customs of Jeju. The guides, who are the residents of the village, will take you to the few houses that are still inhabited by the local people. After the tour, you can eat rice cakes and drink tea made in the village, or you can buy souvenirs from an array of local specialty shops.

Click here for more on Seongeup Folk Village →

15 minutes bus ride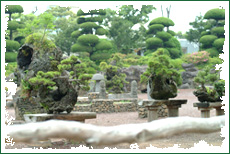 Ilchul Land (Micheongul Cave)

2:55 pm
At Ilchul Land, you can tour the popular Micheongul Cave as well as a well-decorated garden and arboretum. Particularly interesting are the bonsai (called 'bunjae' in Korean) plants cultivated in local stones. There are many places to relax around the pond where you can watch aquatic plants and water fountains. There is a snack corner as well as a souvenir shop.


20 minutes bus ride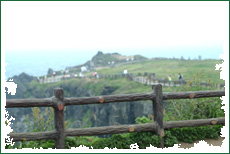 Visit Seopjikoji

4:15 pm
Seopjikoji is well known as the filming location for the TV mini-series "All In." It is a vast hill where you can take a walk against a beautiful background of the ocean view. Midway through the walk, you will find the house of "All In," which is an intriguing attraction. There is a separate admission fee to visit the house.

Click here for more on Seopjikoji →


Travel Tip about the House of "All In"
Jeju was the main location for the TV mini-series "All In." Of the numerous locations, the house in Seopjikoji was used as the set for the wedding scene. After the end of the broadcast, the set was transformed into a souvenir shop selling various items related to the production, an All In Exhibition Hall, wedding hall, casino, and cafeteria for the public.


Click here for more on the House of All In →


30 minutes bus ride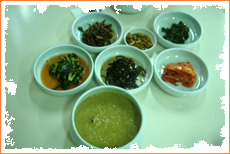 Dongbong-ri Women Divers' Village

5:30 pm
At this village, women divers pick fresh seafood from the sea and sell them for 10,000 won a plate. The plentiful abalone porridge is also 10,000 won. The bus will make a 30-minute stop at the village, sufficient time for a quick dinner.

45 minutes bus ride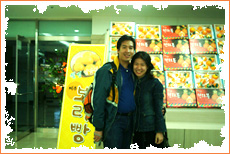 Shop for Agricultural Food and Fish at Eobuin

6:45 pm
Located 10 minutes from the airport, Eobuin is a shopping center selling local specialties, agricultural products and fish. Even though the prices are relatively a little higher than other shopping centers, it offers the convenience of shopping for everything at a single location. Major local specialties include "hallabong" oranges, mandarin oranges, hairtail fish, and tilefish.

5 minutes bus ride

Back to the Airport

7:00 pm
After the two-day course is over, you can take the trolley bus to go to the airport or back to your hotel. If you want to see more of Jeju, you can rent a car and do some more sightseeing on your own. A car can be easily rented. Just pick up a car at the airport parking lot and drop it off later at the same location.

Click here to rent a car→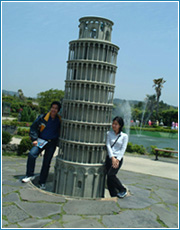 [Interview with Victor & Ludia on the Trolley Bus]

Victor and Ludia are newly wed Indonesians currently living in Australia. They picked Korea for their honeymoon destination because of the Korean Wave sweeping Indonesia. They said that they have watched only a few Korean movies, but they already have a good impression of Korea because of the friendly and interesting local people. Here is an excerpt of the interview with Victor and Ludia on the Jeju trolley bus.

Q: What made you decide to take this trolley bus tour?

A: Neither of us has a driver's license, so we couldn't rent a car. So we thought a trolley bus would be a good idea.

Q: Did you experience any inconveniences on the bus? Is there anything that needs to be improved?

A: Communicating with the guide was difficult because this tour was for Korean people. And also the schedule was available only in Korean. Fortunately, many Korean people on the bus could speak English, so we didn't have much inconvenience in getting information. Some people listened to the guide and then explained it to us in English. But of course, it would really have helped us if the guide could speak some English and gave us schedule information in English or other relevant foreign languages.

Q: What is the advantage of the trolley bus?

A: The trolley bus allows travelers to visit the popular attractions of Jeju conveniently and at an inexpensive cost. Meeting Korean people of various ages was also great. It was really fun getting to know people from all walks of life. Also, the trip was really productive because you get to do sightseeing according to a planned schedule from morning to evening.

Total Expenses for the 2-Day Course as of June 1, 2005
Day
Transportation
Admission
Accommodation
Meals
1
Gimpo↔Jeju Round-trip ticket 146,800 won (weekday discounted rate) (Friday~Sunday weekend rate: 168,000 won /
High-demand season rate: 185,800 won) Trolley bus 2-day course 110,000 won 1-day 55,000 won/
includes admission fees and transportation)
Seogwipo Pleasure Boat: 15,000 won (Extra charge)
Jeju TapDong /TopCF Motel 35,000 won
Dinner: Seattle's Best Coffee Shop across from the Teddy Bear Museum inside Jungmun Resort Complex – Coffee + Cinnabon bread 10,000 won
2
Elephant Performance: 12,000 won (Extra charge)All In House: 5,000 won
Dongbong-ri Village: 20,000 won (Plate of raw fish 10,000 won + Abalone porridge 10,000 won)
Total : 353,800 won