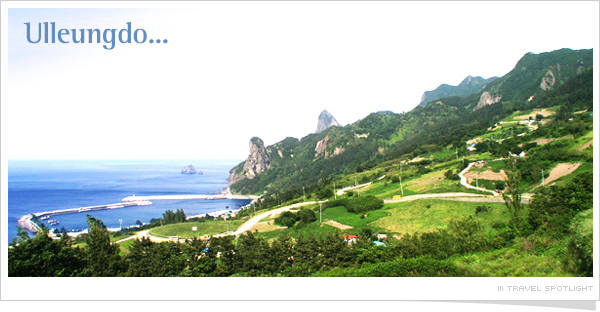 The island of Ulleungdo stretches across a 73㎢ landmass with a population of 10,426. It is approximately a three-hour boat ride from the mainland. Visitors are often in awe of the unique Dodong Harbor as they arrive. Compared to most harbors, Dodong Harbor has the appearance of a village nestled in the mountains.
After arriving at Dodong Harbor, it is recommended that visitors stop off at the tourist information center. Information can be gathered to help plan your stay on the island and help you make reservations if needed. While not all staff members may be fluent in English, they should be able to help. Body language always comes in handy!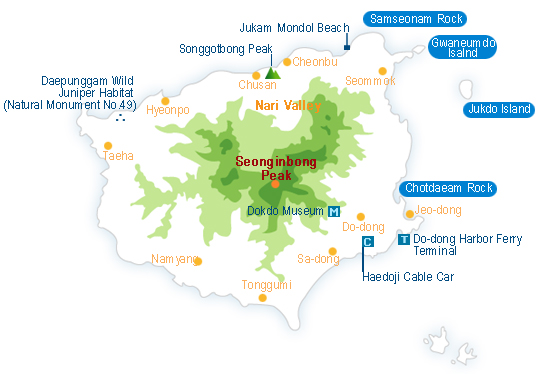 [Recommended Courses ]
Weather conditions frequently change in this region. For this reason it best to plan at least a three to four-day trip. Try to spread out your time sightseeing by boat. It is a two to three hour ride to Dokdo.
:::::: Three-day / Two-night Course :::::::::::::::::::::::::::::::::::::::
Day one: arrive – lunch – taxi tour (Jeo-dong Harbor - Naesujeon Observatory – Bongnae Falls – Yaksu(Mineral spring) Park (Cable Car, Dokdo Museum)- Accommodations in Do-dong area.
When arriving on Ulleungdo, your first stop should be the tourist information office, so you can get help in finding a place to stay, if you have not already done so. Next, you can check in and leave you bags at the motel or guesthouse before touring the island. This course was taken with a taxi driver, which costs approximately 40,000 won per person.
Day two: Tour nearby Dodong Harbor> Haengnam Lighthouse (two hours for sightseeing) – leave port area for ferry cruise (two hours sightseeing) – lunch – move to Taeha by local bus – visit Taeha Lighthouse for two hours – move to Nari Basin by local bus – find accommodations in the Nari Basin area (The stars in the clear night sky are especially lovely here.)
Try to wake up early and watch the sunrise at the Haengnam Lighthouse. After breakfast, head out towards ferry cruise. Local busses do not come frequently, so pick up a bus schedule at the tourist information office and budget your time wisely.
Day 3: The guesthouses near Nari Basin will provide breakfast (You must tell the owner in advance that you would like breakfast.). – Hike to Seonginbong Peak (4-5 hours) – have lunch after arriving at the Dodong area – walk along the coast - Departure
This hiking course is much easier than others on the island. There are signs directing hikers to Seonginbong Peak. The views from the summit are worth the long hike. Standing at the summit of Seonginbong Peak, overlooking the basin, the second crater is visible, just next to Albong Peak. One of the good things about this course is that there is a storage area for bags and other personal items. There are also storage areas at the Dodong Ferry Terminal.
[Best Ways to See the Island]
1. Bus Tour
Departure time: Each company differs.
Total time of tour: Four hours
Course: Tours starts at Dodong and covers half of the island including a volcanic crater and Nari Basin.
Cost: 15,000 won
2. Taxi Tour
Total time of tour: 4~5 hours (flexible)
Cost: 80,000~90,000 won
Ulleungdo taxi office: +82-54-791-2315
Individually owned taxi office : +82-54-791-2612

3. Ferry Cruise
Departure time: Flexible
(A time schedule is posted in the Dodong Ferry Terminal.)
Total time of tour: Two hours
Cost: Ages 19 and over: 13,000 won/ Ages 3~18: 6,500 won
Ulleungdo Ferry Cruise Association: +82-54-791-4468, +82-54-4488, 7010
4. Tour by Rental Car
* There is not much public transportation on the island of Ulleungdo. For this reason, traveling by rental car is much easier. Losing your way will not be a problem as there is not a complex road system on the island. The roads are windy and may be difficult for new drivers to manage, so only experienced drivers should rent cars.
Samji Rental Car : +82-54-791-2240
[Writer's Recommended Places to Visit]
1. Taeha Lighthouse

The amazing views from the observation point have been hailed as one of the top ten views in Korea by a well-respected Korean magazine.
2.Chusan Ilga Guest House

Chusan Ilga Guest House is located in the northern area of the Chusan region of Ulleungdo. Staying at this charming place during your visit will be worth your while. If you would like to stay here, the tourist information office can help you make reservations.
3. Nari Basin

A crater has been formed in the center of this island by a volcanic eruption. The Nari Basin was the first of two naturally formed craters on the island. Standing at the summit of Seonginbong Peak, overlooking the basin, the second crater is visible just next to Albong Peak The Nari Basin is said to be the only crater in the world with a small village on it.
[Promotional Video of Ulleungdo Island]
[Most Popular Dishes on Ulleungdo]
| | | | |
| --- | --- | --- | --- |
| | | | |
| < Honghapbap > | < Ttagaebibap> | < Sanchaebibimbap> | <Yaksobulgogi> |
Honghapbap : This seasoned rice dish mixed with hard-shelled mussels is a savory dish that can only be found on the island of Ulleungdo.
Ttagaebibap : This distinctive Ulleungdo dish consists of seasoned rice mixed with a small shellfish.
Sanchaebibimbap : Vegetables unique to the island mixed with rice and topped off with egg is a must-have dish!
Yaksobulgogi : Cattle raised grazing on wild medicinal herbs on the island are used when making bulgogi, a marinated beef dish. The beef is especially tender.

[Unique to Ulleungdo ]
| | |
| --- | --- |
| | |
| Cuttlefish | Ulleungdo Hobak (Pumpkin) Taffy |
[Transportation]
There are two ferry terminals from the mainland that operate ferries to Ulleungdo Island: Pohang Ferry Terminal and Mukho Ferry Terminal. Except during the peak season from July to August, there is usually only one ferry a day from each port. Ferry times tend to vary depending on weather conditions, so it is best to call and check in advance. Call the Travel Phone at +82-2-1330 (English, Korea, Japanese, Chinese). For those departing from Seoul, the Mukho Ferry Terminal will be easiest and for those departing from the Busan area, the Pohang Ferry Terminal will be closest.

* Pohang Ferry Terminal : +82-54-242-5111~5
* Mukho Ferry Terminal : +82-33-531-5891
* Ulleung Ferry Terminal : +82-54-791-0831~3

[Climate]
The average yearly temperature is 12℃on the temperate island of Ulleungdo. January's average temperature is 0.6℃, contrasting to August's 23.9℃. Yearly precipitation averages 1485 mm, with the island receiving a great deal of snow in the winter.


[Travel Tips]
⊙ Due to the distance from the mainland, items tend to be more expensive. Please keep this in mind when budgeting for your trip.
⊙ The Buk-myeon area, just north of the Ulleung-eup, has some of the most beautiful scenery on the island, be sure to check it out!
⊙ Dodong is the hub of the island. All buses, taxis, boats depart and return to this point. For this reason, it is ideal to make lodging arrangements in this area. Another benefit is that this area is known for its great scenery!
⊙ During the peak summer season in July and August, make ferry reservations at least 2-3 weeks in advance. During other seasons try to make reservations at least one week in advance.
[photo gallery]