It's Zhang Wei's (24, Chinese) very first winter since her arrival in Korea. A fun loving girl, she surveyed her many options for spending a memorable first winter and finally decided on a ski excursion. We followed her through her eventful 2 day's stay at the Yongpyong Ski Resort.


Zhan Wei's Ski Trip Preparation

① Selecting a Ski Resort – Zhang Wei decided to grace the Yongpyong Resort with her presence after hearing that the Gangwon-do Province has good snow quality, as well as the fact that the Yongpyong Resort is home to some of Korea's best skiing facilities.
② Selecting the Dates – After finding out that it takes about 3 hours from Seoul to the Yongpyong Resort (located in Pyeongchang-gun, Gangwon-do), Zhang Wei decided on a 1 night, 2 day stay.
③ Reserving Accommodations - Zhang Wei booked one night at the Tower Condo, Yongpyong Resort's official overnight facilities.
④ Transportation – After calling the Tourist Information Center by dialing +82-2-1330 (English, Chinese, Japanese), she received the shuttle bus times and locations for the Yongpyong Resort shuttles departing Seoul. The Tourist Information Center even placed the reservations for her. If you're a foreign traveler with less than great Korean skills, it's a good idea to make use of the complementary Travel Phone service operated by the Tourist Information Center (+82-2-1330). Zhang Wei paid the 24,000 won round-trip fee for the shuttle after boarding the bus.
⑤ Estimated Expenses for the 2-Day Trip – 1 night stay at the Tower Condo 100,000 won (because Zhang Wei went during the off season, she received a 50% discount) + Round-trip shuttle 24,000 won + Ski rental (half-day) 19,000 won + Skiwear rental (half-day 10,000 won + Weekday lift ticket 45,000 won + Weekday ski rental 23,000 won + Weekday skiwear rental 15,000 won + 4 meals 40,000 won + Miscellaneous 50,000 won = Total 326,000 won
⑥ Items to Prepare - Ski gloves, sun block, etc.


* Hot on Zhan Wei's Tracks!
-December 8, 2003 -

1, 9:00 a.m. – Boarding the shuttle
She boarded the shuttle to Yongpyong Resort near Jamsil Station, Seoul Subway Line 2. Zhang Wei showed up 10 minute's after the promised meeting time, but was forgiven because of the armful of snacks and drinks she carried.
▶ The shuttle leaves on the hour. Give yourself some extra time to arrive.



2, 12:10 p.m. – Tower Condo Check-In
After arriving at the resort, she checked into the Tower Condo and received the key to our guest room.



3, 12 :30 p.m. – Lunch
She took care of lunch at the cafeteria on the 1st floor of Tower Condo. From a region of China known for its spicy cuisine, Zhang Wei kept asking for hot pepper the entire meal. Sundubu (soft tofu) Stew 8,000 won.
Sundubu (soft tofu) Stew 8,000 won.



4, 1:20 p.m. – Purchasing Tickets for Equipment Rentals at the Central Ticketing Booth
After lunch, she headed to the Central Ticketing Booth in front of Dragon Plaza to purchase tickets for ski equipment rentals. Afterwards, she walked into Dragon Plaza to rent our equipment and sign up for lessons.



5, 1:30 p.m. – Skiwear Rental
She entered through gate 1 of the Dragon Plaza and headed for the skiwear rental counter at the far end. She purchased a rental coupon for ski pants (10,000 won) and rented one.
▶ When changing inside the ski rental shop, you put your discarded clothing in a basket. You receive a number plate with the basket's number when leaving, and you must hang onto this carefully in order to reclaim you clothing. For people who don't bring their own ski gloves, you can buy a pair inside the skiwear rental shop (the cheapest pair were 10,000 won). You must leave your ID when renting at the rental shop, but if an ID is unavailable you can leave a monetary sum of about 20,000 won.



6, 1:40 p.m. – Ski Rental
She measured our feet in front of the ski rental shop, handed over our ski rental ticket, and then received a full set of skis.
▶ You must leave your ID when borrowing ski equipment.



7, 2:00 p.m. – Storing Private Possessions in the Locker
She placed our personal articles and shoes in the lockers.
▶ Lockers must be paid for with two 500 won coins. If you don't have the coins handy, you can use the change machine located near the lockers.



8, 2:10 p.m. – Putting on the Equipment
There is a long wooden bench between the lockers. You can sit there and put on your equipment. At this point, Zhang Wei said her ski boots fit too tightly and wanted an exchange. But an experienced skier standing nearby convinced her to keep her tight fitting boots.
▶ Ski boots should be worn tightly.



9, 2: 20 p.m. – Ski Lessons
She headed to the beginner's slope to receive lessons from a experienced skier who accompanied us. She learned to put on the skis, how to fall, how to walk on the slope, how to change direction, and more. She decided to leave the lift for later and practiced on the lower part of the slopes.
▶ If no one in your group can teach you, you can receive lessons from a professional ski instructor. Yongpyong Resort has ski instructors who can conduct lessons in English. For groups of 10 or more, lessons are 34,000 won per person for a two hour session. / Individual lessons are 220,000 won for a two hour session / Ski School Tel: +82-33-330-7373 (Korean)



10, 4:30 p.m. – Returning the equipment
An afternoon rental for the ski equipment is from 12:30 p.m. to 4:30 p.m.. She returned the equipment in time.
▶ Remember to reclaim your ID.



11, 6:00 p.m. – Dinner
She bought rice, kimchi, cup ramen, and drinks at the supermarket on the 1st floor of the Tower Condo and went up to our 6th floor room to cook dinner.
▶ Korean condos generally provide all cooking tools.



12, 7:00 p.m. – Swimming in the swimming pool
After finishing dinner, Zhang Wei went for a swim at the swimming pool on the 1st floor of the Dragon Valley Hotel. She received a 30% discount because she's staying at the Tower Condo.
▶ Swimming pool fees (adults): 9,500 won/ Hours 7:00 a.m. ~ 10:00 p.m. / Guests at accommodations affiliated with the Yongpyong Resort are eligible for a 30% discount / Tel + 82-33-330-7158 (Korean)


13, 10:00 p.m. – Checking mail in the PC room
On her way home from the swimming pool, Zhang Wei stopped by the PC room on the 1st floor of the Tower Condo to check her e-mail and chat with friends.
▶ 1 hour at the PC room 3,000 won


14, 11:00 p.m. – Bedtime
Zhang Wei fell asleep after a shower.
▶ Tower Condo provides soap and towels. Other toiletries must be brought individually.


- December 9, 2003 -
The return shuttle was at 4:30 p.m.. We purchased weekday passes (8:30 a.m. ~ 4:30 p.m.) and set out to ski for the entire day.
1, 7:00 a.m. – Wakeup Call and Breakfast
After waking, we had a quick breakfast. Zhang Wei opted for a simple meal of instant noodles.



2, 8:30 a.m. – Check-Out and Putting Items in Lockers
After checkout, we decided to use the 1st floor locker facilities at the Tower Condo instead of the Dragon Plaza's, because the shuttle was scheduled to leave from the Tower Condo. It would reduce the amount of time we'd have to carry our items.
▶ Lockers must be paid for with two 500 won coins. If you don't have the coins handy, you can use the change machine located near the lockers.



3, 9:00 a.m. – Completing the Beginner's Course
We repeated steps 4 through 8 from the day prior in preparation for the day. The only difference was that we opted for the weekday passes instead of the afternoon passes. Afterwards, we bought lift tickets and took the lift to the top of the beginner's slope, which we skied down from. Zhang Wei's wasn't much of an athletic person, but she enjoyed the slope, spills and all.



4, 12:00 p.m. – Lunch
In order to have lunch, we left out equipment at yet another locker and took the gondola to Dragon Peak. But oh no! The restaurant at Dragon Peak said they only start to serve lunch at 12:30. Disappointed, we took a walk around the 'Winter Sonata' TV drama filming set and took the gondola back down to the cafeteria on the 1st floor of Dragon Plaza. The katsu don (fried breaded pork cutlets) was 8,000 won.


▶ The gondola ride from the 2nd floor of Dragon Plaza to Dragon Peak (located 1858m above sea level at the top of Mt. Barwangsan) takes 18 minutes one way. It was also the filming locating for the popular TV drama 'Winter Sonata' and provides a good setting for walks. If time and money permits, it's worth visiting. Gondola tickets can be purchased at the 2nd floor of Dragon Plaza. Tickets are 10,000 won (adult).


5, 1:30 p.m. – Skiing
Zhang Wei recovered her skis from the locker and resumed skiing with glee. We called it a day at 4:00 p.m., returned the equipment, reclaimed our things from the Tower Condo lockers, and boarded the shuttle bus.



6, 7:30 p.m. – Return to Seoul
The group arrived at Jamsil Station, Seoul Subway Line 2. Zhang Wei and the rest were sad to see the trip end, but eager for the rest waiting for them at home.


Ski Expert Gihoon Gwon's Basic Ski Lessons


<> An instructor for Club Leisure, a ski enthusiast's group boasting over 3,000 members, Gihoon Gwon (born 1979) shared some basic tips for skiing with us.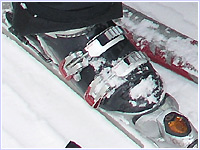 1, Wearing the skis
To prevent slipping, place the skis horizontally across the slope and put on the skis, starting with the one placed lower on the slope. Place the front part of your foot in first, then press down hard on the back end to secure in place until you here a firm 'click'.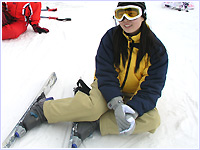 2, Falling
Whatever you do, don't fall backwards. If you do that, you'll speed up. When falling, make sure to fall on your side. Practice.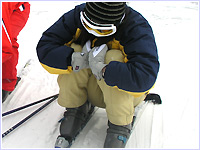 3, Getting up
Beginners find this the hardest part of skiing.
Place the skis horizontally across the slope to prevent slipping. Place one hand underneath your bottom then slowly help yourself up with your hands against the ground. Try to place the center of your weight forward to make it easier.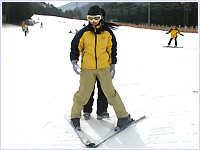 4, Stopping
Gather the front ends of the ski and widen the back to form an 'A'. Gather your knees to come to a slow stop.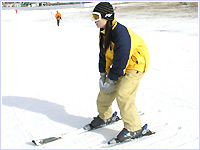 5, Changing directions
Don't twist your body; just put more weight on the leg on the direction you want to go.

Gihoon Gwon Speaks on Zhang Wei's Ski Adventure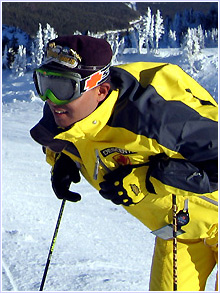 Reporter : So what do you think about Zhang Wei's schedule for this trip?


Gihoon Gwon : Well… it's not bad. But is there a reason why she had to take a 1 night 2 day trip? I think she ended up spending twice the money by staying overnight. There's a 5 a.m. shuttle leaving from Seoul, so if she'd taken advantage of that and planned a simple 1 day course, she could have saved about half off the total cost of the trip.


Reporter : What's the best way for foreign travelers to enjoy their stay at Yongpyong?


Gihoon Gwon : I understand that Yongpyong hosts the Fun Ski & Snow Festival. It's a package tour that combines ski lessons with various events. Also, I'd recommend the nighttime skiing here at Yongpyong. The resort's lit up well even at night, and it's less crowded- far more relaxing.


Reporter: If you had to recommend some other ski resorts?


Gihoon Gwon : Wow, what a troublesome question! Let me say that this is just my personal opinion before going any further. In terms of facilities, Yongpyong Ski Resort is the best, with over 31 slopes. But in terms of beauty, I'd say that the Muju Ski Resort . As far as snow quality goes, the new Gangchon LG Resort is the place to go- it's a new resort with the best artificial snow maker. For people looking to stay close to Seoul, the Jisan Ski Resort is a good option- I think they even run a free shuttle.


Reporter: Now tell us the truth- what do you make of Zhang Wei's skiing abilities?


Gihoon Gwon: To be honest, I was a little worried about Zhang Wei heading up to the top of the slopes on the lift, thinking it may be premature… But since she has a fearless personality, I thought she might be a surprisingly strong skier once actually on the slope. That's why I didn't stop her from going.


Reporter: Can you recommend some other activities to take advantage of at the Yongpyong Resort?


Gihoon Gwon: Zhang Wei went swimming, didn't she? That's a good option, but Yongpyong Resort's pool is a bit on the small side. I'd opt for the sauna facilities here instead. Also, I sometimes enjoy bowling at the B1 floor of the Tower Condo.


Reporter: What about the gondola?


Gihoon Gwon: Oh that's right! You can't leave out the gondola ride at Yongpyong.


Zhang Wei's Interview Exclusive
Zhang Wei met with a family from Singapore vacationing at the Yongpyong Resort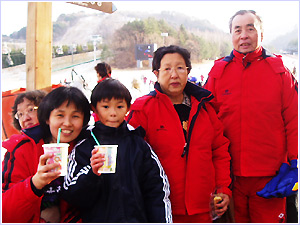 Zhang Wei : Is this your first time at the Yongpyong Resort?
Singapore Family : Yes!
Zhang Wei : IHow does it feel?
Singapore Family : We're having so much fun.
Zhang Wei : Have you taken any lessons?
Singapore Family : No, we're on a group tour and our guide covered the basics with us.
Zhang Wei: Tell me your favorite and least favorite thing about the Yongpyong Resort.
Singapore Family : The facilities are amazing. Theonly downside is the language barrier. They understand questions when asked in English, but they respond in Korean.
Zhang Wei : Well thanks so much for the interview! I hope you have a great time on your vacation.
Singapore Family : The same to you, Zhang Wei!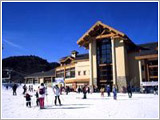 As the oldest ski resort, Yongpyeong Resort with its yearly average temperature of 6.2 degrees Celsius maintains a long ski season with a lot of natural snow. Moreover, it is getting numerous compliments from skiers about its convenient facilities as a superior ski resort.

▶ See detailed information
▶ See the Yongpyong Ski Resort map