[Introduction to the Apgujeong Area]
If you want to see what's in vogue in Korea, then you must venture to the area of Apgujeong, located in the neighborhood across from Galleria Department Store. In the early 1990's, this area was known to cater to the luxurious culture of its young affluent residents. These days the streets of Apgujeong are filled with stores featuring the latest trends from fashion to home decorating, and is known as 'the place to be' for young Koreans. The trends are set in Apgujeong. Many people look for the famous street 'Apgujeong Rodeo Drive' for the latest high-end fashions. This area is centered around department stores, shops, movie theaters, restaurants, upscale cafes, and parks. If it is one-stop shopping that you are craving, Hyundai Department Store and Galleria Department Store have it all. Smaller trendy stores nearby offer shoppers unlimited choices. Galleria Department Store has a special building dedicated to serving shoppers craving top brands, like Prada and Channel. Sale periods typically tend to be in the months of January, April, July, October, and December; discounts average 20-30%. If the department store is out of your price range, be sure to try the secondhand shops in Apgujeong; you can purchase items for 30-70% of their original price. Window shopping is great to get a feel for the whole area in general.
Apgujeong is quite well known for scrumptious restaurants with luxurious interior designs. The area boasts foods from around the world, including Korean, Japanese, Chinese, Swiss, Mexican and many more offering unique dishes. Many of the restaurants are frequented by Korean stars. If you are looking to dine with the stars, be sure to check signs outside the restaurants that might indicate famous regulars. Other restaurants that have appeared on television or in popular magazines will also feature clippings in the window.
This hotspot is overflowing with places for the young to kick back and relax. There are 'board game cafes', 'saju cafes', and numerous movie theaters. At a 'board game café' you can pick your favorite board game to play with your friends while enjoying a cup of tea. The 'saju cafes' offer fortune tellers (for a fee) along with your beverage. Apgujeong is also well known for its many plastic surgery offices, skin care clinics, hair salons, and manicure shops.
If you are looking to take a leisurely stroll at a nice park, try Dosan Park. The park is dedicated to the educator and idependence activist, Chang-ho An (1878-1938). The hall honoring him and the pedestrian paths are worth a visit. This is a good place to escape the hustle and bustle of the surrounding streets.
The Apgujeong Cultural Festival is held annually in October with diverse events.






[Famous places]

[Places of interest ]

▲Fun for all!
board game cafes

Board game cafes are popping up throughout Seoul, and Apgujeong is no different. This is a fun alternative for friends that want to get together without alcohol. There are approximately 10 board game cafes in Apgujeong. Cafes usually have 100~150 board games. Some of the most popular games include Jenga, Rummikub, Scrabble, TransAmerica, and Samurai. After choosing from the list of board games and enjoying yourself, return your game to the main counter. Aside from board games, beverages and some foods are usually available. Prices average around 2,000 won per person for hourly rentals. Business hours typically range from noon ~ midnight.
*BE AWARE that anyone sitting at table in the board game café, no matter for how long or not playing a game, MUST pay the same hourly rate!

▲ Can they predict my future?
saju cafés

A 'saju café' is one of the most unique places to visit in Apgujeong. A 'saju café' isn't your run of the mill café; visitors can enjoy a cup of coffee while having their fortunes told. Share your birth year, month, and day with one the fortune tellers, and they will tell your destiny. There are approximately 10 saju cafes located throughout the Apgujeong area. Quite a few of them are known for their accurate predictions. They often make predictions about future love, work, occupations, marriage compatibility and wealth. At most cafes, patrons are expected to make a minimum purchase of a beverage, and for an additional fee, a session with a fortune teller may be requested. An additional fee is charged for such a meeting. Prices may vary from 5,000 ~ 30,000 won per person. An additional fee is required for those requesting detailed information on marriage compatibility. Beverage prices average 5,000 ~ 10,000 won. Typical business hours are from 11:00 a.m. ~ midnight. All fortune tellers require the birth year, month, day, and time in order to best make predictions. The time of birth is considered very important when making accurate predictions.

▲ Looking for brand name items at discounted price?
secondhand shops

Avid shoppers will love the secondhand shops of Apgujeong. These shops offer everything from bags and wallets, to clothing, shoes, and accessories. Most of these shops have high-end secondhand goods including designers such as Channel, Louis Vuitton, Prada, and Burberry. Shoppers can enjoy discounts of up to 70%. Goods many be purchased or put on lay away. Business hours are usually from around 11:00 a.m. ~ 10:00 p.m.

▲ Pamper yourself!
manicure shops

Pamper your hands and feet at one of the many manicure shops. Visitors can enjoy manicures and pedicures with optional massages. Many young female tourists frequent these places looking for a complete nail-care experience. Most places offer a variety of manicure options including nail art, tips, hand & foot massages, and around 100~150 color options. When averaging in drying time, about 1 hour is needed for a manicure. Average business hours are from 11:00 a.m. ~ 9:00 p.m.

[Festivals in Apgujeong]


Apgujeong Cultural Festival
Apgujeong's largest festival is the Apgujeong Cultural Festival. Being the fashion trend setting area of Seoul, this festival includes a fashion show, hair show, dance festival, and much more all in the heart of Apgujeong. Many young actors and musicians visit making this festival even more special. This event changes every year giving repeat visitors a fresh feeling, but the festival always has famous singers and dancers. Additionally, famous guests often act as hosts for the different shows, drawing large crowds.
Anually Middle of October
Place: Apgujeong Area
Event Info: stage performances, yearly events and so on
Inquiries: +82-2-1330 (Korean, English, Japanese, Chinese)

[Places to eat in Apgujeong]


Apgujeong has numerous places to eat. Visitors can choose from Korean, Chinese, Western, Japanese, Vietnamese, Turkish, and Mexican, just to name a few. Numerous fusion restaurants make this area unique. Fusion restaurants offer an escape for those bored of the same tasting food day in and out. Many of these places have been featured on television shows and are proud to post pictures in their shop windows of their television debuts. Visitors might even be able to spot the autograph of their favorite star in the window, since many popular entertainers enjoy this area. There are many establishments with luxurious interiors, as well as family, fast food restaurants and innumerable coffee shops.


[Interview]

Eriko Tamanaha (37) and Kiyomi Watanabe (33)
visitkorea.or.kr met up with Eriko Tamanaha (37) and Kiyomi Watanabe (33) visiting from Japan. They decided to visit the Apgujeong area after reading about it in a book introducing restaurants in Korea. They wanted to experience every facet of life in Korea.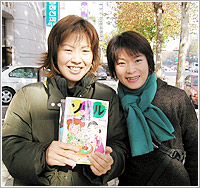 Is this your first trip to Korea?
Eriko Tamanaha: It's my third time.
Kiyomi Watanabe: It's my first time.
Have you always had an interest in Korea?
We have a special feeing for Korea due to the fact that we both love to watch Korean dramas. We especially loved 'Gyeoul Yeonga' (Winter Sonata) crying during every episode. Since that time we have grown to like Yong-joon Bae.
What's the main goal of your trip to Korea?
We came mainly for shopping and to taste the foods of Korea. We have chosen Myeong-dong and Apgujeong as our shopping destinations, and we are hoping to find the restaurants that we read about in Japan. We bought the items we wanted at a duty free shop but were surprised to learn about the many secondhand name brand shops in Apgujeong.
How much do you know about Apgujeong?
Actually, we really don't know much. In Japan, Myeong-dong is known as a famous shopping area in Korea. Thanks to a Korean guide book, we learned that Apgujeong has a well known fashion district where one can find unique clothing.
How would you compare Apgujeong and Myeong-dong?
Well, the Myeong-dong area has lots of shops and is easily accessible from the hotels in the downtown area. This area is also very well known to the Japanese, due to this fact, the area has lost its uniqueness. The Apgujeong area has fresh and trendy feeling about it. I have heard that Apgujeong is considered the most fashionable place, with each store offering specially designed interiors.
Were there any aspects of sightseeing around Apgujeong that were uncomfortable for you?
Finding the right road was a little tricky. We always brought our maps with us, but every road seemed to be forked and made us a bit confused.
Is there something that you would like to say to those tourists coming to Korea.?
The winters are cold. I would recommend bringing clothes that you can layer easily.



[Tourist Information Center]
There is no tourist information center in Apgujeong. If you should need tourist information, try going to the main tourist center located in the basement of the Korea National Tourism Organization building.
for more information call the Travel Phone +82-2-1330 (Korean, English, Japanese, Chinese)

>> more

[Transportation]
Location : Apgujeong-dong, Gangnam-gu, Seoul
By subway : Take line 3 to Apgujeong Station. Go out exits 2 or 3, and walk towards Seongsu Bridge 4-way intersection. After walking for about 5 minutes you will see a sign welcoming you to the area.


[Photo gallery]