Ji Chang-oh sits at his potter's wheel, a great lump of clay before him. The wheel begins to spin, Ji's hands begin their magic and the formless lump of clay begins its miraculous transformation. Barely 60 seconds later, the clay is a bulbous vase. The ever-smiling Ji brags, "Koreans show great concentration. Korean potters produce works in just two minutes. It takes foreign potters 15 minutes." Just an hour from Seoul, Icheon combines culture, food and leisure in an easy-going package. Of course, the town is best known for its kilns, which have produced some of Korea's finest ceramics for half a millennium. The area around Sindunmyeon alone is home to 300 kilns both large and small. It's a proud heritage celebrated every spring with the Icheon Ceramics Festival, one of Korea's top spring jubilees.
Icheon ceramics
The beauty of ceramics belies their essential simplicity. At their core, they're all about clay, water, wood and fire. Not all clays produce the same results, however. Korean potters prefer kaolin (a.k.a. China clay), a white clay rich in the mineral kaolinite. Southeast Gyeonggi-do, especially the towns of Icheon and Gwangju, is blessed with kaolin in abundance, as well as plenty of other essential ingredients like wood and water. During the Joseon Dynasty (1392—1910), the kilns of Icheon produced the beautiful baekja ("white porcelain") favored by aristocratic Koreans. The town's proximity to the royal capital of Seoul and its access to water and overland routes didn't hurt, either. As the Joseon Dynasty came to a close, the kilns went into decline, but since Korea's liberation in 1945, local ceramics production has experienced a rebirth. The Haegang Ceramics Museum provides a visually appealing introduction to Icheon ceramics. The museum was founded in 1990 by "Haegang" Yu Geun-hyeong (1894 - 1993), who revived the production of Goryeo celadon, the beautiful blue-green china for which Korea was famous throughout Asia during the Goryeo Dynasty (918 - 1392), and his son Yu Gwang-yeol. Haegang spent much of his life studying old kilns and historical materials in an effort to rediscover ancient celadon techniques that had been lost for centuries. The work on display at the museum is mesmerizing. Not far from Haegang Ceramics Museum is Sagi Makgol, a valley home to Icheon's largest collection of kilns. On a weekend, Seoulites flock here to browse the shops and experience some of Korea's ceramic tradition. Many of the workshops are open to the public, so you may see true artists at work. If you're looking to buy, you'll find work to accommodate all budgets. There are a couple of cafes and teashops for the weary, too.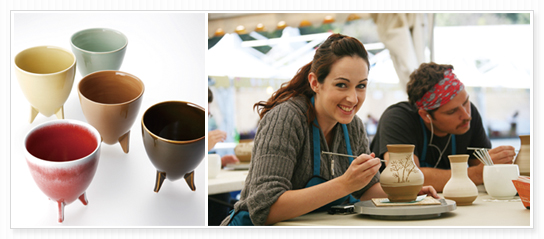 Learning the trade
Near the entrance of Sagi Makgol is Duseong Doyegyosil (T.031 632-0130), a classroom/workshop run for the last 14 years by the jovial Ji Chang-oh. Ji's workshop is a good place to discover Korean ceramics in a very hands-on way. For 20,000 won, you can try your hand at the potter's wheel (word of caution: it's not as easy as it looks) to make a work of your own. Once you have, you'll need to wait around a month until it is finished and delivered to you. Ji finds ceramics both diagnostic and therapeutic. "When you watch somebody make pottery, you can tell right away what kind of personality he has," he says. For hyperactive kids, it's better than Ritalin. "You should make quick-tempered kids do this a a lot so they can learn how to concentrate." About 30% of his visitors tend to be international. "They often marvel at Koreans' manual dexterity," he says.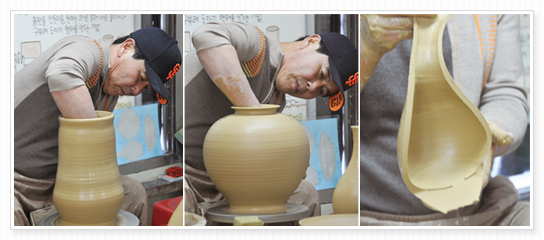 Things to eat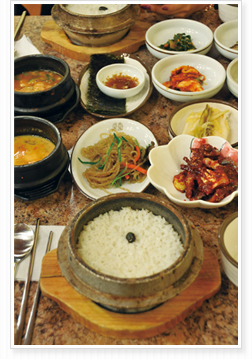 In addition to its ceramics, Icheon is famous for rice. So good is the local rice, in fact, that it was served to the kings of the Joseon Dynasty. When in Icheon, it's almost obligatory to try Icheon ssalbap jeongsik: Icheon rice served in a stone pot along with about 20 tasty side dishes. It'a a treat for both the eyes and the taste buds. There's a cluster of restaurants serving it near Sagi Makgol—the better known ones include Cheongmok Hanjeongsik (T. 031-634-5414, be prepared to wait in line here), Jeongilpum (T. 31-232-3883), Naratnim (T. 031-636- 9900), Imgeumnim Ssalbapjip (T. 031-6320-3626) and Taepyeong Seongdae (T. 031-638-8088). This writer, however, likes Deokjegung (formerly Gomijeong, T. 031-634-4811), a quieter place with good food and lovely hanok rooms. Expect to pay around 11,000-12,000 won per person.
Travel tip
• Icheon Ceramic Festival

(Apr 28—May 20)

The absolute best time to visit Icheon is during Icheon Ceramics Festival (T. 031-644-2061~3, www.ceramic.or.kr). Held in scenic Seolbong Park, the festival, held annually since 1987, offers a great many hands-on programs and other opportunities to experience Icheon's rich local culture.
Getting there
Seolbong Park is a short taxi ride from Icheon Intecity Bus Terminal.

• Icheon Termeden

Located next to a refreshing forest, Icheon Termeden (T. 031-645-2000, www.termeden.com) is Korea's fi rst German-style spa resort, which is to say, the focus is not on the hot tubs, but rather the bade pool, a shallow pool with lots of underwater massage jets. There are plenty of other outdoor and indoor pools, however, as well as saunas, a therapy center and other facilities.
Getting there
Free shuttle bus service from in front of the SC Bank across
from Icheon Intercity Bus Terminal.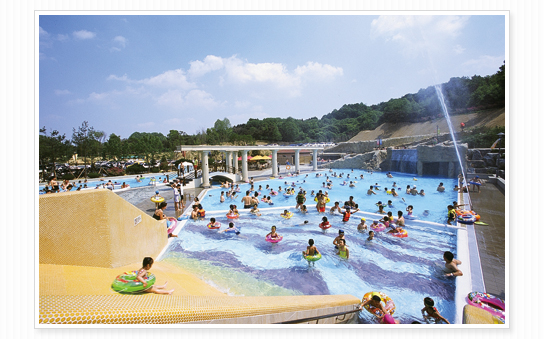 Getting there
Buses to Icheon depart from Dongseoul Bus Terminal (travel time: about 1 hour). From Icheon Bus Terminal, take a local bus (24-44, 24-5, 24-11, 114-1) and get off at Saeum 2-dong Doyecheon, right across from Sagi Makgol. To get to Haegang Ceramics Museum, walk (about 1km) or take a cab from Sagi Makgol.
The article courtesy of Seoul magazine