| | |
| --- | --- |
| | What Does the Term "Olle" Mean? |

In the local Jeju dialect "Olle" was originally used to refer to the narrow path between the street and one's doorstep. In the past, the word was quite commonly used, as children would often say, "let's meet at the olle". However, later this word came to be used more widely across Korea and the word came to mean the series of coastal walking paths in Jeju Island. The olle walking paths of Jeju start at the east point of the island and wind their way along the coast all the way to the island's southwest point. The charms of the olle walking paths are their proximity to nature and the picturesque combination of the blue ocean, dark green forests, and the charming local villages.

☞ Visit the Jeju Olle Walking Paths Official Website
The first of these walking paths opened in September 2007. As of March 2009, some 13 walking paths had been completed, 12 main paths and one "alpha" path. The walking paths collectively stretch to a length of approximately 216km. The olle are paths that have developed naturally over the years. They have been connected to each other using minimal human intervention. Depending on the pace of the individual or group, each route will take roughly four to six hours. Walking along these small paths that take you through the mountains and along the coast is the best way to experience the unique, startling beauty of Jeju Island.

Following an Olle Walking Path!
Blue or blue and yellow ribbons have been placed along an olle path to guide visitors. These are found throughout the route usually along the stone piled walls, rocks, or on the surface of the road.
Bathrooms and Restaurants!


As the olle have been arranged in an eco-friendly manner, there are not many toilets or restaurants along the way. However, convenience facilities can be found at the beginning or end of each path. Do take water and snacks with you.
What to Prepare!

*Shoes: visitors are advised to wear exercise or climbing shoes. During the summer, sandals will also be useful to walk along the beach area.
Extra Layers: Although the weather on Jeju-do is generally warm and pleasant, it is often windy and there are frequently unexpected showers. Walkers are advised to carry waterproof clothing and an extra, long-sleeved outfit with them.
Guidebook: A guidebook is available free of charge at the Information Desk of the Jeju International Airport. The guidebook will include useful information on the Olle walking paths, accommodation, and restaurants.






< Courtesy of : JEJU OLLE >
| | |
| --- | --- |
| | Route 14 : Jeoji to Hallim (Total 19.3km, 6-7 hour trip) |

Route 14 of the Olle Courses combines the best of both worlds: the warm, woodsy green of the land and the cool, ever-changing blue of the sea. The course takes visitors over the fields, through the woods, along a streambed, and to the beach. As the path winds along the beach, visitors are treated to various views of Biyangdo Island. Travelers are advised to bring some snacks with them, as there are no restaurants or shops along the trail from Jeoji Village to Wollyeong Beach.
(* Follow the blue or orange ribbons)

Route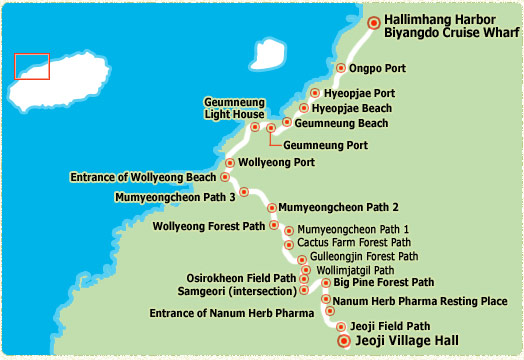 Jeoji Village Hall (저지마을회관) → Jeoji Field Path (저지밭길: 0.5km) → Entrance of Nanum Herb Pharma (나눔허브제약입구: 1.5km) → Nanum Herb Pharma Resting Place (나눔허브제약 쉼터: 2km) → Jeojijatgil Path (저지잣길: 2.3km) → Big Pine Forest Path (큰소낭 숲길: 2.6km) → Samgeori (intersection) (삼거리: 3.67km) → Osirokheon Field Path (오시록헌 농로: 4.2km) → Wollimjatgil Path (월림잣길: 4.9km) → Gulleongjin Forest Path (굴렁진 숲길: 5.4km) → Palm Tree Samgeori (intersection) (야자나무 삼거리: 5.7km) → Cactus Farm Forest Path (선인장밭 숲길: 6.1km) → Mumyeongcheon Path 1 (무명천 산책길1: 6.5km) → Wollyeong Forest Path (월령숲길: 6.9km ) → Mumyeongcheon Path 2 (무명천 산책길2: 7.4km) → Mumyeongcheon Path 3 (무명천 산책길3: 8.3km) → Entrance of Wollyeong Beach (월령해안 입구: 9.5km) → Wollyeong Port (월령포구: 10.2km) → Wollyeong Badang Olle (월령바당올레: 10.6km) → Wild Haenyeokong (Canavalia lineata) Habitat (해녀콩 자생지: 11.3km) → Geumneung Light House (금능등대: 12.0km) → Geumneung Port (금능포구: 12.7km) → Geumneung Beach (금능해수욕장: 13.2km) → Hyeopjae Beach (협재해수욕장: 14.1km) → Hyeopjae Port (협재포구: 15km) → Ongpo Port (옹포포구: 16.1km) → National Shellfish Breeding Center (국립폐류육종센터: 17.4km) → Hallimhang Harbor Biyangdo Cruise Wharf (한림항 비양도 도항선 선착장: 19.3km)