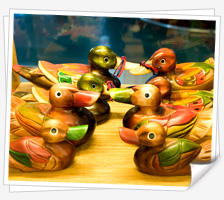 Travel memories live on through the souvenirs you bring back from each place you visit, no matter how big or small the item actually is. Keep reading for some high-quality, affordable souvenirs that will help you to commemorate your special trip.

Lately mobile phone accessories have become quite popular. Typical designs include bokjumeoni luck pouches or hanbok clothes, mini-quilts, knots, or charms embroidered with traditional Korean patterns. These fine, beautiful accessories are readily available at reasonable prices.


Postcards can be purchased in any souvenir shop or museum. They are affordable and really reflect the main tourist attractions of Korea. Various cards are adorned with hanbok or quilt patterns and made from traditional paper.
Folding fans, essential items during the summer, are also excellent souvenirs to consider. Their typical design is the yin and yang symbol that can be found on the Korean national flag. Handmade silk folding fans are more popular among women than those made with hanji (Korean traditional paper). Bamboo folding fans are often decorated with landscape paintings, boosting their artistic value.

Norigae (a traditional ornament worn by women) is another excellent souvenir item. While norigae can be prettier when worn with hanbok, alone, it can make nice accessory.