1. Introduction
In recognition of the importance of culture and tourism exchange between Indonesia and Korea, the Korea Tourism Organization(KTO) has established a branch office in Jakarta, the capital of Indonesia. The KTO Jakarta office aims to promote Korean culture and tourism among Korean and Indonesian citizens as well as organize exchange programs and joint cultural events.
2. Our activities
The main goal of the KTO Jakarta office is to familiarize travel agents and the general public with Korea through various activities including exhibitions, joint tourism projects, and cultural events. Through these events, we hope to form ties between Korean travel agents, airlines, hospitals and other related firms and other foreign enterprises operating in the tourism sector, thereby enhancing international business relations between Korea and other Asian countries.

In an effort to promote Korean tourism to the media and travel agents, KTO Jakarta office regularly offers trips to Korea for journalists and tour operators so that they may experience the beauty, culture, and economic development of Korea firsthand.
KTO Jakarta office also provides travel agents and the press with the necessary documents to promote Korean tourism to their respective audiences. Guides and brochures are also available for independent travelers. The staff is equipped with an in-depth knowledge of Korea and makes it a priority to handle all customer inquiries in a friendly and professional manner. Those visiting or contacting the KTO Jakarta office can expect expert advice on diverse aspects of Korea tourism including Korea travel highlights, medical tourism, visa procedures, and more.
3. Visit us
• Address: Suite 2102A, Wisma GKBI 21th Fl. JL Jend.Sudirman No.28 Jakarta 10210,Indonesia
• Operating hours: 8:30 - 5:30
• Working days: Monday to Friday (Excluding Public Holidays or otherwise stated)

Located Wisma GKBI (please see map for directions).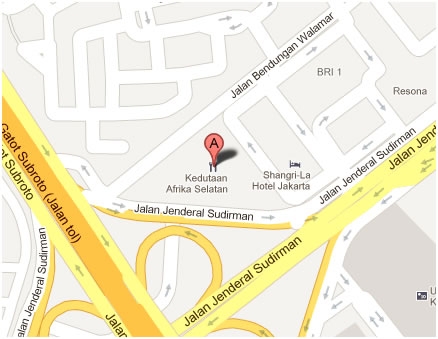 4. Contact us
Telephone number: 62-21-5785-3030
Fax number: 62-21-5785-3029
Email:ktojakarta@knto.or.kr
Website: www.visitkorea.or.kr
5. Staff
Director
Kwon Jong Sool

Deputy Director
Hwang Kun Hyok

Marketing Manager
Juliani Tanuwiguna
Marketing Officer
Akhmed Faezal Al-Hamdi

Marketing Officer
Irma Maulida
6. Official SNS